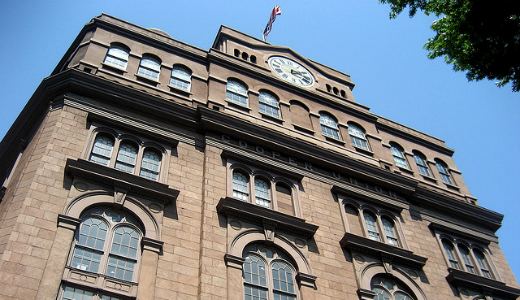 NEW YORK – The announcement by Cooper Union President Jamshed Bharucha that his institution may have to charge tuition has caught student, faculty and alumni off guard -but has solidly united them.
The Cooper Union for the Advancement of Science and Art, established in 1859 by Peter Cooper is among the nation's oldest and most distinguished institutions of higher education. It has been tuition free since its inception.
Located in this city's East Village, it is considered a remarkable presence with a strong progressive tradition. According to Cooper, "The production of wealth is not the work of any one man, and the acquisition of great fortunes is not possible without the cooperation of multitudes of men." Raised Methodist, Peter Cooper embraced Universalism as his faith of choice, saying it most fitted his world outlook.
Cooper embraced many innovations, but perhaps his devotion to the working class was most well known. The school he founded, Cooper Union, is a unique institution, dedicated to his proposition that "education is the key not only to personal prosperity but to civic virtue and harmony."
Win, a Sophomore Mechanical Engineering student from Salt Lake City, Utah, expressed her thoughts on the situation, saying, "Everyone here is in opposition of tuition; it is what makes Cooper special. As soon as you charge tuition, Cooper is no longer Cooper. I know that President Bharucha said that it is a last resort, but the fact that the option is on the table has a lot of people really worried, hence the action you see around today."
Win was speaking at a Nov. 8 demonstration against the imposition of tuition.
"It really gives a unique opportunity; everyone is that talented," she continued. "Once you impose a tuition, it places a financial burden, which means that some people who would otherwise be going to this school will go to a school that is more affordable to them."
It appears Mr. Bharucha, who became president this year, has walked into a vexing monetary situation.
In celebration of the 159th anniversary of the institution, a new building was erected across the street from the main building at the cost of about $200 million dollars. Despite the cost, there are only eleven classrooms for engineering students at this time.
The school has an endowment of over $500 million dollars, but according to some members of the Cooper Union Alumni Association, the school has been running a deficit for several years, in large part due to the cost of the new building. This has created a deficit of $26 million dollars. Restrictions limit the amount that can be taken every year from the endowment.
Architecture student Che Perez said, "We are working towards a solution instead of charging tuition; the student body is definitely in opposition to that possibility. We are expressing that, but we are working towards many other solutions." When asked about President Bharucha, he said, "He is a very reasonable and transparent man. We appreciate everything he is doing."
"I believe that that stipulation that it's tuition free is a value that pervades the academic as well as the financial understanding of the students when they come to this school and if that changes the whole institution changes."
"When people come here they don't feel like they have hired their teachers and the teachers don't feel they have been hired," said art student Morgan Voe. "It's about exchanging each others dedication about education it's not about exchanging money for education it's about making that shift in the value of education."
Bree, an alumnus who has her degree in chemical engineering, said, "They should look at all other means first. It's the identity of our school. It was Peter Cooper's dream to have education free as air and water. I know that for myself it allowed me to get a greater education than anywhere else with my background and financial position coming into college. So, look at everything else before charging tuition."
Students do currently have some expenses, but Bree's experience is common among the majority of students, who pay very little for board and a few hundred dollars for books every semester.
This was Peter Cooper's dream, and to fulfill the dream for the children of the working class, he cajoled and persuaded wealthy men, such as Andrew Carnegie; Matthew Vassar, the founder of Vassar College; George Peabody, importer and banker; and Ezra Cornell, founder of Western Union and a co-founder of Cornell University. Some past alumni include Thomas Edison and William Francis Deegan, architect of the Major Deegan Expressway.
A meeting took place Nov. 2, where students and alumni met with President Bharucha to keep the flow of information. It's essential that everyone who believes in maintaining the core promise of Cooper be involved in resolving the deficient problem.
Photo: Wally Gobetz // CC 2.0