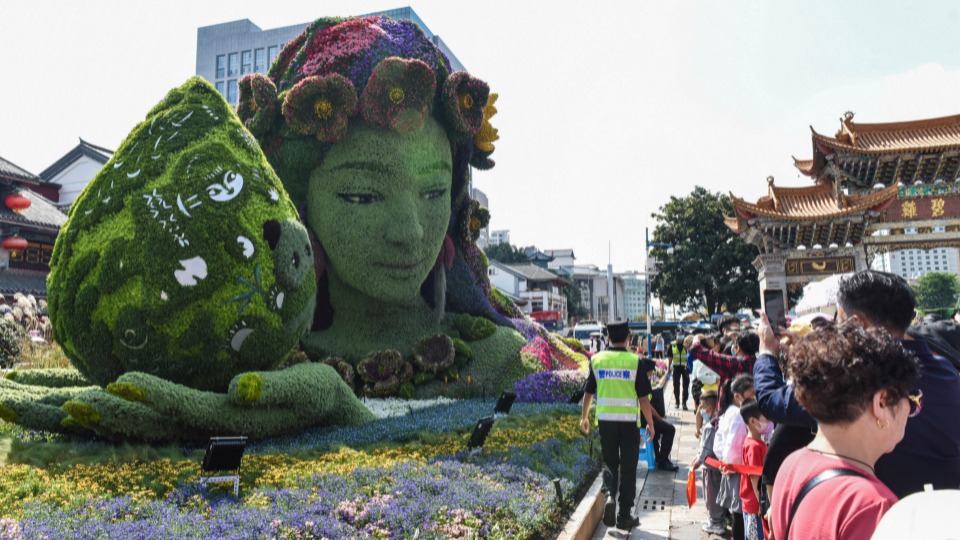 Humanity must urgently act to halt the escalating biological diversity crisis to prevent ecological collapse and begin nature's recovery. So warned the Global Convention on Biological Diversity (COP15), held on Oct. 11-15 in Kunming, China.
The Convention, gathering under the theme "Making peace with nature is the defining task of the 21st century," was attended in person and via video by over 2,100 governmental, tribal, and Indigenous leaders, scientists, and environmental justice activists worldwide. Yunnan province, where Kunming is located, was chosen as host because it is one of the most culturally and biologically diverse parts of China.
The biodiversity crisis struck home last month with the U.S. Fish and Wildlife Service's announcement that the Ivory-billed woodpecker, the largest woodpecker in the U.S., was now extinct, along with 23 other species. One million out of the Earth's eight million other plant and animal species are also threatened with extinction, the fastest vanishing of species in 10 million years. This "Sixth Great Extinction" is directly related to human activity, loss and degradation of natural habitats, and the climate crisis.
The upcoming COP26 U.N. Climate Change Conference in Glasgow overshadows efforts to protect and restore biodiversity. The Convention on Biological Diversity (CBD) and environmentalists view climate and biodiversity as interconnected. Both conferences are critical for mobilizing collective action to save the planet.
"We must solve these twin crises together," declared Huang Runqui, Minister of Ecology and Environment for the People's Republic of China. "They are mutually intersecting goals. We either solve them together or don't do any."
With China as the host country, Huang was elected president of the CBD. The Convention will hold a second session of the gathering in April 2022, also in Kunming.
One hundred ninety-five nations have signed the CBD treaty, with the glaring exception of the United States, even though it helped to get the ball rolling in the 1990s. Adopting a treaty takes 67 votes in the U.S. Senate, and the Republican Party stands in the way, backed by the fierce opposition of U.S. agribusiness and pharmaceutical corporations.
The Kunming conference assessed the U.N. Decade on Biodiversity (2011-2020) and discussed a Post-2020 Framework on Biodiversity, a set of targets to guide governments and civil society so humanity can exist in harmony with nature by 2050.
COP15 will adopt the Framework when it reconvenes next April. The CBD envisions the Framework as a vital companion to the Paris Agreement on climate, which set 1.5 degrees Celsius as the limit for global temperature rise. All countries are developing plans to limit and reduce greenhouse gas emissions to meet the target.
"We must develop global goals for nature that we have for a climate that governments, NGOs, scientific organizations, and communities can unite around," said Marco Lambertini, director-general of the International Wildlife Fund. "Goals that are 'crystal clear,' where we can measure progress and be held accountable.
"A global goal of more nature, not less. This is what science is asking us to do to avoid ecological collapse," said Lambertini.
Humanity faces a critical decade ahead in this effort, and the conference targeted 2030 as the deadline for halting biodiversity loss and beginning the process of restoration. "Throughout the past two days, we have shared our vision towards building collective action and driving transformative change," said Elizabeth Maruma Mrena, executive secretary of the CBD. "We have voiced our ideas to reconcile social and economic development with socio-ecological objectives, to reduce the pressure on biodiversity, and to address human inequity.
"We underscored the risks of biodiversity loss, the sectoral shifts needed to move away from unsustainable consumption and production, and the solutions at hand and those that are emerging. Given the deep and critical interconnections, systemic interventions are urgently required from all sectors of society. In essence, our discussions point to the importance of a whole-of-government and whole-of-society approach," said Mrena, a lawyer and environmentalist from Tanzania.
A key target calls for countries to conserve 30% of the land, inland waters, ocean waters, and ecological systems by 2030, known as 30X30. Currently, only 15% of land and 7% of oceans are protected.
Over 50 countries support 30X30, including the United States under the Biden administration. 30X30 is a critical element of Biden's climate plan to reduce C02 emissions by half by 2030 and achieve carbon neutrality by 2050. Large protected areas are needed to preserve biodiversity and, as nature-based carbon sinks, to draw down greenhouse gas levels and reduce emissions in the atmosphere.
A Biden executive order instructed the Interior Department to develop a plan called "Conserving and Restoring America the Beautiful" in collaboration with states, tribal governments, communities, and grassroots organizations to identify the key areas and systems and implement them.
Biden's executive order to reverse Trump's proclamation stripping Bears Ears and Grand Staircase-Escalante of national monument status is part of this protection and expansion of natural areas. Environmentalists and Indigenous communities hailed the step.
"The 30×30 initiative opens the door to a new, more inclusive model of conservation that is science-based, locally driven, and engages all stakeholders, from tribal and Indigenous communities to farmers, ranchers, and outdoors enthusiasts," notes the Natural Resources Defense Council.
Other key CBD goals include prevention and reduction of invasive species, reducing soil nutrient loss by one-half, pesticide use by two-thirds, and eliminating plastic waste discharge. The CBD calls for eliminating $500 billion in subsidies to fossil fuel and other harmful industries.
The COVID-19 pandemic is another warning of the negative relationship between nature and society. "Over three-quarters of the land surface and two-thirds of the oceans have been altered by human activity, which is ruining the basis for sustainable development, noted Inger Andersen, executive director of the U.N. Environment Program. "Based on current rates, the world is on a path to 2.7 degrees Celsius of heating. It is a race to zero diversity instead of zero carbon emissions."
"Man and nature need to co-exist in harmony," said Chinese President Xi Jinping in welcoming remarks. "When we take care to protect nature, nature rewards us generously. When we exploit nature ruthlessly, it punishes us without mercy."
As part of efforts to build an "ecological civilization," China has adopted a Master Plan of Major Projects spanning 2021-2035. The plan establishes a national parks system, including an initial set covering 250,000 square kilometers of sensitive bio-diverse areas and eight urban biological gardens. Xi also announced the establishment of a Kunming Investment Fund to help developing countries with biodiversity protection and restoration projects. China is contributing $330 million to the fund.
"If we don't fail nature, nature will not fail us," he said.