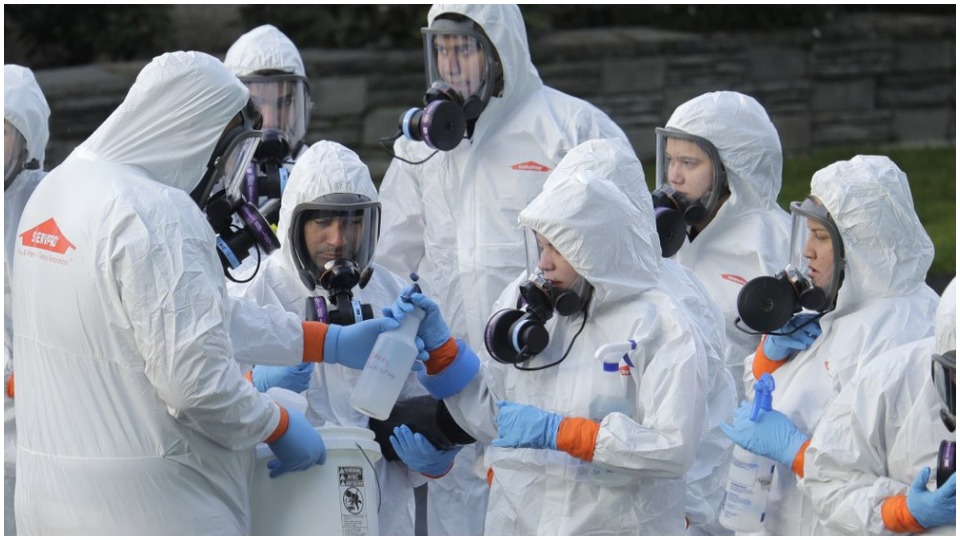 WASHINGTON—With the coronavirus threat to the U.S., including the U.S. economy, spreading, lawmakers and GOP President Donald Trump went in two very different directions about how to help people nationwide.
For lawmakers, especially the House's ruling Democrats, the chief object was to make sure there are ways to both minimize the circumstances that could put people at risk of illness and to push Trump regime officials to provide preventive measures immediately while working on developing anti-virus vaccines.
They also want to make sure people who lose their jobs as businesses shut down due to sick workers, lack of supplies, lack of customers, or all of the above, get at least 12 weeks of paid sick leave, immediately, due to the emergency. Rep. Rosa DeLauro, D-Conn., and Sen. Patty Murray, D-Wash., introduced that emergency sick leave legislation on March 9.
"We want to be sure from the standpoint of being tested, if need be, that there be no cost to the families," House Speaker Nancy Pelosi, D-Calif., explained at a press conference.
"For the families, if they are affected by school closings and parents have to stay home, they have to have medical leave," specifically geared to 14 days of immediate "coronavirus-related paid sick and family leave," on top of seven days of general paid sick and family leave per year, she explained.
"And the food issue that relates to our children when they are not able to go to school," Pelosi added. "Many food-insecure families depend on" their children "being able to go to school for their food, for sustenance." Pelosi also promised to extend unemployment insurance "for those regions that are affected and those people who are affected."
Meanwhile, other Democrats also want Trump regime officials to step in to prevent corporate profiteering, especially by the health insurers, from hitting sick people and their families. As of the morning of March 12, the U.S. had more than 1,300 confirmed cases of coronavirus and 38 deaths. Specialists cautioned the "confirmed cases" figure is probably low because of inadequate testing so far.
For Trump, the chief object is to make sure businesses hurt by the loss of customers—which could hurtle the U.S. into recession—get financial aid to stay on their feet, through tax breaks to the most-affected industries, such as airlines, lodgings, restaurants, and the cruise ship business.
In an indication of the impact on both airlines and lodgings, the AFL-CIO had canceled its executive council meeting, including a presidential candidates debate, that was scheduled for Orlando, Fla., March 10-12.
Trump discussed the economic impact with Wall Street titans—the coronavirus continues to send the markets into a tailspin—and other corporate chieftains. But not with workers. He's also pondering a payroll tax cut for individuals. Each percentage point cut in the payroll tax could put $75 billion-$85 billion into workers' pockets, the Internal Revenue Service calculates.
The catch, of course, is a payroll tax cut doesn't help a worker who lost her job because her employer lost business due to the coronavirus. And if the boss misclassifies a worker as an "independent contractor," the worker's on his own.
Just days before the impact escalated, Trump declared everyone who needs a coronavirus test—a group that includes millions of people ranging from airline crews to frail elderly in health care facilities—will get one.
The federal Centers for Disease Control promptly said that's not the case, because there aren't enough test kits available. And until March 6, CDC turned down test requests until patients were actually hospitalized, before reversing course on that decision.
By then, an infected nurse in Northern California told her union, National Nurses United, that though her hospital and her county health department recommended she be tested, the CDC had turned her down because she was wearing a protective anti-virus suit, and thus should not have gotten sick at all.
Despite Trump's rosy words, the top four federal health officials told the Senate on March 10 there's still a shortage of everything from face masks to protective personal equipment, such as N95 respirators and hazmat suits for health care workers.
On Capitol Hill, those officials, in a joint statement, said the CDC "is working alongside federal, state, local, tribal, and territorial partners, as well as public health partners" on "aggressive containment and mitigation activities with an objective to detect and minimize introductions of this virus in the United States so as to reduce its spread and impact."
But they also warned: "Given the nature of this virus and how it's spreading, our goal continues to be slowing the introduction of the virus into the United States as we work to prepare our communities for more cases and possible sustained spread."
There are also other problems the feds haven't addressed yet. Besides lack of paid leave for workers sidelined by the disease or its economic impact, problems include the Trump administration's plans to cut families and kids off of food stamps and its lack of planning for providing hot lunches to kids whose schools must close due to the coronavirus.
The last thing you want to do for sick kids is deprive them of food, Reps. DeLauro and Sanford Bishop, D-Ga., told Trump Health and Human Services Secretary Alexander Azar in a March 9 letter. Yet that's what Trump's rules would do, their letter added.
They also urged Azar to craft plans to provide hot lunches to any of the 22 million schoolkids who now get them and who would lose them if the coronavirus forces school districts to close those kids' schools. That's already happened in Washington state.
"USDA should work with the Department of Education to provide states with the resources and guidance to develop plans that detail how students will receive access to child nutrition programs before a school shuts down," the two said.
And the feds have said and done little to stop panic buying, hoarding, profiteering, and disinformation, including from the company run by right-wing preacher Jim Bakker, who's been peddling a fake "treatment" that he claims the coronavirus.
As one example of the problems, Dr. Anne Schuchat, CDC's principal deputy director, told the Senate panel "CDC believes the immediate risk of this new virus to the public is low." But she quickly added CDC "is preparing the nation's health care system to respond to identification of individual cases and potential person-to-person transmission of" the coronavirus "in the community, at the same time ensuring the safety of its patients and workers."
"CDC developed guidance on appropriate care and infection control for patients and is engaging regularly with clinical and hospital associations to confirm its guidance is helpful and responsive to the needs of the healthcare system."
Given "current constraints of the global supply of personal protective equipment (PPE), CDC is working with industry and the U.S. health system" to understand where supplies could fall short "and to provide strategies to optimize the supply of PPE."
Panic hoarding and cases of profiteering affect those supplies.
In one instance, a customer at a medical supply company in suburban Baltimore tried to buy dozens of cases of protective face masks. Each case had dozens of masks. The company provides PPE, the masks, protective gloves, and similar goods to the area's huge medical community.
When queried by the firm owner, the customer admitted he was not buying the masks for personal use, but for resale—at triple the price. "I can't sell you these. Our medical customers need them," the owner replied.
That profiteer in Baltimore isn't the only one. Reps. Lauren Underwood, D-Ill., a nurse, Katie Porter, D-Calif., and DeLauro, also want the government to pressure health insurers to pay all the costs of subscribers' coronavirus tests. Some states already force insurers to do so, the three told Labor Secretary Eugene Scalia and Azar. Surveys show one-fifth of insured people delay illness testing due to insurer-imposed costs, such as deductibles and co-pays.
"It is critical that any cost barriers or limits to" coronavirus "diagnostics testing be removed, so those who may be infected do not forego testing because of cost concerns… during this national public health emergency." Federal law, they pointed out to Azar, "is unclear" if the government can step in and order the insurers to bear the cost load.