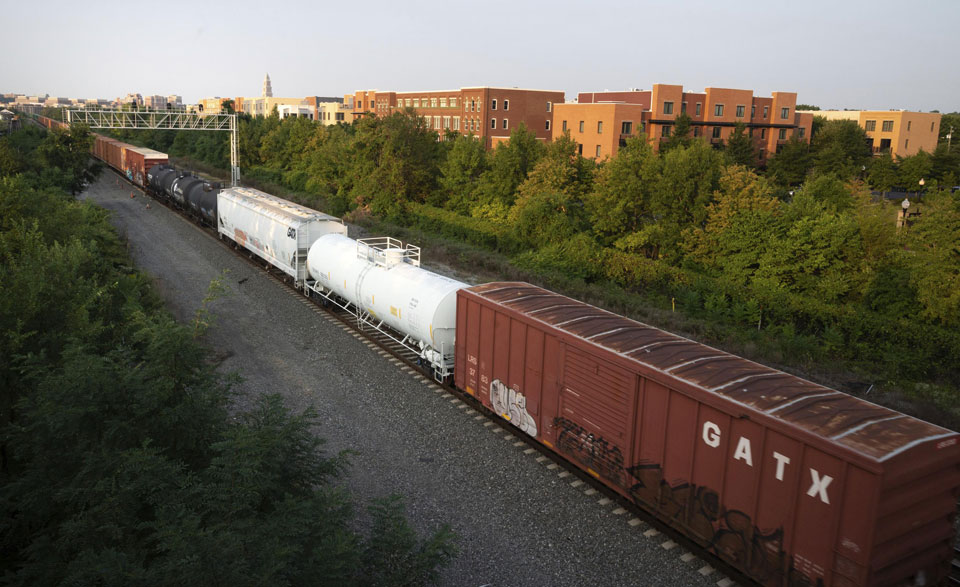 WASHINGTON—A coalition of 300 corporate lobbies demanded the Biden administration actively intervene to prevent a rail strike which could come as early as late November. But their letter doesn't admit the nation's big freight railroads are themselves to blame for the looming specter.
The groups, marshaled by the American Chemistry Council, thank Democratic President Joe Biden for prior involvement and urge him to renew it.
"Unfortunately, we have seen two unions reject the agreement and there are concerns others may follow," they wrote on October 27. "If that were to be the case, we could witness a strike that would shut down the entire freight rail system. Because the White House played such a central role in the process, we believe it can be helpful in continuing to move the process forward in a positive direction. Otherwise, Congress will be called upon to act."
Given congressional gridlock—and, though nobody said it, Republican hatred of workers—lawmakers' involvement is a development that neither the corporate lobbies, nor the rail workers, nor Biden want.
The letter came after the Brotherhood of Railroad Signalmen joined the Brotherhood of Maintenance of Way Employees/Teamsters in rejecting the proposed four-year contract which Biden lobbied for them to agree upon and which his Labor Secretary, Marty Walsh, a Laborers Local 223 member, mediated and hammered out.
But for both unions, the proposal made no changes in onerous work rules and working conditions. It also included pay hikes which don't keep up with inflation.
Right now, the freight rail firms can force railroaders to work for two weeks straight or more. They get no paid sick leave even for doctors' appointments. There's no halt to the freight railroads' personnel cuts even at a time of massive freight firm profits. And railroad bosses can call workers back to their jobs—even on their few days off—at a moment's notice.
When BMWED reopened talks with the big Class I freight railroads—CSX, Norfolk Southern, Union Pacific, and Burlington Northern Santa Fe—after members rejected the proposed pact, it specifically demanded paid sick days. The railroads rejected it out of hand.
To meet Wall Street profit expectations, BMWED said, the freight railroads now "do more with less… keeping the number of employees low. But that means there is no capacity for absorbing reasonably expected absences. As a result, the railroads want all workers to be available to work as much as possible because if someone takes off for an illness or a medical appointment, there is no one to cover for them."
"But eventually you must pay the piper" in the "contentious bargaining" between profitable railroads and "beleaguered, exhausted, and scraped to the bone" workers. "Yet again, the carriers have placed their greed above the health and well-being of the men and women they employ…Rail employees must go to work if they get sick."
White House Press Secretary Karine Jean-Pierre danced around questions from reporters about what Biden would do at a briefing the day after 61% of voting BRS members opposed the tentative pact.
For any pact to take effect, all 13 rail unions in their bargaining conference must approve it. The two largest, the Brotherhood of Locomotive Engineers and Trainmen/Teamsters and Smart's Transportation Division, will announce results on November 21. Those two represent about half of the 13 unions' 115,000 rail workers and all the engineers.
"The unions that have not ratified and the railroad employers have agreed to a cooling-off period that extends well into November, giving them adequate time to continue their work and ensuring that our economy is under no immediate threat," presidential spokeswoman Jean Pierre pointed out. Railway labor law actually mandates that cooling-off period during which workers can't strike and bosses can't lock them out.
"The president remains focused on protecting America's families, farms, and businesses by avoiding a rail shutdown," Jean Pierre continued. "That is our priority, of course, when it comes to these discussions.  Both sides have said they share that desire as well.
"As the president has said for months, any shutdown would be completely unacceptable. It is the responsibility of the parties involved to resolve this issue. And any idea that kicking this to Congress"—which rail labor law allows—"will result in a quick or favorable outcome is just deeply misguided. That is our view from here."
Railroad Workers United, a rank-and-file organization of workers from all the railroads involved and all rail crafts, also is skeptical of involving lawmakers. And it hits the freight railroads for their high profits, a record $146 billion since the carriers started cutting workers in 2015. Those profits are increasing, according to third-quarter rail firm earnings reports.
"Railroads are far more profitable now—and many employees feel the record profits have come partly at their expense," RWU says. "Washington is more dysfunctional than ever, and in today's hyper-partisan atmosphere Congress doesn't do anything quickly and rarely does anything right."
"A strike isn't imminent," RWU admitted. BMWED's legally mandated cooling-off period expires on November 19 and the Signalmen's ends on December 4. "If the operating crafts fail to ratify when the votes are counted on November 21, they have a" cooling-off "period extension that would run into December," it said.
"But if efforts with any one union fail, then a strike or lockout would occur. It's just a question of when and how long it would last. Freight would stop moving, as would most Amtrak service and commuter trains in many metropolitan areas."