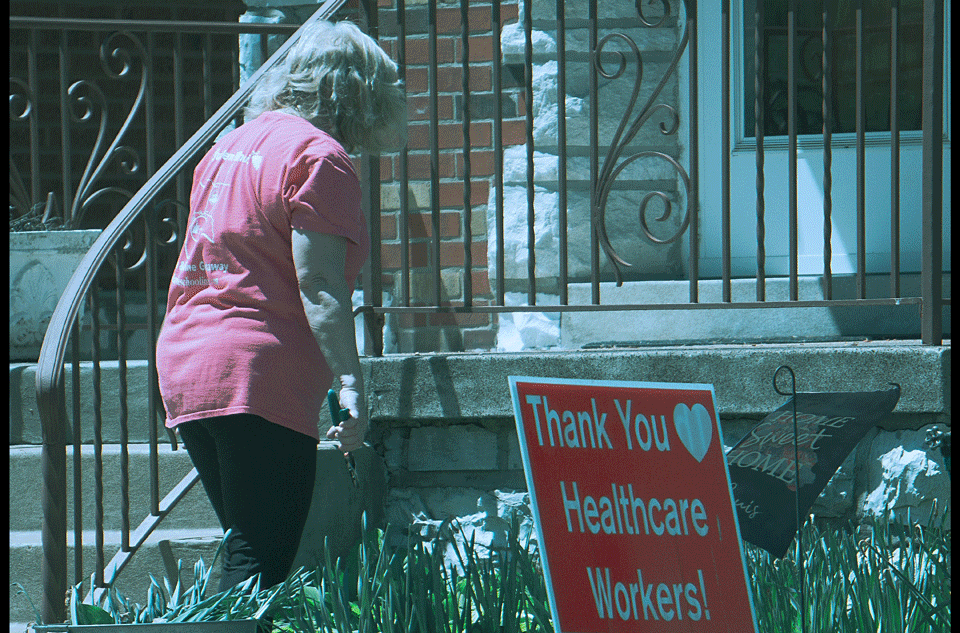 On any given sunny day, as we walk out the front door and check our physical distance from others, you may notice the curious and quick arrival of yard signs thanking "essential workers."
Are you surprised?
As one day blurs into another during our self-isolation, the Covid-19 public narrative has shifted: essential workers are in vogue.
Across the United Kingdom, this morning—late evening Monday for those of us across the pond– a minute of silence was held for "key" workers. Among the tens of thousands of people across the UK who have died due to coronavirus, including over 100 National Health Service staff, nurses, and doctors.
"We are asked to care for others without proper PPE (personal protective equipment) and are thanked by claps and cheers while the Prime Minister does nothing to properly fund the NHS," NHS nurse, King (didn't want her full name shared), said to me via text. "It's as if our deaths are expected, and we should be ok with it—we'll get recognized publicly for our sacrifices."
We see major industry ads on television, across streaming ads thanking workers for their sacrifice during such uncertain times, and reminding us all, that we are in it together. Fighter jets dot the skies above major U.S. cities, showing support for "essential workers," and, occasionally, cheers and applause is heard from windows and balconies.
Words are cheap. And they don't provide PPE, hospital equipment, ventilators, or medication—all of which are not on the cheap side.
Essential workers deserve our thanks. They are heroes when they shouldn't have to be.
And it's our responsibility to hold accountable those who put them in such dire workplace conditions.
Like free stuff? So do we. Here at People's World, we believe strongly in the mission of keeping the labor and democratic movements informed so they are prepared for the struggle. But we need your help. While our content is free for readers (something we are proud of) it takes money — a lot of it — to produce and cover the stories you see in our pages. Only you, our readers and supporters, can keep us going. Only you can make sure we keep the news that matters free of paywalls and advertisements. If you enjoy reading People's World and the stories we bring you, support our work by becoming a $5 monthly sustainer today.