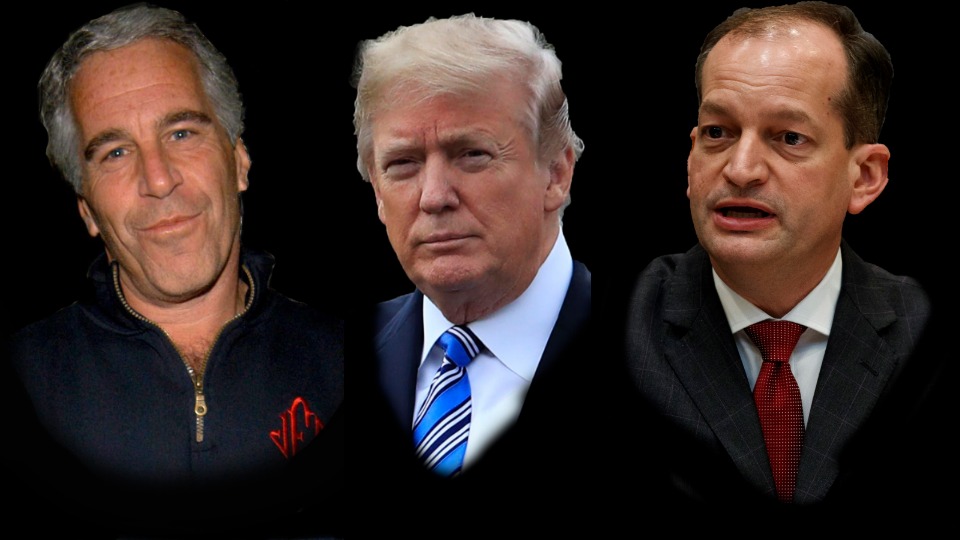 Billionaire hedge fund manager Jeffrey Epstein was arrested this week for allegedly sex trafficking dozens of underage girls in Florida and New York between 2002 and 2005. His arrest comes 12 years after the financier was let off the hook for sexually exploiting over 30 underage girls in Florida. Epstein's case is not just one of a single man's repulsive illegal activities; it's connected to a much deeper mockery of justice. Powerful and influential men, such as President Donald Trump and current Secretary of Labor Alexander Acosta, are connected to Epstein and are part of a systemic web of deceit, abuse, and corruption.
Epstein is being charged with one count of sex trafficking of minors and one count of conspiracy to engage in sex trafficking of minors. This new indictment could put him away for a maximum of 45 years. The billionaire's dealing in trafficking human beings goes back decades, but his wealth, influence, and connections allowed him space to engage in such activities with few, if any, real consequences. In 2008, it seemed as though his illegal dealings had finally caught up with him when he was first accused of assembling a network of underage girls for sex, often using some of them as recruiters to find more girls to abuse. But his day of reckoning was not really to come that year, as Epstein was given the legal equivalent of a slap on the wrist from then-U.S. attorney for the Southern District of Florida—Acosta.
As explained in a damning three-part series by the Miami Herald, Acosta struck a non-prosecution deal giving Epstein a mere 18-month sentence (of which he served only 13 months) in a county jail for his crimes in exchange for pleading guilty to lesser state charges of soliciting a minor for prostitution, registering as a sex offender, and paying settlements with some alleged victims. The deal not only shielded Epstein himself from prosecution, but it also granted immunity from any potential accomplices to his crimes.
The short stint behind bars was hardly a punishment; Epstein was allowed to leave the jail and go to his office to work six days a week. Acosta allowed Epstein to dodge federal charges that could have put him away in prison for life. Further, he sealed the plea bargain and kept it secret, never giving Epstein's victims a chance to object, as federal law requires.
It wouldn't be until this year that a judge ruled that Acosta and other Department of Justice (DOJ) lawyers violated the Crime Victims' Rights Act (CVRA) by not informing Epstein's accusers about the non-prosecution deal he was given.
Acosta engaged in unconstitutional activity that violated the law he was put in charge of upholding. He is now the United States Secretary of Labor, and President Trump is defending him to the nation.
In the midst of Democratic lawmakers calling for Acosta's resignation, Trump asserted this week that the labor secretary is doing an "excellent" job. The president stated to reporters in the Oval Office on Tuesday that he feels "very badly, actually, for Secretary Acosta" because he is "somebody that works so hard and has done such a good job." The man who currently holds the highest political office in the U.S. also noted that the plea deal was reached a "long time ago," as if the passing of time alone is enough to make it unworthy of examination. This is not the first time that Trump has spoken favorably of powerful men trapped in controversy. He did the same for another friend years ago—Jeffrey Epstein.
In a 2002 profile on Epstein in New York Magazine, Trump was quoted as saying, "I've known Jeff for 15 years. Terrific guy." The future president commented, "He's a lot of fun to be with. It is even said that he likes beautiful women as much as I do, and many of them are on the younger side. No doubt about it—Jeffrey enjoys his social life."
The connection between Trump and Epstein goes beyond just a few lines of friendly praise in a magazine article a decade and a half ago or the past morally questionable actions of his labor secretary. Trump's Florida resort, Mar-a-Lago, was named in a court case in 2017 as one of the recruiting grounds for Epstein's sex trafficking business.
During his 2016 campaign for the presidency, Trump himself was sued by an anonymous woman who claimed he raped her at an Epstein party when she was 13 years old in 1994. The woman would eventually withdraw her lawsuit days before the 2016 election because, as her attorney Lisa Bloom explained, she was getting death threats.
To date, at least 24 women have accused Trump of sexual assault. Couple this with Trump's rhetoric towards women during his campaign, his long history of lewd comments towards women in general, and his continued support of officials who undermine the reproductive rights won by women, and it is a no-brainer that he might have close ties with a character like Epstein.
Although Trump has recently tried to distance himself from Epstein, vaguely alluding to a falling out in 2004, records and photos going back as far as the early 1990s show that his involvement with the pedophile billionaire goes beyond simply knowing him as a "fixture in Palm Beach." Of course, as recent history has shown, Trump and his administration are no strangers to figuratively and literally redacting the truth.
And this is where Attorney General Bill Barr comes into the story.
Although Barr has recused himself from the internal Justice Department probe of Acosta's involvement in approving the no-prosecution deal in 2008, he has decided this week not to remove himself from the federal criminal prosecution of Epstein. It was originally reported that Barr would recuse himself due to the fact that the law firm Barr joined in 2009, Kirkland & Ellis, was the exact same one that had represented Epstein in 2008 when he was being investigated in Florida and struck the deal with Acosta. It should be noted that Acosta, too, worked at Kirkland & Ellis in the 1990s.
Just as Barr helped to obstruct justice during the Mueller investigation of Trump, serving more as Trump's defense lawyer than as the attorney general, there is no reason to believe he wouldn't do so again in the case of Epstein. These individual incidents of obstruction, corruption, and other illegal activities come together to paint a picture of powerful wealthy men protecting not only each other, but the system of exploitation from which they benefit.
Just as Epstein prospered by leveraging his wealth and connections to powerful people (including Barr's father in the 1970s), Trump has built an administration comprised of those who have used their wealth and power to exploit and partake in corruption.
Earlier this year, the inspector general of the Environmental Protection Agency said that former Administrator Scott Pruitt wasted nearly $124,000 of taxpayer money on excessive travel. The Government Accountability Office concluded that Ben Carson, the secretary of housing and urban development, broke the law in lavishly redecorating his office. Treasury Secretary Steven Mnuchin's firm became infamous for seizing and repossessing people's homes in the wake of the Great Recession, and the list goes on. And when not exploiting the public in allegedly extralegal matters, they do so in the form of public policy.
Trump's assessment that Acosta is an "excellent" labor secretary just isn't true—not for working people anyway. Time and again the labor secretary has sided with corporate interests over workers. In March of this year, Acosta targeted overtime pay for workers, and in May he spoke out against an increase in the federal minimum wage. Acosta is just one example in a long list of administration officials carrying out Trump policies that ultimately only serve the wealthy and powerful.
The fact that the criminal justice system seems to favor those with money and influence is no revelation for most people, but the Epstein arrest brings to light just how deep the ties can go—even to the highest office in the land. The question now isn't just a matter of Epstein finally facing his judgment day; it's about whether those connected to his web of deceit will face theirs as well.