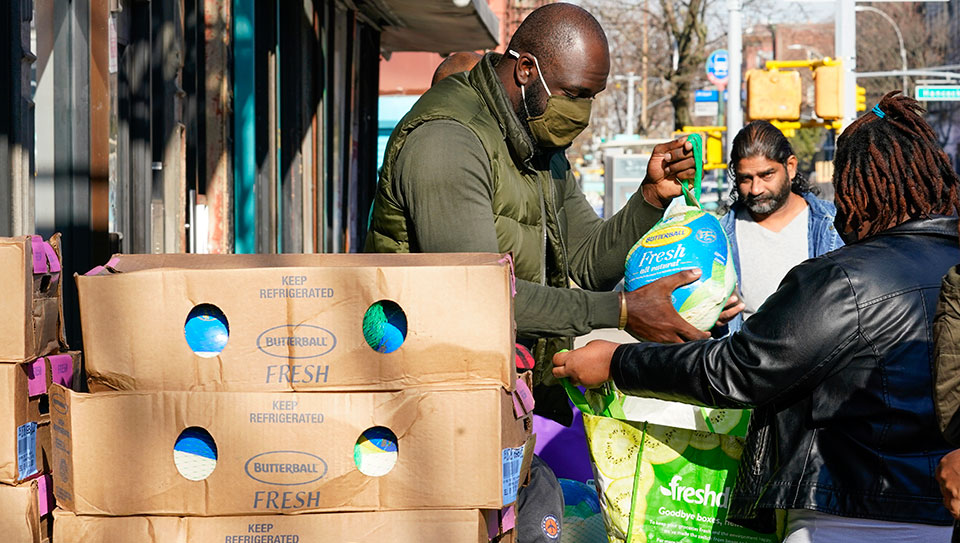 WASHINGTON—The latest joblessness figures from the Bureau of Labor Statistics reveal an unhappy Thanksgiving "Turkey Day," as some 20.45 million workers still drew state or federal unemployment checks as of Nov. 7—and the despair could increase even more as the December holidays approach.
That's because a key source of money for those workers, federal aid, finally runs out on Dec. 26, if it hasn't already, for two-thirds of them. And the Senate's ruling Republicans refuse to help those almost 14 million people, or their families, at all.
The Nov. 7 figure rose by 135,297 people from the week before, and it also doesn't count the additional workers forced to seek jobless aid in the two weeks since then: 1.069 million in the week ending Nov. 14 and another 1.139 million in the week ending Nov. 21.
Roll the three big figures together and you come up with 22.253 million unemployed workers, 15.2% of the U.S. workforce.
But the corporate class, and its Republican congressional puppets, don't seem to care about the army of unemployed. The stock market's Dow Jones Industrial Average crashed through the 30,000-point barrier on Nov. 24, prompting outgoing President Trump to hold a sudden press conference to celebrate the stock market (he couldn't be bothered to mention the jobless or the coronavirus crisis). Senate Majority Leader Mitch McConnell, R-Ky., meanwhile, refuses to let that chamber even debate, much less vote on, further jobless aid.
McConnell has killed both House-passed versions of the Heroes Act, which would extend the jobless benefits like the supplemental $600, create protections for workers against the coronavirus pandemic that has caused their pain, and extend other needed help around the hard-hit country.
Compounding the pain, the Associated Press points out, is that tens of thousands of the workers who will be out in the financial cold by the end of the year are already on the brink.
They toil in low-paying industries such as travel, restaurants, and bars that took a big hit when the coronavirus pandemic first forced business closures earlier this year, and will again get clobbered as the pandemic is already resurging even before winter descends on the U.S.
"Waiters and bartenders are losing their jobs—again—as governors and local officials shut down indoor dining and drinking establishments to combat a nationwide surge that is overwhelming hospitals and dashing hopes for a quick economic recovery," AP said.
That surge showed up in the coronavirus pandemic numbers. As of 10 am on Nov. 25, nearly 13 million people have tested positive for the viral plague since the pandemic was officially declared, and 260,000 of them have died. That includes 172,945 who tested positive and 2,136 who died on Nov. 24 alone. Those families have zero to be thankful for this holiday.
"Blocking more COVID relief is not just cruel, it's bad economic policy," says Economic Policy Institute policy director Heidi Shierholz, using the official name for the coronavirus. "Unemployment insurance is a great stimulus. The spending made possible by pandemic UI benefits is supporting millions of jobs. Letting these benefits expire means cutting those jobs."