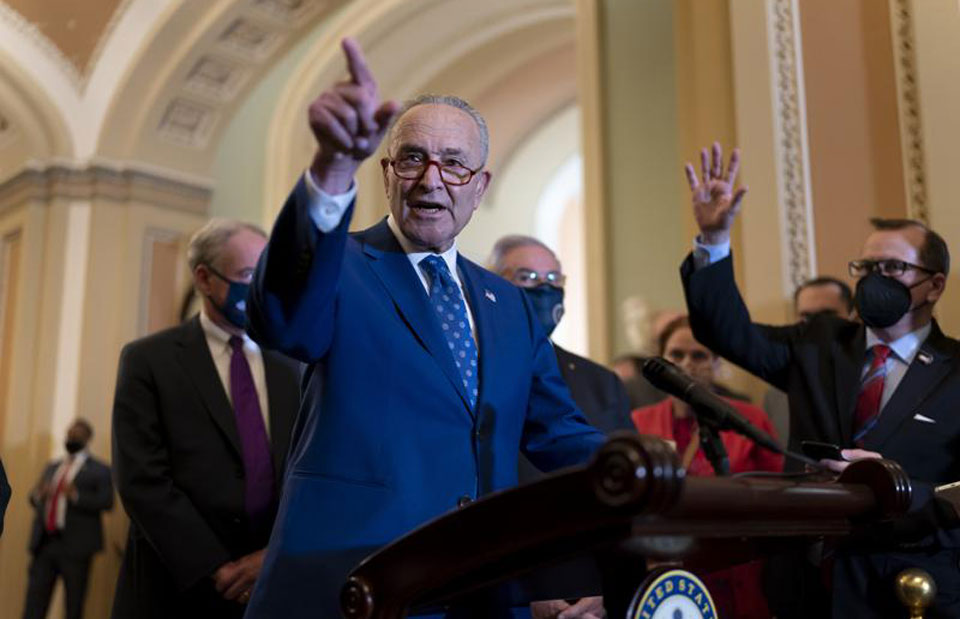 WASHINGTON—Every December, it seems, Congress turns into one word: Crunch.
Having dithered, stalled, and filibustered their way through months of gridlock, it's happening again between now and Dec. 31.
By then, lawmakers must vote on controversial legislation. Key items include:
Keeping the government running. Otherwise known as a "continuing resolution," or CR. This is the basic bill that keeps the government going while lawmakers haggle over details of what should be in regular money bills for fiscal 2022, which started Oct. 1. The last CR is keeping the government going until Dec. 3.
That funding is at last fiscal year's levels, not the higher 2022 figures Democratic President Joe Biden proposed and Democratic-run House by and large approved.
There were three government shutdowns during the regime of former GOP Oval Office occupant Donald Trump. He inspired the longest one, 35 days, from Dec. 22, 2018-early February 2019, when Congress resisted Trump's demand that it include $5.7 billion for his racist Mexican Wall in the CR. He vetoed the CR. Workers went six weeks with no pay, and Trump forced many of them, such as the airport screeners, to work anyway.
Extending the debt limit. The debt limit pays for past borrowing, despite GOP lies that it will allow the nation to keep putting spending on its credit card. Treasury Secretary Janet Yellen told lawmakers in mid-November that by Dec. 16 her department would exhaust all its backup methods to keep the government paying its bills.
"While I have a high degree of confidence Treasury will be able to finance the U.S. government through December 15 and complete the Highway Trust Fund investment, there are scenarios in which Treasury would be left with insufficient remaining resources to continue to finance the operations of the U.S. government beyond this date," Yellen wrote.
"To ensure the full faith and credit of the United States, it is critical that Congress raise or suspend the debt limit as soon as possible."
The Senate's Republicans, who as usual want to gum up the works, or worse, pooh-pooh that. Sen. Mitt Romney, R-Utah, who as a former financial executive should know better, says the crunch won't really come until mid-January. Senate GOP leader Mitch McConnell of Kentucky has threatened to use his 50 votes–exactly half of the Senate—to trigger a default, thus throwing the U.S. and world economies into a massive depression, costing millions of jobs.
The man who really wants to throw the U.S. into default, however, is former GOP Oval Office occupant Donald Trump, whose dictates congressional Republicans kowtow to. His message to McConnell was blunt:
"If he (McConnell) doesn't leverage something on spending out of Democrats, especially when we're looking at the Build Back Better bill possibly passing the Senate in some form, it's going to be embarrassing," he added. "The debt limit is the only leverage Republicans have this whole Congress. If they give it away and get nothing for it, it's going to be a huge embarrassment."
President Biden's Build Back Better Act. House passage of the much-slimmed down expansion of the frayed and flawed U.S. social safety net was only half the battle. The 50-50 Senate—again—will be a major roadblock. So will renegade Democrats Joe Manchin of West Virginia and Kyrsten Sinema of Arizona. Sound familiar?
Build Back Better is officially a "reconciliation" bill, which is supposed to deal only with taxes and budget issues, but there are many key provisions in it to help workers and families. Two prime ones are to vastly increase fines for labor law-breaking and to extend legal protections, if not outright citizenship yet, to most of the 10 million-11 million undocumented people in the U.S.
The worker rights provisions would increase the fines imposed on labor lawbreakers, including violators of the Occupational Safety and Health Act and the National Labor Relations Act. Taken from the Protect The Right To Organize (PRO) Act, the fines also would extend NLRA punishments to board members, CEOs, and other top-level brass, make fining them easier and broaden the range of offenses considered labor law-breaking. Among the new offenses: Captive audience meetings.
The fines could bring tens of millions of dollars into federal coffers since they would be for civil offenses, Harvard Law professor Benjamin Sachs wrote in the OnLabor blog earlier this year.
"Since the Supreme Court limited the NLRB to issuing compensatory relief, companies that unlawfully discharge their employees" during union organizing drives "are at worst liable for what they would have otherwise paid their former workers, minus what the illegally discharged worker earns while waiting for the Board to act)—or, in the case of undocumented employees, nothing at all," he noted.
Such employer labor law-breaking occurs in 41.5% of all organizing drives, notes Economic Policy Institute President Heidi Shierholz.
"When companies refuse to bargain with unions, their primary punishment is getting sent back to the bargaining table, where they can again refuse to bargain. For other violations, the remedy may consist of no more than an order to post a sign in the break room noting that the employer broke the law," Sachs added.
"Given current remedies, the PRO Act's civil penalties scheme would transform the nature of the NLRA remedial regime.  For many employers, $50,000 fines could deter misconduct in a way that notice postings and back-pay awards never do."
Fines for breaking OSHA would multiply by ten times their current limits, too, from the current maximum of just over $13,000 for a serious and willful violation to a maximum of $130,000.
Immigration reform. It's in the BBB bill, but it's not quite the comprehensive reform workers, civil rights groups, and organizations for Spanish-speaking people, such as UnidosUS and Labor's Council for Latin American Advancement, envision.
The legislation "provides a temporary status—known as parole—for roughly two-thirds of the unauthorized immigrant population. That status will protect from deportation those who qualify and allow them to work lawfully. The BBBA also includes provisions to recapture unused green cards and help clear the green card backlogs, which will provide certainty and permanence to hundreds of thousands of immigrants, keep families together, and increase worker power," Shierholz says.
There are two potential monkey wrenches to inserting immigration into the BBB bill, even though proponents among both civil rights groups and BBB Senate author Bernie Sanders, Ind-Vt., note immigration reform would actually add money to federal coffers. One is Senate Parliamentarian Elizabeth McDonough, an unelected official who threw immigration out of a prior reconciliation bill. The other is Sinema, whose border state, Arizona, is split over immigration's impact.
And Manchin is another monkey-wrench. Both his vote and Sinema's are needed for the Democrats to muster all 48 of their senators, plus both independents, to create the tie Democratic Vice President Kamala Harris can break.
But Roll Call reports the West Virginian, having already forced a 50% cut in the BBB bill's original spending, now objects to four weeks of paid family and medical leave. So-called "moderate" House Democrats forced that provision down from 12 weeks. Manchin also still objects to any spending on "green" provisions.
Prescription drugs. The House-passed BBB bill also includes first-ever sections allowing Medicare to negotiate down the prices of some prescription drugs, though those cuts wouldn't take effect immediately. Tougher bargain-down language was yanked by lawmakers influenced by Big Pharma campaign contributions.
"We are calling on Congress to pass President Biden's Build Back Better Act and include a provision allowing Medicare to negotiate the cost of prescription drugs in the package and lower the amount that beneficiaries are paying at the pharmacy counter. The savings from these negotiations should be used to add guaranteed Medicare dental, hearing, and vision benefits," the Alliance for Retired Americans says.
The military money bill. The Senate will resume debating it on Dec. 2. There are two issues: Sanders and other progressives want to cut its size—it's much bigger than last year's already mammoth version—and it will be stuffed with sections, a few good and many bad, that have nothing to do with the military.