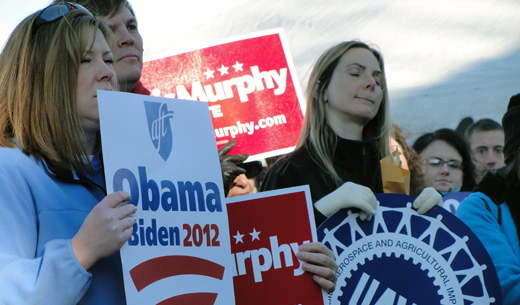 NEW HAVEN, Conn., — Connecticut voters smacked down tea party Republican Linda McMahon on Election Day and chose Rep. Chris Murphy to be their new U.S. Senator.
After months of being barraged with $90 million of media attack ads, robo calls, and slick literature paid for by the former World Wrestling Entertainment CEO, voters concluded that the billionaire was not on their side.
"This was a great night for our union and working families," said Melodie Peters, president of AFT Connecticut on Election Day. "The voters sent a clear message that our votes cannot be bought."
Throughout the campaign, McMahon portrayed herself as a friend of the middle class and inaccurately claimed that Murphy had no jobs plan.
In fact, Murphy is known for his "Make it in America" and other job creating legislation as Representative in the fifth Congressional District. He earned the active endorsement of every union in the state. McMahon, however, required wrestlers to work as private contractors, thereby not paying health benefits or workers' compensation.
The race was considered a toss-up for many months. Hundreds of union members knocked on the doors of their co-workers each weekend to discuss the issues. Workers from the building trades, teachers, health care workers, machinists, letter carriers, hotel workers and many others carried the message to re-elect President Barack Obama and give him a team in Congress that will not obstruct. That is exactly what the majority of voters did on Election Day in every district of the state.
Hundreds more volunteers from organizations including the Hilltop Brigade, Sierra Club, NAACP, college students and neighborhood teams joined the effort in the fall. Already, the voting rolls had been swelled by the efforts of coalitions in the major cities who focused on voter registration drives to boost participation in low income, African American and Latino neighborhoods.
As the polls shifted toward Murphy, McMahon launched a cynical and deceitful coordinated campaign aimed at African American and Latino voters. In a state where Obama was polling ahead in double digits, McMahon called on Obama supporters to choose her for Senate with literature drops, robo calls and ads featuring a former NAACP president in Bridgeport, and saturation of the Spanish language media.
In response, President Obama issued a video ad telling voters, "I need Chris Murphy in the Senate!"
On Election Day, McMahon's poll standers, wearing shirts that looked from a distance to be union shirts, tried to hand out "Obama and Linda" palm cards. The trickery backfired.
McMahon had also attempted to deceive senior voters by claiming, as did Romney and Ryan, that she would not touch the benefits of those now receiving Social Security, avoiding the fact that she had called for a sunset provision which could end the program.
A week before the election the national Alliance for Retired Americans (ARA) endorsed Murphy.
"We cannot elect candidates who see Social Security and Medicare as public goods that can be sold off for private gain. Instead of helping seniors, the Republican plan to privatize Medicare would have seniors paying more – but getting less," said retired machinist James Parent speaking for the ARA.
"Today's retirees do not want to be the last generation to retire," said Parent. We worry that even though our nation has made great progress in our lifetime, we could lose it all if the wrong people win in this election. Seniors can trust Chris Murphy with their Social Security and Medicare."
In the end, Connecticut returned an all-Democratic delegation to Congress, and defeated several tea party Republicans from the state legislature. A ballot question in New Haven to reduce the military budget and increase job-creating funds to cities passed by 85%.
Voters from Connecticut and around the country who rejected the tea party and stood up for a program to end tax breaks for millionaires and protect Social Security and Medicare are now turning their attentions, with raised expectations, to the budget showdown in Washington to make sure their voices are heard.
Photo: Hartford, Conn. union members rally on the eve of the election, before campaigning in support of President Obama, Chris Murphy for Senate, and other pro-worker candidates. Win Heimer