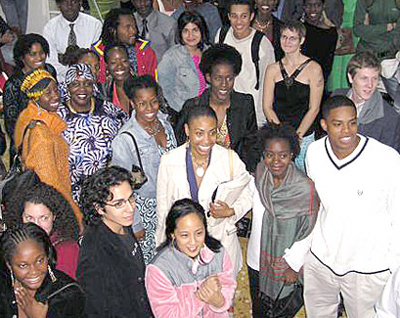 HAVANA — "Best decision I ever made," said medical student Cori Marshall of Chicago characterizing her first year at Cuba's Latin American School of Medicine (LASM). The school graduated its third class of new doctors on July 24. The 2,188 health professionals receiving diplomas at a graduation spectacular at Karl Marx Theater here included eight U.S. medical students who had finished six years of study.
Thousands were looking on: families from numerous countries, faculty members, political leaders, and participants with the 18th Pastors for Peace Friendshipment, the present writer included.
Speaking at the ceremony, the Rev. Lucius Walker, director of the Interreligious Foundation for Community Organization/Pastors for Peace, lauded "this unique and revolutionary institution," one that espouses "availability of health care for the poorest, the humblest, those without hope." The school, Walker said, shows the "true human face of Cuba," which "opened its heart and resources." He characterized the new doctors as "transformative ambassadors," especially in Africa. They are "new citizens of a new world."
Becoming a doctor, changing the world
Marshall hadn't thought much about being a doctor until she found out about medical school in Cuba — paid for by the Cuban government. She liked science in college and wanted to work with people, but high costs for college and graduate education had cast a cloud over her future plans.
Similarly, on leaving college, Marshall's fellow student Aida Alston of Long Beach, Calif., didn't know what she wanted to do. She had "all these ideas how to help the world — a huge heart, but no skills," she said in an interview here. Then she too heard about LASM.
The school opened in March 1999, just months after Hurricane Mitch struck Central America, and Cuba sent hundreds of doctors to provide disaster relief there. The plan was to train physicians to replace Cuban doctors working in Honduras and other countries. The idea has taken off since then.
Over 13,000 students have attended the medical school, 4,465 have graduated and 10,200 students are currently enrolled. They come from 29 countries, including eight African countries and the United States. This year's graduating class included 1,220 physicians, 112 dentists, 204 nurses and 646 allied health professionals from 25 foreign countries. There were 341 foreign medical students graduating from other Cuban medical schools this summer, along with 2,470 Cuban students.
The number of students from individual countries presently enrolled at LASM is impressive. There are 826 Venezuelan students there; more than 500 each from Ecuador, Brazil, Mexico, Paraguay, Haiti, Panama and Peru; over 400 each from Chile, Nicaragua, Argentina and Honduras, followed closely by the Dominican Republic and Uruguay. East Timor accounts for 274 students; Zimbabwe, 144; Nigeria, 96; and the United States, 91.
Medical school without walls
Speaking the next day to the Pastors for Peace delegation and a few U.S. students and their families, LASM President Juan Carrizo indicated that with 12,000 students studying medicine in Cuba's newly conceived "medical school without walls," the total of foreign medical students studying in Cuba has risen now to 22,000. He cited Fidel Castro's goal announced in 2005 of graduating 100,000 foreign medical students and 28,000 nursing students by 2015, with 60,000 of them from Venezuela and 30,000 from other Latin American countries. Cuban doctors are already teaching 13,000 medical students in Venezuela as part of that nation's community medical school program.
The World Health Organization declared in 2005 that over 4 million additional health care providers are needed throughout the world. In 47 poor countries served by Cuban-trained physicians, there is one doctor, on the average, for 1,020 people. By comparison, in the United States there is one doctor for 333 persons; and in Cuba, one for every 159.
Carrizo suggested that Cuba was adding a "grain of sand, maybe 2-3 grains," toward these needs. He sees a "battle for health in the world" to which "individualistic medical training" does not contribute. LASM graduates, seen as "true pastors, missionaries, apostles of health care," are crucial to this venture, he suggested. Cuba "shares with sister nations the greatest contribution of the revolution … nothing extraordinary, [just] our own training and nature."
History of health care solidarity
The impulse behind LASM is not new. Beginning in Yemen in 1976, Cuba has founded eight schools of medicine in the Third World and provided faculty for medical schools in South Africa, Angola, and other African nations. From 1962-2004, Cuba hosted some 47,000 foreign students including 4,000 medical students. In December 2006, Venezuela entered 412 medical students from 14 Latin American and Caribbean nations into its own LASM.
The opportunity for U.S. students to study at Cuba's LASM came in early 2000 when members of the Congressional Black Caucus, visiting in Cuba, met with Cuban President Fidel Castro. Congressman Bennie Thompson of Mississippi outlined gaps in health care afflicting poor Black residents of that state's Delta region. Responding later that year in a speech in New York, Castro announced 250 full-ticket scholarships available to young North Americans from poor, marginalized families who commit themselves to providing health care needs in underserved areas in the U.S.
Interviewed in Havana, Evelyn Erickson of New York City was clear: "Without Cuba's help, it wouldn't have been possible to study medicine." Her father, auto mechanic Evelio Erickson, grew up in the Dominican Republic and came to Havana with family members to witness his daughter's graduation.
Prohibitively high medical education costs had discouraged Evelyn, 25, away from her college pre-medical track. She and others lacking family wealth had been unable, or unwilling, to take on debt loads averaging almost $200,000. She taught in the New York City public schools and now is looking for a U.S. residency program to prepare her to become a pediatrician.
Fighting blockade, too
Pastors for Peace has taken responsibility for recruiting and providing support for U.S. students at LASM. In his remarks at the graduation, the Rev. Walker praised the 28 U.S. congresspersons who blocked the Bush administration's attempt in 2004 to put LASM off-limits for U.S. students, alleging they were violating newly tightened U.S. blockade rules.
Practicing in the U.S.
Students and the Pastors for Peace team are confident that the students will be able to pass U.S. tests and secure residency posts, necessary for U.S. licensure. Cedric Edwards, the first U.S. graduate of LASM in 2006, is working at Montefiore Hospital in the Bronx. According to Ellen Bernstein of Pastors for Peace, "Many doctors and hospitals in the U.S. have shown special interest [in LASM students] because they have specialist training in primary and preventive care, a global perspective about health care … and they are fully bilingual."
Graduate Melissa Barber of the Bronx, planning to become an obstetrician, believes LASM teaching is special. "One of the great experiences," she said, "is a social medical system that is community-based and hands-on." With limited resources, you "use what you have." She was taught to exhaust all diagnostic modalities before "you send away for the labs." You first "look, see, smell and touch."
Quality medical education
LASM students spend two years learning basic medical sciences at the school complex, a former naval base west of Havana, and then spend four years doing clinical work at teaching hospitals throughout Cuba, with the U.S. students assigned to Havana's Salvador Allende Hospital. In their sixth year, putting into practice what they have learned, they serve as interns under teachers' supervision, caring for 15 or so hospitalized patients at a time.
Many LASM students begin their studies several months earlier than others to catch up on pre-medical work or to take a 20-week Spanish immersion class. Of the U.S. students, 85 percent entering the school remain. Overall, the students represent over 100 ethnic groupings, and half are women.
The U.S students give their teachers high marks for dedication and enthusiasm. They are said to be always available for extra help. The assumption is that all students will succeed and competition among students is minimized. Students help each other under the direction of a fellow student, elected as a so-called "monitor." Groups of 25 students are taught by practitioner-teachers responsible for student evaluations. Teachers encourage group discussions and oral presentations, according to med student Marshall. Full-time faculty members offer lectures to larger groups of students.
Preventive and community-based care
Barber and Marshall appreciated involvement beginning in their first year with family doctors. That underscored the importance of preventive and community-oriented care within the Cuban health system. As a delegate to an international conference in 2001, Marshall stayed with a pediatrician who was familiar enough with her patients' medical histories that reviewing patients' records was unnecessary. That the pediatrician could expound upon public health statistical data impressed her. Marshall drew a contrast with U.S. health care providers she knew.
For Marshall, the driving force is to "be in a position to make concrete changes in a U.S. system that is flawed [and that does] not focus on people being healthy." With "something to stick my hands in," she will "work for real change."
British citizen John Waller heads up organizing for the Friendshipment caravans. Following LASM head Carrizo's report, Waller commented that LASM epitomizes the Bolivarian dream of Latin American unity manifested currently in the Bolivarian Alternative for the Americas, the unity pact initiated by Cuba and Venezuela and joined by Bolivia and Nicaragua.
Waller went further: When one day "we have seven wonders of the new world [to match the seven wonders of the ancient world], one will be the Latin American School of Medicine."
Nevertheless, for Marshall, who was heading back to Cuba after a one-month summer break, the best thing about LASM was her "amazing" dance class. She described student projects like theater, writing groups, sculpture classes and sports leagues as part of the LASM experience, along with curriculum-based physical education classes.
That may be bad news for imperial officials in Washington. The Cubans appear to be sending out young people dedicated not only to serving people, but, worse, to preserving their own humanity, and likely as not, honoring that of others.
W.T. Whitney (atwhit @megalink.net) writes on international affairs for the People's Weekly World and is a peace and solidarity activist living in Maine. He has traveled to Cuba and is a pediatrician.