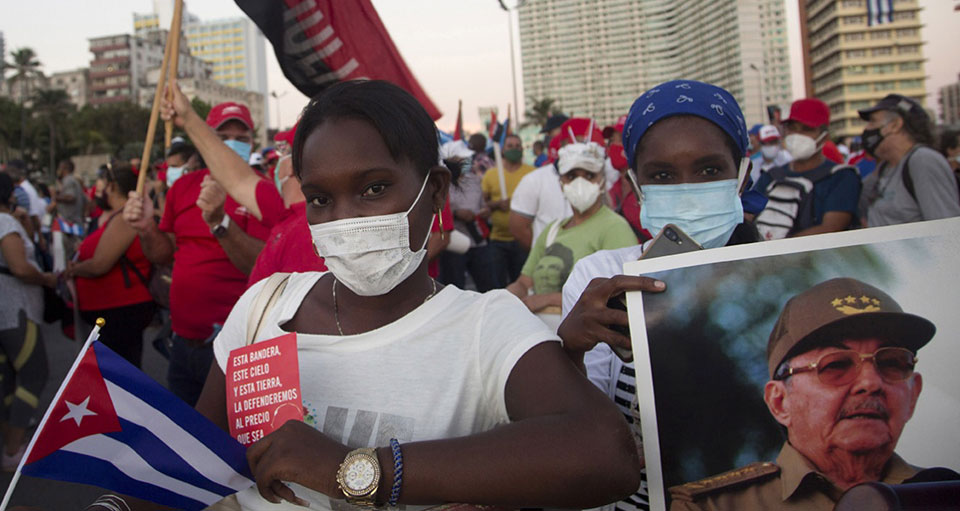 Thousands of Cubans took to the streets in defense of their revolutionary government on Saturday as President Miguel Díaz-Canel vowed to defend the country from outside interference.
"We are going to put our hearts into Cuba — together we can — because Cuba is love, peace, and solidarity," he said.
Demonstrations took place in the capital Havana and other cities in a rejection of the messages circulating on social media aimed at destabilizing the country.
Mr. Díaz-Canel denounced the "unconventional warfare" being waged against Cuba: a reference to the social media campaign using the hashtag #SOSCuba, which has its origins in the United States and organizations linked to the shady National Endowment for Democracy, as reported in the Morning Star last week.
It is part of efforts to present a picture of Cuba to the world that "is a lie," he said, adding that "imperialism tried to silence any information about the true reality of our country."
International media have reported on growing unrest in Cuba in the face of an economic crisis and shortages of vital medical equipment to deal with the coronavirus pandemic.
But they have studiously ignored mass support for the government and calls for an end to the US-imposed blockade that has cost the Cuban economy some $754 billion (£547bn) since it was imposed in 1959.
U.S. President Joe Biden's professed support for the Cuban people has been dismissed as opportunism, as he refuses to end the devastating embargo — the U.S. voted against a motion calling for it to be lifted at the United Nations general assembly last month.
And U.S.-led calls for humanitarian aid have also been rejected, with Mr. Biden attaching strings to any offers of support as he labeled Cuba "a failed state" last week.
Youth Communist League spokesman Aylin Alvarez warned that "the revolutionary Cuban people do not believe in false humanitarian aid that brings with it foreign interference," while the Cuban government continues to press demands for an end to the blockade.
Despite countless efforts in six decades, including invasion and hundreds of attempts to assassinate late leader Fidel Castro, the U.S. has failed to overthrow the Cuban government.
Last week Miami Mayor Francis Suarez called for U.S. military intervention, including air strikes against Cuba. But Foreign Minister Bruno Rodríguez said that Cuba's enemies should not underestimate the determination of its people.
"Those who question the loyalty and support of millions of Cubans to their revolution ignore the tradition of struggle and victory of an entire people, who will not let the freedom, sovereignty, and independence … be taken away."
This article was reposted from Morning Star.