Eighty-two billionaires and 389,000 millionaires live in New York City while 88,000 people sleep on the streets each night, including many children.
To protest this situation, a coalition of tenant organizations marched June 14th from the New York Public Library to Governor Andrew Cuomo's NYC office where they camped outside for three days. They called their encampment Cuomoville.
Members of Community Voices Heard (CVH), NY Communities for Change (NYCC), VOCAL-NY, Urban Homesteading Assistance Board (UHAB), Democratic Socialists of America (DSA), Picture the Homeless, NY Progressive Action Network (NYPAN, Metropolitan Council on Housing, and the New York State Communist Party held the Governor accountable for a housing plan crafted in the interests of a tiny portion of the 8 million people living in New York City: landlords and developers.
"We're in the middle of a housing crisis. A majority a New Yorkers are paying more than 30 percent of their income in rent and 30 percent are paying more than 50 percent of their income in rent," said Ava Farkas of Met Council.
"That means that there are thousands of people who are living in shelters. There are thousands of people, families, that are doubled up in apartments," said Estevan Bassett-Nembhard of the New York State Communist Party. "This is all because our Governor wants to protect the right of landlords to earn profit, not protect the right of human beings to have housing."
"This is an anniversary of another campout we did when the rent laws were being renegotiated and the Governor had a choice to strengthen protections for tenants in NYC," said Farkas. "He came out with a very nice op-ed in the Daily News and he said that he was going to do what we were asking him to do. And you know what he did? Nothing!"
Preferential rent scams, vacancy decontrol, construction-as-harassment, re-zonings, and a fake "affordable housing plan" called Mandatory Inclusionary Housing (MIH) that is in fact unaffordable for local neighborhood residents are being used to drive up rents and prices and drive people from their communities, all to line developers' pockets.
Housing conditions in shelters and New York City Housing Authority units are so deplorable they are killing people with toxic mold, rodent infestations, poor ventilation, broken windows, asbestos, failing elevators, crumbling pipes, septic flooding, and leaking roofs.
Section 8 vouchers, originally created to put public housing residents into privately owned units due to a lack of sufficient public housing, are now being used to subsidize New York City Housing Authority (NYCHA). Landlords unwilling to accept the vouchers or pay taxes for new public housing units have worked with politicians elected to represent the people to cram more and more people into public housing while many more thousands sit on NYCHA's waiting list. As Trump moves to cut over $7.4 billion from Housing and Urban Development (HUD), a plan called NextGen is also underway to privatize NYCHA properties.
In addition to all this, a $1.4 billion subsidy to billionaire real-estate developers has created only $100 million worth of so-called "affordable" units, and Governor Cuomo wants to increase this tax break for the rich to $2.4 billion dollars. The multi-billion dollar giveaway to developers is the first piece of Cuomo's five year plan to "combat homelessness," though it does nothing of the kind. Meanwhile, Cuomo has blasted Mayor de Blasio for the decades-long homeless crisis and moved to shut down shelters. He has not worked with the Mayor to increase funding by taxing Wall Street.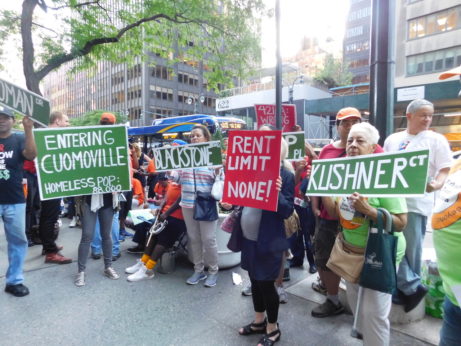 The real-estate led development of New York City has brought new, wealthier people into the city, while displacing others. It has boosted demand for services, while the people providing them struggle to get by on minimum wages, tips, and docked hours. The one-sided focus has failed to take care of problems of overcrowding, and an antiquated subway system is crumbling under the weight of neglect, punishing commuters.
"[Cuomo] did a rally to try to get everybody riled up to to deal with the Republicans in Congress," said City Councilmember Jumaane Williams, who joined the rally, "but did I miss the rally when he did the same thing for the state?" he asked. Williams pointed out Cuomo's role in heading up the IDC, a group of breakaway Democrats in the State Senate that vote with Republicans, handing them the majority while working to water down and block progressive legislation.
"When it's time for you to announce that you are running for President of the United States of America," Williams added, addressing Cuomo, "we are going to make sure that everybody in this country knows that you let people in New York City and New York State down."