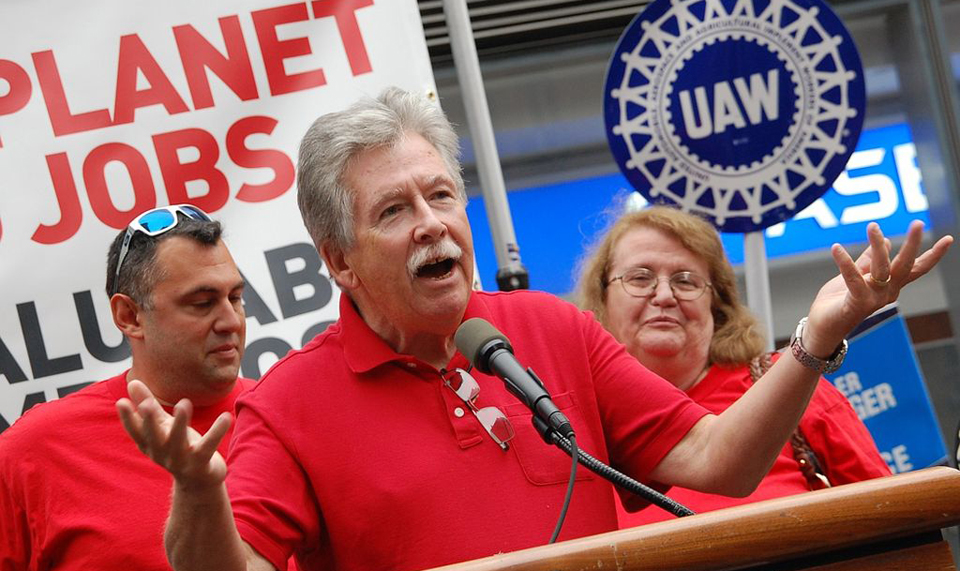 WASHINGTON—Challenging the Democratic Party to live up to its pro-worker utterances, the Communications Workers formally asked the party to withdraw support from the seven incumbent U.S. House Democrats who voted against the Protect the Right to Organize (PRO) Act, the most far-reaching pro-worker labor law reform bill in decades.
But if recent actions of top House leaders and their Democratic Congressional Campaign Committee (DCCC)—the party body CWA President Chris Shelton targeted—are any indication, the Dems' answer is "no."
Instead, the party is going to support incumbents, even if they vote more like Republicans, as one, in particular, Rep. Henry Cuellar, D-Texas, does.
AFL-CIO President Richard Trumka has already made it clear those Democrats—Cuellar, Lucy McBath of Georgia, Joe Cunningham of South Carolina, Kendra Horn of Oklahoma, Ben McAdams of Utah, Stephanie Murphy of Florida, and Kurt Schrader of Oregon—will not get workers' endorsements or help this fall.
Shelton wants party action sooner than that. His letter to Rep. Cheri Bustos, D-Ill., chair of the DCCC, demands the fundraising body disavow and yank its support from the seven, now.
But House Speaker Nancy Pelosi, D-Calif., and Majority Whip Steny Hoyer, D-Md., seemed to brush CWA aside. Pelosi appointed Bustos.
On Feb. 22, all three traveled to Texas to fundraise. Pelosi deliberately took a side trip to Cuellar's campaign office in Laredo to endorse him and to encourage his volunteers. Cuellar faces a tough challenge in the March 3 primary from pro-immigrant rights attorney Jessica Cisneros.
Progressive groups, the Service Employees, immigrant rights groups, and other unions support Cisneros. She, in turn, backs raising the minimum wage to $15 an hour, Medicare For All, and the Green New Deal, among other issues. She declares GND, in particular, would create more union jobs. Cuellar opposes all three causes.
Non-partisan studies show Cuellar voted with the GOP president 70% of the time—and that was before his vote against the PRO Act. His Laredo-based 28th congressional district is a "blue" district in a red state that is, due to rapidly growing populations of people of color, turning purple.
Five of the other six who voted against the PRO Act are first-term lawmakers who took GOP-held seats in the 2018 mid-terms. The other, Schrader, represents a swing district.
Cuellar's record prompted the Texas AFL-CIO to endorse Cisneros. "This district needs somebody who's going to stand up for working people, stand up for poor people, and stand up for justice," state fed President Rick Levy said in a short video with Cisneros announcing the decision. It's the only Texas AFL-CIO endorsement of a challenger to a Democratic incumbent.
But it's not just Cuellar vs. Cisneros, Shelton wrote.
"I urge you to deny DCCC services to the seven Members of the House of Representatives who caucus with House Democrats and betrayed working people and America's Labor Movement by voting against the final passage" of the PRO Act.
Workers, religious groups, civil rights groups, environmentalists, and civic groups all lobbied for the PRO Act, while big business—which is supporting Cuellar against Cisneros—lobbied against it. The Chamber of Commerce took out a $200,000 ad buy for the incumbent, and an ersatz "Latino" front group set up by the anti-worker Koch brothers is providing ground troops for Cuellar.
"The PRO Act is a continuation of the long history of the Democratic Party's policies to strengthen workers' voices in the U.S. economy and create a level playing field and an engine for millions of workers to reach the middle class and, therefore, a stable and comfortable life," Shelton told Bustos.
"Those who voted against the PRO Act betrayed this fundamental principle of the Democratic Party. And due to those votes, it is impossible for CWA to urge our members to support any of these seven candidates. They must be denied the support of the Democratic Party for refusing to stand with working Americans."
Shelton concluded that demanding disavowal of the seven anti-PRO Act Democrats will not be the end of the story for CWA. The union will "hold Democratic members accountable for putting the interests of corporations ahead of the interests of working people," he promised.