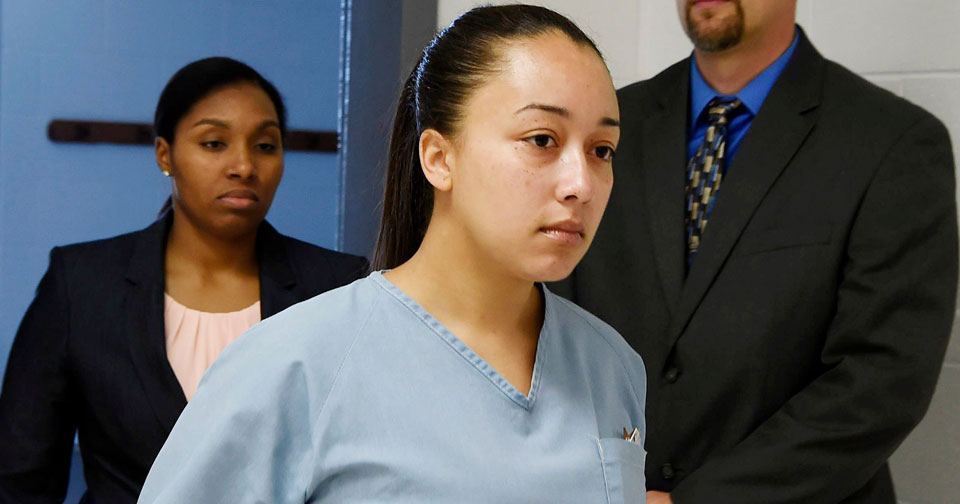 Cyntoia Brown, a former 16-year-old sex trafficking victim, is facing five decades in prison if the recent Tennessee Supreme Court ruling is upheld. On December 6, the court ruled that Brown, who was convicted of first-degree murder as a teenager, would have to serve 51 years in prison before being eligible for parole. The case is one that brings to light the continued criminalization of sex trafficking survivors, along with the continued problems with the juvenile justice system that affects a disproportionate number of girls and children of color.
In 2004 Cyntoia was 16 when she shot and killed a 43-year-old man, Johnny Allen, who solicited her for sex. According to Brown's later testimony, at the time she had been forced into prostitution by her abusive older boyfriend and pimp named "Kut Throat." Brown maintained that she had shot Allen in self-defense after the older man had become violent with her after showing her his gun collection. Cyntoia explained that she feared for her life, and shot him with the handgun she had in her purse.
The prosecution countered that Brown's real motive was robbery. She was tried as an adult in Tennessee, and convicted of murder, and sentenced to life behind bars in 2006. Cyntoia's case could have seen her as just another statistic, but it was the PBS documentary called "Me Facing Life: Cyntoia's Story," that drew public attention to her situation, and renewed support by those seeking her freedom.
Brown and her legal team challenged the 2006 ruling, asserting it was unconstitutional by citing a 2012 opinion by the U.S. Supreme Court that it was in violation of the U.S. Constitution to give mandatory life sentences without parole to juvenile offenders. It also came to light in the years following Brown's initial trial that her case had been mishandled. She had been advised not to testify on her own behalf. Evidence regarding her troubled upbringing and mental disorder also was not included as a factor in her defense by her original defense lawyers.
The Tennessee Supreme Court ruled that Brown's sentence was not unconstitutional because a "life sentence" was 60 years, and since Brown was only serving 51 years (a reduced sentence she received based on her own good behavior) her sentence didn't violate the constitution. The Tennessee Supreme Court, essentially by using a legal loophole, denied Brown her right to fair sentencing under the law.
According to the American Civil Liberties Union close to 60,000 youth under the age of 18 in the United States are incarcerated in juvenile jails and prisons. Of that 60,000 there is a disproportionate amount of youth of color incarcerated. According to statistics gathered by the Youth First Initiative Black youth are five times more likely to be incarcerated than white youth, Native American youth are 3.2 times more likely to be incarcerated than white youth, and Latino youth are 1.8 times more likely to be incarcerated than white youth. This is despite the fact that, as according to the Haywood Burns Institute, youth of color commit the same level of juvenile crime as their white counterparts. This division of so-called justice isn't just along racial lines, as further reports note that young girls are making up a larger amount of the juvenile justice population.
The report Gender Injustice: System-Level Juvenile Justice Reforms for Girls explains that there has been a steady increase in the number of girls arrested and incarcerated in the juvenile justice system, and more so in the number of girls of color. The executive director of the human rights organization Rights4Girls, Yasmin Vafa, noted in a recent NPR interview that many of these girls are finding themselves in the "sexual abuse-to-prison pipeline," which is a variation of the school-to-prison pipeline often associated with youth of disadvantaged backgrounds being criminalized from an early age.
Vafa explained that many girls in the prison system, like Cyntoia, have suffered instances of sexual and physical violence. "I think that it's not a coincidence that the whole issue of Cyntoia Brown has made a kind of resurgence during the wake of these 'ME TOO' disclosures because I think it shows what 'ME TOO' looks like for some of our most vulnerable girls," she said in the interview.
The U.S. Sixth Circuit Court of Appeals will hear Brown's case next, as she is not eligible to go before a parole board until she is 67 years old. There is also a public calling for Tennessee Governor Bill Haslam to grant Brown clemency with a shorter sentence before he leaves office in 2019. Gov. Haslam stated in a recent town hall meeting that he is reviewing Brown's case.
Research and statistics show that Cyntoia Brown's case, although a high profile one, is not unlike many cases of young girls of color lost and vulnerable in a system that is doing little to provide them with protection and a chance at fulfilling lives. Brown's case puts into the spotlight a continued problem of exploitation and oppression of individuals at the intersection of race, gender, and class.
With a little over six weeks left of Gov. Haslam's term, organizers and activists are urging supporters to call Haslam's office at (615) 741-2001 to apply pressure for a decision on Brown's case.