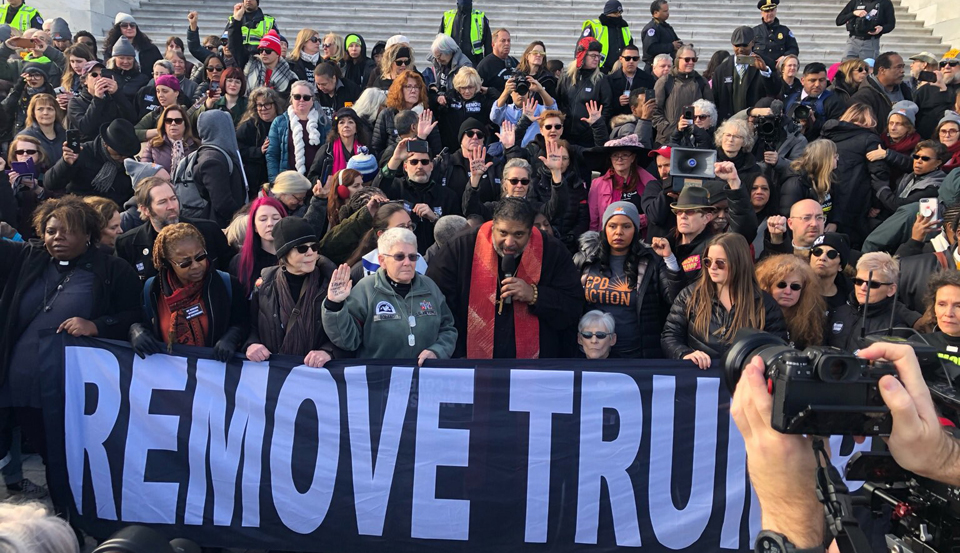 WASHINGTON—When it comes to campaigning for Senate conviction of GOP President Donald Trump on abuse of power and obstruction of Congress, demonstrators in D.C. had two separate objectives.
Demonstrators staged a silent protest in the atrium of the largest senatorial office building. That group included busloads of people from Chicago and elsewhere, as well as D.C. area residents.
They wanted senators to hear from live witnesses about Trump's abuse of power. That abuse, they made clear, centers around Trump's virtual bribe of withholding $391 million in U.S. military aid from Ukraine unless the Ukrainians dug up political dirt he can use against a leading Democratic hopeful, former Vice President Joseph Biden, in the 2020 campaign.
Later, dozens – including one woman in a wheelchair — sat down on the Capitol's steps in peaceful civil disobedience and were arrested by Capitol police.
The protest, organized by #SwarmTheSenate and #Remove45 attracted progressive groups, including Public Citizen, the Women's March and People for the American Way. The protest included the Revs. William Barber and Liz Theoharis, co-leaders of the New Poor People's Campaign.
The silent vigil focused on the need for live witnesses, particularly ousted Trump National Security Advisor John Bolton – a noted ultra-war hawk – to testify about their direct knowledge of Trump's try at bribing the right-wing Ukrainian government to do his dirty work in 2020.
"John Bolton's claims stand in direct opposition to the position Donald Trump's lawyers have taken in the president's defense and would represent absolute confirmation of the abuse of power committed by Trump," said PFAW Vice President for Policy Marge Baker.
"If Senate Republican leadership refuses to allow Bolton to be called to testify under oath in Trump's impeachment trial and to provide relevant documents, that would take their efforts to cover up Trump's wrongdoing to unfathomable heights. There can be no excuse for refusing to call witnesses in this trial now that the existence of this incriminating evidence is known. The American people deserve to know what John Bolton knows."
Baker wasn't the only voice blasting Senate Republican leaders for refusing to call live witnesses or admit other evidence that has surfaced since the Democratic-run House impeached Trump on Dec. 18. Though unions did not join the Jan. 29 protests, Service Employees President Mary Kay Henry specifically called out McConnell's witness bar.
"Working families will not sit by quietly as Sen. McConnell and other elected officials try to further rig the rules of this trial, the economy and our nation's laws for political gain," Henry warned.
"All senators need to put our country over partisanship," she added. The first Senate votes, all on party lines, "were their first test of that and too many of our elected leaders failed. But it's not too late to include testimony and evidence the public deserves to hear. Working people will be watching future votes closely to see who stands with us."
Some participants tried another tactic to convince the senators: Cakes. They brought 50 cakes, with frosting featuring the demand to call the witnesses. Two cake carriers got through Capitol Police security before the cops caught on, and stopped the other 48.