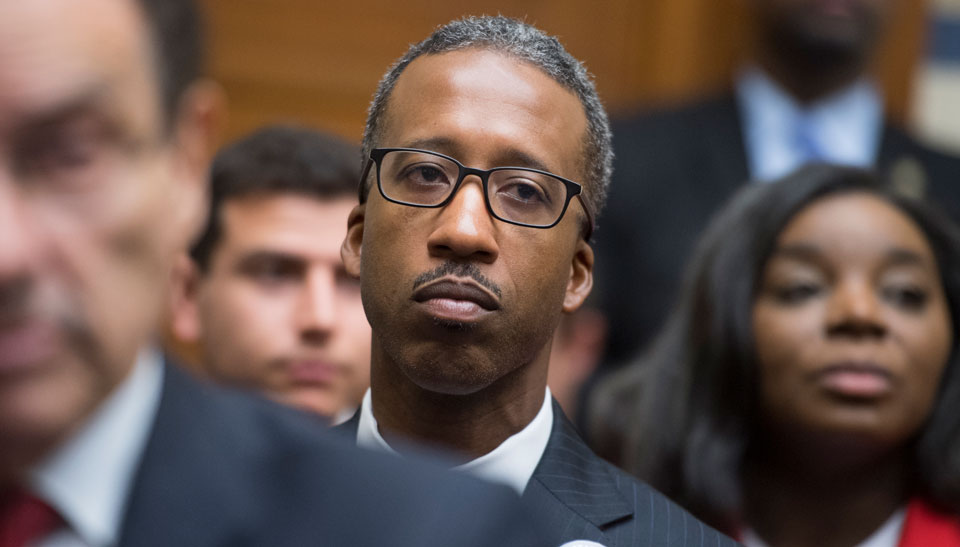 WASHINGTON—Last week, at-large city council candidates Elissa Silverman and Kenyan McDuffie announced some big-name endorsements for their campaigns.
Silverman recently got the nod from outgoing D.C. Attorney General Karl Racine and local organizations D.C. 4 Democracy and Sierra Club D.C.
On the other hand, outgoing Ward 5 councilmember and at-large candidate McDuffie, who is trying to take Silverman's seat, has been endorsed by the D.C. Association of Realtors, former DNC chair, Obama Labor Secretary, and Maryland gubernatorial candidate Tom Perez, and Greater Greater Washington.
McDuffie claims to be a "proven public servant" and says he's "authored and ushered into law some of the most transformational policies in the District," but the residents of his ward in D.C. seem to think otherwise.
Brookland Manor Apartment Complex, on Saratoga Ave. in Northeast D.C., is one of the oldest and last remaining affordable housing communities with four- and five-bedroom family units in Washington. It is home to hundreds of low- and moderate-income predominantly Black families. Due to the rapid development currently taking place in Northeast D.C., Brookland Manor has been in a very attractive position to be the next community displaced by developers due to its proximity to Rhode Island Ave.
Mayor Muriel Bowser, supported by McDuffie (both Democrats) have in the past allied with MidCity Financial, the owner of Brookland Manor Apartment Complex, by approving MidCity's request to develop the property into high-rises, increasing the number of units, and gifting the developer with a tax subsidy.
The proposed project significantly reduces the number of affordable units, stripping away the family units and replacing them with one- and two-bedroom units to house transplants and displace the previous families that will no longer be able to return. It's a modern example of Black housing displacement due to gentrification, and it's sanctioned by city councilmembers like McDuffie.
McDuffie also has an interesting relationship to MidCity Financial. He received campaign and charitable donations from the firm, and MidCity Financial has executives working with his office, including Stephanie Liotta-Atkinson and Jamie Weinbaum (Office of Zoning Director).
Ms. Minnie Elliot, President of the Brookland Manor & Brentwood Village Residents Association, spoke about this in-depth in an opinion article published in The Washington Post in 2021. In April last year, private police partnered with the Metropolitan Police Department to harass Brookland Manor residents during a film screening on Chocolate City.
It was property management on-site that threatened residents with arrest. Liotta-Atkinson, then a spokesperson for MidCity, in remarks to the Washington Post, said the event "needed to be disbursed" after the altercation between the residents of the community and the police.
McDuffie cannot claim to be a champion of "racial equity" if he supports violent displacement policies against the residents of his ward, including regular harassment by the police, forcing people into slum conditions and eliminating green space for residents to use.
McDuffie touts his legislative wins, such as the NEAR Act and D.C.'s "Baby Bonds" program, which respectively aim to address community violence and close the racial wealth gap. The measures have some merit, but they've been implemented poorly.
On his campaign website, he also claims to have "increased the supply of affordable housing by ensuring the city invests hundreds of millions of dollars to repair and build new affordable units and requiring developers to build affordable homes in new projects" which, according to the above, seems to be a contradiction.
The truth is that large city government subsidies have gone to big real estate developers to displace longtime Black families. It is no surprise then that McDuffie's most recent endorsement is the D.C. Association of Realtors.
Recently in the Washington City Paper, it was noted that a recent fundraising flyer for McDuffie's at-large bid listed notorious developer Geoff Griffis and CityPartners executive Greg Faron (along with other developers) as hosts giving large campaign donations.
McDuffie is also supported heavily by Bowser loyalists, including lobbyist David Wilmot, Monty Hoffman, Thomas Penny, Austin Flajser, and Ben Soto. Based off this list, it is clear that Kenyan McDuffie is solidly an ally of Big Business interests in D.C.
Attorney General, and Silverman-endorser, Karl Racine, who has been in court battles with developers like Griffis, said that the latter has been "at the center of displacement" of "brown, Black, senior, and lower income residents in the District of Columbia."
Further, Racine says, "If I were a candidate, I would not take a dime from [Griffis]. Because that risks telling the public that you'll take any money and that you're actually supportive of his displacement efforts. So, I'm surprised that candidates willingly embrace him. I think it says less about Griffis than it does about the candidates."
Before jumping in to the at-large race, McDuffie had announced his candidacy for D.C. Attorney General in the June 2022 primary to potentially replace Racine as the District's top lawyer. At the beginning of his campaign, McDuffie was challenged by fellow primary candidate Bruce Spiva, arguing in a 17-page filing to the D.C. Board of Elections that the outgoing city councilmember did not meet the legal qualification that any candidate for attorney general have been "actively engaged, for at least 5 of the last 10 years as an attorney in the practice of law in the District of Columbia."
This resulted in the elections board ruling McDuffie ineligible to run for D.C. Attorney General on April 18 and McDuffie appealing this ruling a few days later. McDuffie eventually suspended his campaign after the D.C. Court of Appeals denied his request for a full rehearing of a three-judge panel's decision to remove him from the ballot for attorney general. This public embarrassment led to McDuffie fighting to maintain his political influence in the city by running for at-large to take out a non-Bowser ally, Elissa Silverman, who supports progressive policies.