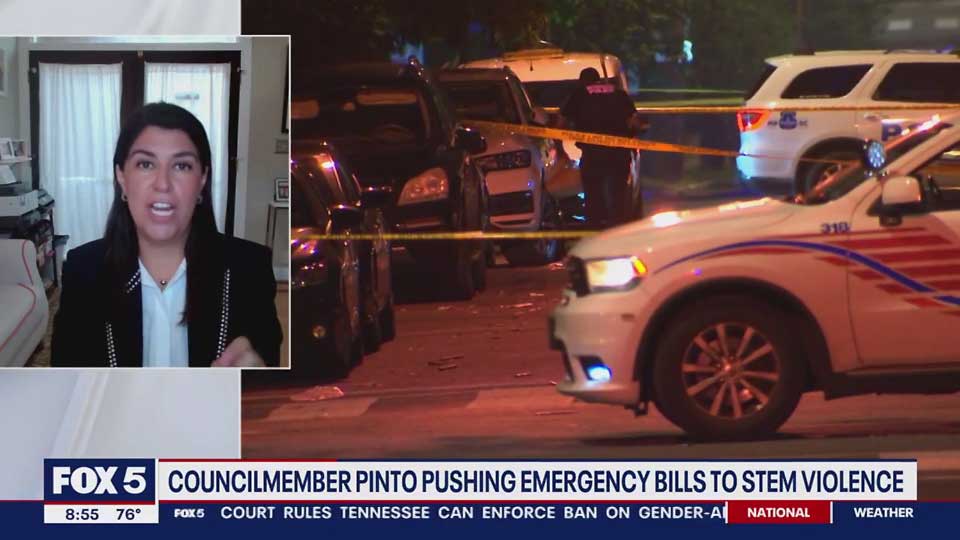 WASHINGTON—The nation's capital recently surpassed 200 homicides for the year 2023 so far, a number not seen since 1997.
Residents here who are facing increased poverty (particularly children and youth) and housing insecurity when trying to remain in the city or the surrounding areas, the numbers come as no surprise. They're on the receiving end of escalating crime and violence.
Corporate-backed media sources, like the Washington Post, have been urging the D.C. government to further criminalize its residents to make the city more "safe." As a response, the D.C. Council passed a temporary emergency crime bill over the summer to supposedly "deter crime" and increase pre-trial detention for offenses such as carjackings and robberies.
New D.C. Police Chief Pamela Smith claimed that a 30% drop in crime occurred, but an NBC report claimed an actual 15.5% increase overall and a paltry 3.5% drop in violent crime. As expected, crime in D.C. continued to rise following the passage of the temporary measure because it doesn't really do anything to deter criminal activity.
Earlier this year, the GOP-led U.S. Congress led an effort to overturn D.C.'s revised criminal code, citing rising crime statistics as the reason why it intervened. Experts argued, however, that the revised criminal code put forward by D.C. lawmakers would have created common sense penalties for certain crimes and update outdated penalties for other offenses that are over a century old.
President Joe Biden, unfortunately, sided with the Republicans and the right-wing D.C. Police Union and sealed the effort to overturn the first D.C. law in over three decades. This, along with the media spectacle spearheaded by the Washington Post in the months leading up to the repeal, is now being seen by many as the beginning of an attack on not only Home Rule but the safety of residents who live in D.C.
In May, Mayor Muriel Bowser again introduced the Safer Stronger Amendment Act of 2023, a measure she has proposed previously, which, if passed, would vastly expand pre-trial detention for both adults and youth, create new criminal laws, require longer sentences, and expand police surveillance.
During a public hearing in June with over 150 people testifying (mostly in opposition), many speakers linked the bill to the 1994 federal crime bill and its aftershocks, which are still felt to this day.
In the following months, Ward 2 Councilmember Brooke Pinto introduced what she called a "better" version of the bill, titled the Prioritizing Public Safety Emergency Amendment Act of 2023, along with a corresponding temporary bill.
Though it removed some of the most harmful provisions of the original Bowser proposal, it still contained pre-trial detention, which community activists and leaders vehemently opposed. The emergency bill was quickly passed without a public hearing with an expiration date of October 18 (90 days from when it was passed). To supplement this emergency crime bill, the mayor also announced she would be enacting a youth curfew in selected wards and neighborhoods.
In September, Pinto introduced her "Secure D.C. Plan," which contained multiple bills and initiatives to supposedly deter crime and promote public safety. Part of this plan would permanently codify the temporary crime bill that passed over the summer, increasing pre-trial detention and criminalization of youth in D.C., as well as the ACTIVE Act, which expands stop-and-frisk.
This announcement led the D.C. Superior Court Chief Judge and Court of Appeals Chief Judge to write her a letter stating that the proposed legislation likely violates the Fourth Amendment. The fear is that this will create a free-for-all for police to stop anyone on the street and detain them for however long they want.
Though the public hearing date has already passed for a few of the bills included in the legislation package by Pinto, community activists and leaders hosted a teach-in on Sept. 26 that was attended by over 120 people. It was aimed at crafting written testimony opposing the expansion of pre-trial detention in Pinto's Accountability and Victim Protection Amendment Act of 2023.
The teach-in was led by legal experts from the D.C. Justice Lab, community activists from the organization Harriet's Wildest Dreams, researchers in the Metro D.C. chapter of the Democratic Socialists of America, the Defund MPD Working Group, people organizing against sexual violence in HIPS, and other local legal experts and organizers.
Some of the legal experts expanded on the discussion of pre-trial detention, noting that it encourages all the things that cause criminality: "job loss, loss of connection, loss of adequate mental health and drug treatment." They also noted that pre-trial detention is one of the strongest indicators as to whether someone would take a plea deal.
When it comes to D.C., for instance, the jail is known to be in such poor condition that people in pre-trial detention may be induced to take a plea deal just to be transferred to a federal prison with more "humane" conditions.
Activists on the call suggested enacting a child tax credit to combat childhood poverty and creating a universal basic income to help those in need. Suggestions also included investing in more violence interrupters, affordable and accessible food, housing, healthcare, expanded prevention education in schools, decriminalization of drugs, passage of the School Safety Enhancement Act, taking police out of traffic stops, and passing a Black-led legislative agenda called Safe & Free DC.
Most feel that the bills introduced by Councilmember Pinto will simply create new crimes, increase sentencing, expand pre-trial detention, increase police surveillance through GPS and other private security technologies, and potentially expand stop-and-frisk practices in the District.
They say it fits with Ward 8 Councilmember Trayon White's calls for bringing in the D.C. National Guard to occupy the "warzone" in the east of the river communities near Anacostia.