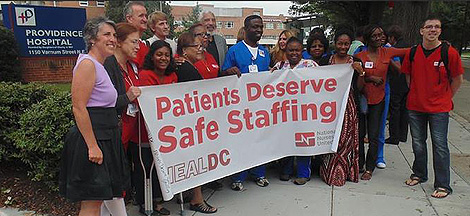 WASHINGTON (PAI)–Saying short-staffing at D.C.'s largest Catholic hospital could endanger patients, dozens of unionized registered nurses at Providence Hospital staged a Sept. 8 protest against the lack of nurses and for better patient care.
The nurses, members of National Nurses United (NNU), have been bargaining with Providence management since February over short-staffing. Ascension Health, the nation's largest chain of Catholic-run hospitals, owns Providence. Hospital management resists increasing staff, even though the union added pressure earlier this year by lobbying the D.C. City Council for an ordinance to set staffing standards.
Short staffing is a key issue for NNU's registered nurses and other nurses nationwide. The California Nurses Association, early in the last decade, launched the nationwide movement for better nurse-to-patient staffing ratios in the nation's hospitals and nursing homes. CNA, the core of NNU, got its legislature to approve mandated staff-to-patient ratios, especially in key wards such as emergency rooms, cardiac care units and intensive care units.
"Nurses are dedicated to providing the best care possible to all of our patients, but short staffing at Providence makes that impossible," Kelly Fields, a registered nurse in the Providence emergency room, told the press during the morning protest.
"Providence management isn't really addressing the developing staffing crisis that puts patients at risk. Since there are not enough nurses to safely staff the current ER, how are we going to provide quality care for more patients in an expanded ER?" she asked. The hospital is opening a new 47-bed emergency room in mid-September. It now has a 20-bed ER.
The Providence nurses said academic research shows short-staffing at hospitals leads to increases in medical errors, hospital-acquired infections, prevalence of patient pressure sores, prevalence of patient falls and injuries, and unnecessary hospital re-admissions. The Providence nurses have proposed an enforceable staffing grid that allows nurses to provide quality patient care.
Hospital administrators nationwide respond they cannot expand staffing because insurers won't pay for it. Providence management had no immediate comment.
"Providence just does not have enough nurses to provide safe care at the hospital, and the dangers to patients may get worse if the number of beds increases," said fellow ER registered nurse Dwayne Collyer. "While the hospital may be hiring staff, experienced nurses are leaving in nearly equal numbers because of awful conditions. Management should listen to nurses so that we have the staff and resources necessary to provide quality patient care."
Poor staffing, poor pay and intolerable working conditions have left Providence unable to adequately recruit and retain bedside nurses, which is dangerous for those seeking care at the hospital, the RNs added.
Photo: National Nurses United, Facebook.