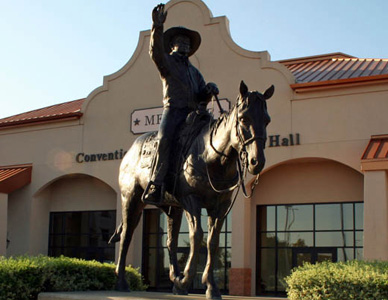 DALLAS — What a Labor Day weekend! Of the 13 Labor Day activities listed by the Texas AFL-CIO, the Big D may have had the best ones. There were at least four in Dallas: a public hearing on wage theft and a community dinner with all the speeches in Spanish on Saturday, and an AFL-CIO breakfast and a Democratic Party indoor picnic on Monday.
In all these events, progressive Texans celebrated recent federal court decisions that halted implementation of several undemocratic and racist state measures: restrictions on voter registration, "voter ID" restrictions on voting, and congressional redistricting.
On Saturday, Sept. 1, the Workers Rights Board of North Texas Jobs with Justice presented a public hearing on "Wage Theft and Wage Depression: The Jobs Crisis Continues" at Christ Episcopal Church. Speakers came from the religious community, several community activist organizations, and an Ironworkers organizing committee focusing on low-wage Latino construction workers. About 50 people attended.
That afternoon, the Ironworkers joined with more community activism groups to put on the state's first-ever all-Latino Labor Day dinner. The speakers emphasized the importance of low-wage workers coming together with their communities and forming whatever organizations they can. About 60 people came.
On Monday, Sept. 3, some 400 Dallas County AFL-CIO leaders and activists gathered at a hotel in Mesquite (just east of Dallas) for their annual traditional Labor Day breakfast. Participants included union leaders, political officeholders and candidates, and community activists who join the workers' cause. Organizing committees from local Coca-Cola bottlers and Walmart stood up to rousing cheers from the audience. Oscar Owens, vice president of the national Amalgamated Transit Union, thrilled the crowd with his message of present accomplishments and hopes for the future.
Owens said that Republicans seek to divide us while they eliminate pensions and repeal health care. "They believe in socialism for the rich and a harsh, unregulated capitalism for the poor," he said. Near his conclusion, he said, "I don't ask you to put your faith in political parties. I ask you to put faith in yourself, your union, your community, and your church!"
Dallas rightfully claims to be the only truly "blue" county in Texas. Nearly all county offices are held by Democrats, and the last holdout, a county commissioner seat, is expected to fall in 2012. About a thousand of their supporters gathered in the Czech Hall in East Dallas for a noontime indoor picnic. Sheriff Lupe Valdez, who is the first woman and the first non-Anglo to ever hold that job, and who is seeking her third term, led the local candidates on stage. It was a striking assemblage of gender and racial diversity that made an amazing contrast with TV pictures of the Republican National Convention the week before.
Photo: Yee-haw! The Dallas AFL-CIO breakfast took place inside the Mesquite Convention Center, behind the statue, on Labor Day, Sept. 3, Mesquite, Texas. Jim Lane/PW