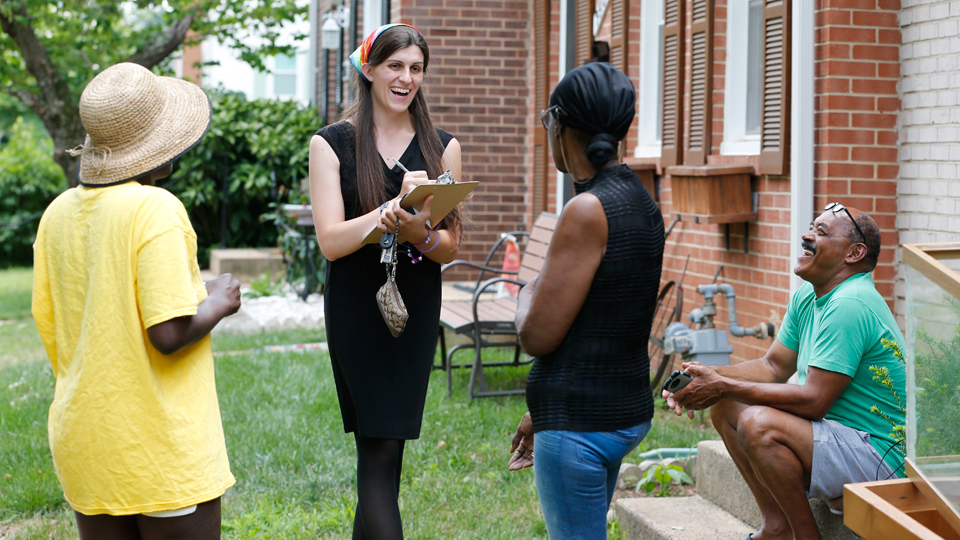 WASHINGTON—Shoe leather, door-knocking, lots of phone banks, lots of volunteers, and a concentration on local issues that matter to people was key for her win of a Virginia state House of Delegates seat in one of the most nationally watched election races last month, says Delegate-elect Danica Roem.
In a Dec. 6 telephone conference call hosted by the progressive People for the American Way (PFAW), which helped raise money for her campaign, Roem added a candidate can only be successful by being willing to put in the hard work, too—even if it means trudging along a mostly dark rural road on a rainy Saturday night knocking on voters' doors one by one and taking notes about what they told her.
That's what Roem did, the former newspaper reporter said. But she constructed coalitions, too.
Roem made history by becoming the first transgender person elected to the Virginia legislature. As the Democratic nominee, she also ousted a 26-year Republican incumbent who made his homophobia—including an infamous "bathroom bill"—the centerpiece of his campaign. She mentioned her gender only when asked during the campaign. Her foe brought it up over and over again, derogatorily.
Roem also concentrated on local issues in her state House district, which includes parts of several counties, notably supposedly right-wing Prince William County in the D.C. exurbs. While her foe talked bathrooms, she talked about congested roads. As a result, she not only won the race but almost beat her foe in his own home precinct, losing by only eight votes there, she reported.
She was part of a Nov. 7 Democratic sweep in the Old Dominion which saw gubernatorial nominee Ralph Northam, a doctor, beat GOP operative Ed Gillespie, who ran a Trump-like campaign, for governor. With worker and progressive activists' help, Northam and his state-wide running mates won, and the Democrats turned a 66-34 State Assembly deficit into a tie, with three races still outstanding.
"We had the right message" of concentrating on the local issues "and the right way for the message to be heard" through the intensive personal campaigning by her volunteers and herself, Roem explained. And her volunteers, including unionists, were extra energized by seeing her out there with them trudging the roads. "I wouldn't ask them to do anything I won't do," she said.
"This is how Democrats win, coming in with a message and doing that long-term," not just in the 2017 gubernatorial and legislative races, but in 2018 for U.S. senator and representatives and 2019 for the delegates' seats again, Roem added.
Democrats and progressives also "took advantage of the anger out there" at the GOP Trump administration, congressional Republicans, and their initiatives, added Brad Komar, Northam's campaign manager, who joined the telephone press conference. "There's an incredible backlash to what voters are seeing in D.C."
The Dems not only used the backlash to energize voters—Latino turnout skyrocketed and non-male voters turned out in droves—but also to recruit candidates. Besides Roem, Prince William voters sent two Latina Democrats to the state assembly and an Asian-American woman won another race elsewhere.
Roem herself was energized even before the backlash. She covered the state legislature during her career reporting for community newspapers and knew her foe's record—and was outraged by it. She also knew he won by only 498 votes in 2013. So when the 2015 nominee for his seat asked her to run, she said yes.
Her message, which she carried with her reporter's notebooks from house to house, including on the rainy Saturday night before the election, was relentlessly local and focused. She said that's what other Dems need, and Komar agreed.
"We need to give voters something to run on, real pocketbook issues," he said. That's why the GOP effort to destroy the Affordable Care Act resonated with Virginia voters and nationwide, he noted. In Virginia, he added, voters wanted to expand Medicaid coverage and the GOP legislative majority didn't, defeating outgoing Democratic Gov. Terry McAuliffe's tries to do so every year.
"That was a real pocketbook issue" since Virginia lost federal Medicaid aid due to the GOP's rigid anti-ACA stance, Komar noted. "Now they'll have to get on board" after seeing the election returns.