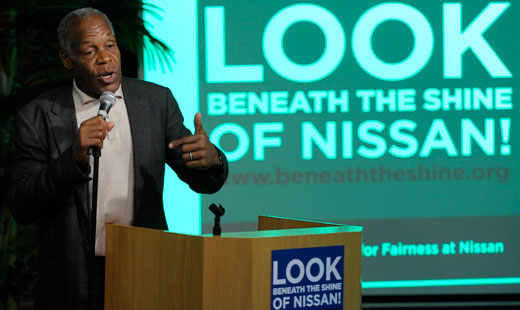 DETROIT – Nissan is in the news and again it's for the wrong reasons. At a July 30th press conference in Smyrna, Tenn., actor and activist Danny Glover, Nissan workers and their supporters criticized the company for taking on a high number of temporary workers at its plants in Smyrna and in Canton, Mississippi.
They are right to do so. At Canton, Nissan has received $1.3 billion in subsidies from the state of Mississippi for supposedly creating those high-wage jobs. Instead, the Kelly Agency is hiring temporaries making as little as $9 an hour, little more than what is paid in the fast food industry.
Tennessee too has lavished mega-subsidies on Nissan while a growing number of $9-an-hour temporaries work the lines.
More than low wages are motivating Nissan workers to organize. Two Smyrna workers have died on the job in the past four months. At Thursday's press conference Glover said, "It's unconscionable that a company can operate in the United States while their own workers are injured on the job and then ignore the worries of employees. It's undemocratic to prevent these workers from having a voice to express their concerns without fear of reprisal from the company."
Speaking by phone, Kimar Cain, who represented the Mississippi Student Justice Alliance at the press conference, said a moment of silence honoring the killed workers was held.
Cain is a senior at Tougaloo College in Jackson and noted students are a big part of the movement fighting for justice at Nissan. Over 200 students at Jackson State and Tougaloo College participate in the Mississippi Student Justice Alliance, and the movement is growing. He noted students from Tennessee State and Middle Tennessee State were well represented in the Smyrna press conference.
Cain said Glover called on Nissan to take responsibility for insuring workers have the right to express themselves on the job. Glover noted that workers are just as important as the corporation and without them "corporations would not stand."
Cain is involved in the campaign because he was amazed that even in his own community of Jackson, few knew of the struggles workers were going through and he doesn't want anyone, himself included, to be mistreated in the workplace. "Hearing and seeing the stories of what Nissan workers have been through motivated me to help them," he declared.
While Nissan's workforce is unionized in South Africa, Brazil, Japan, and other countries around the globe, the company doggedly fights giving workers a voice here in the U.S.
Cain said Nissan, not skipping a beat, had already planned to meet with workers the very next day to counter points made at the press conference.
For more information go to http://dobetternissan.org/ and https://www.facebook.com/MsStudentJusticeAlliance.
Photo: Danny Glover. AP