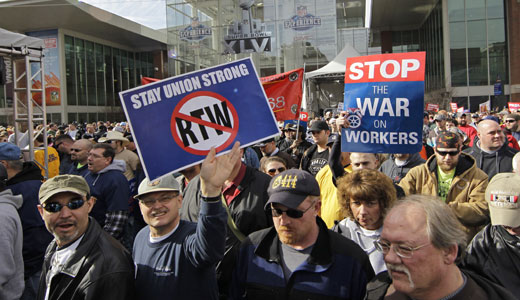 KUTZTOWN, Pa. – The never-ending push for right to work (for less) legislation in Pennsylvania is on the move again, but this time there's more of a tangible campaign targeting the conservative base. For 14 straight years, State Rep. Daryl Metcalfe has introduced some form of right to work legislation, but this year's legislation was introduced by State Rep. Bryan Cutler (Lancaster, Pa). Last January, Jen Stefano from the Koch brothers-funded Americans for Prosperity in Pennsylvania held a press conference with Rep. Metcalfe and announced that the legislation will become law. Currently, it appears that dark-money groups tied to right-wing think tanks like The Franklin Center and Greenhouse Solutions are teaming up with a conservative activist from southeastern Pennsylvania, and are astroturfing a social media campaign by using Facebook and Twitter accounts to push anti-union news and rhetoric from "independent" media outlets.
The players in this story are Simon Campbell – a conservative grassroots activist from Yardley, Pa., dark money think tanks, and astro-turfed media and social media outlets. Simon Campbell is a local conservative activist from Bucks County. He jumped on the scene in 2005 when he was elected to the Pennsbury School District. The cause-celebre he ran on was a teacher bashing and anti-teacher strike platform. While sitting on the Pennsbury School Board, Campbell started Stop Teachers Strike. In 2013, Campbell's four-year term on the local school board was up and he and his colleagues were sent off board. Weeks after the election, Campbell founded a 501.4(c) organization called Pennsylvanians For Union Reform, and thanks to his non-profit social welfare status, Campbell's group is able to receive a whole lot of dark money. Campbell's resume as a right-wing activist has him giving speeches at luncheons or sitting on training sessions at Koch-funded think tanks like the statewide Commonwealth Foundation and Americans for Prosperity.
Then there's a growing social media campaign. It appears that Campbell has been running a Pennsylvanians for Union Reform Facebook page since June 2013, and has amassed over 20,000 followers. That's either one hell of a grassroots campaign or Campbell's group has a few thousand sitting aside for social media promotion. The page regularly posts stories from Pennsylvania media outlets that deal with union issues, but the majority of the posts come from two "independent" media outlets, Media Trackers and Watchdog Wire. Out of the two media outlets, Media Trackers is more savvy when it comes to hiding their funding sources and who is actually writing their articles. According to their website, Media Trackers describes itself as follows:
"Media Trackers is dedicated to media accountability, government transparency, and quality fact-based journalism. Our site examines stories published in the mainstream media, explores claims made by some of the more partisan political groups, and provides the facts on the issues, people and elections that matter."
A 2012 Mother Jones article described Media Trackers as:
"Conservatives have their think tanks, dozens of them at the state and national level. They also have a corporate-funded legislation mill in the American Legislative Exchange Council. What conservatives lacked, Ryun told the donors, were nimble attack blogs that could quickly capitalize on the latest missteps by big-government politicians or the "liberal" media – essentially hard-hitting, opposition-research-style shops that prize scoops, speed, and scandal over policy briefs and press conferences. His pitch: Create a network of one- and two-man digital media outlets with low overhead, rapid response, and a nose for controversy.
The donors loved it. They ponied up seed money in the low six figures, and Ryun's conservative attack machine, Media Trackers, was born. Bonus: As a nonprofit, Media Trackers can keep the identities of those donors secret."
To obtain their non-profit status, Media Trackers changed their name to Greenhouse Solutions during the 2013 IRS scandal, claiming that a liberal sounding name will ease the process. When looking for Media Trackers' journalists or blog staff, some of their writers were from the Heartland Institute, a Rick Perry adviser, and a former journalist with the Washington Examiner.
The second fake independent media outlet involved in this campaign is Watchdog Wire, whose Twitter account describes it as a "project of the Franklin Institute." Watchdog Wire's media outlet is run by the Franklin Center's communications department. Under the Franklin Center's staff page, it lists Watchdog Wire's staff. The Franklin Center also has ties to two Pennsylvania groups, the Commonwealth Foundation, a right-wing think tank, and the Pennsylvania Independent, one of those "independent media" outlets. Sourcewatch describes The Franklin Center's ties to statewide think tanks like the Commonwealth Foundation:
"Franklin Center Director of Communications Michael Moroney told the Center for Public Integrity (CPI) in 2013 that the source of the Franklin Center's funding "is 100 percent anonymous." But 95 percent of its 2011 funding came from DonorsTrust, a spin-off of the Philanthropy Roundtable that functions as a large "donor-advised fund," cloaking the identity of donors to right-wing causes across the country (CPI did a review of Franklin's Internal Revenue Service records).[18] Mother Jones called DonorsTrust "the dark-money ATM of the conservative movement" in a February 2013 article.[19]Franklin received DonorTrust's second-largest donation in 2011.[18]
The Franklin Center also receives funding from the Wisconsin-based Lynde and Harry Bradley Foundation,[20] a conservative grant-making organization.[21]
The Franklin Center was launched by the Chicago-based Sam Adams Alliance (SAM),[22] a 501(c)(3) devoted to pushing free-market ideals. SAM gets funding from the State Policy Network,[23] which is partially funded by The Claude R. Lambe Foundation.[24] Charles Koch, one of the billionaire brothers who co-own Koch Industries, sits on the board of this foundation.[25] SAM also receives funding from the Rodney Fund."
What we are witnessing are the cogs turning in the right-wing infrastructure gearing up for an attack on public sector workers in 2014. There has been a quiet 14-year movement to make "right to work" a possibility in Pennsylvania, and now the volume is being ratcheted up a few notches. We are witnessing a "grassroots," [supposedly] social welfare, non-profit group that has the potential to collect dark money, run a social media campaign that is pushing for one issue: screwing workers' rights. The social media campaign, run by Pennsylvanians for Union Reform, is constantly pushing anti-union rhetoric from dark money-dominated non-profit media outlets, like Media Trackers, or the Koch Brother-funded Franklin Center's communication's department at Watchdog Wire. This is how the right-wing infrastructure, with all their minions, all their think tanks and all their communications departments, is going to try to undercut labor laws in Pennsylvania just like they did in Wisconsin, Michigan, Ohio, Indiana, and Florida in 2011.
This article originally appeared at Raging Chicken Press.
Photo: Union workers protest Right to Work in Indianapolis. Darron Cummings/AP