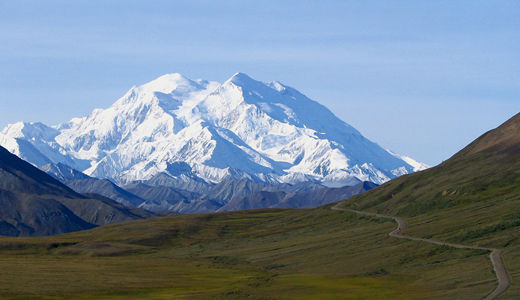 Ahead of his visit to Alaska for a summit on climate change, President Obama announced Aug. 30 that his administration would change the name of the country's tallest mountain from Mt. McKinley to its original Indigenous name, Denali (or Deenahee, Denaze, Dghelayka'a), a word that means "High One" in Athabascan. Alaskan Natives and non-natives have been pushing for this change since 1975. In the 1980s, a compromise was made to name the national park around the great mountain Denali National Park.
While there has been an odd response from the leaders in Pres. McKinley's home state of Ohio, insisting that this was a move by the president to be more "politically correct," Indigenous people are celebrating.
In the last few years, there has been a push in Indian country to decolonize the land. The movement focuses on bringing back Indigenous plants and land teaching, but also the Indigenous names to the land. Part of colonization and genocide is to not only to remove the people from the land, it's also removing any attachments the people have to the land.
In 2013, a movement to change Canada's Mt. Douglas back to its Indigenous name, Pkols, was started by more than 700 people, including the chiefs of the Sannich and Lekwnungen nations, who gathered in Greater Victoria, British Columbia, where the old treaties were signed with Governor James Douglas in 1852. Reinstating the Indigenous name with a hand carved cedar sign, local tribes since then have been working on getting it recognized officially with the Canadian government.
The Indigenous nationhood movement and the movement to decolonize land names have even gotten the attention and support from non-natives and environmental organizations. Jordan Engel is an urban farmer and architect that grew up around the Seneca Nation of New York. Engel also did an internship at the Pine Ridge Indian Reservation where he begun his decolonial atlas. If you go to the website you can find the map of certain areas around Turtle Island. There are maps in Ojibwe, Mohawk, Passamaquoddy-Maliseet, Arapaho and Lakota. Working with language speakers in each area, Engel in a recent interview with Indian Country Today said, "There is no truth in cartography…Colonial powers without the consent of indigenous people, drew up imaginary political borders, which more often than not don't reflect any real natural or cultural boundaries."
The decolonization of the land movements are inspiring Native youth to get involved with projects like decolonial atlas; getting our youth involved with tribal language camps and indigenous science programs. Not only does giving places back their original name help out the Native community it also reminds non-Natives that things weren't always named after white colonizers; that indigenous people have a name for the mountains, rivers, and plants; that there are still indigenous people connected to that land, and that we are still speaking and teaching our languages.
Other mountains are on their way for their name to be changed too. I hope that they change the names of our mountains in Washington: Rainier back to Tahoma or Ti'Swaq, Mt. Hood to Wy'East, Mt. St. Helens to Suek. These are the names my grandmother used in her stories, and her mother and father before her. And it's the names I will be teaching my daughter.
Photo: The east side viewed from Denali National Park and Preserve, which surrounds the mountain, by Photo (c)2006 Derek Ramsey (Ram-Man) – Self-photographed. Licensed under GFDL 1.2 via Commons.