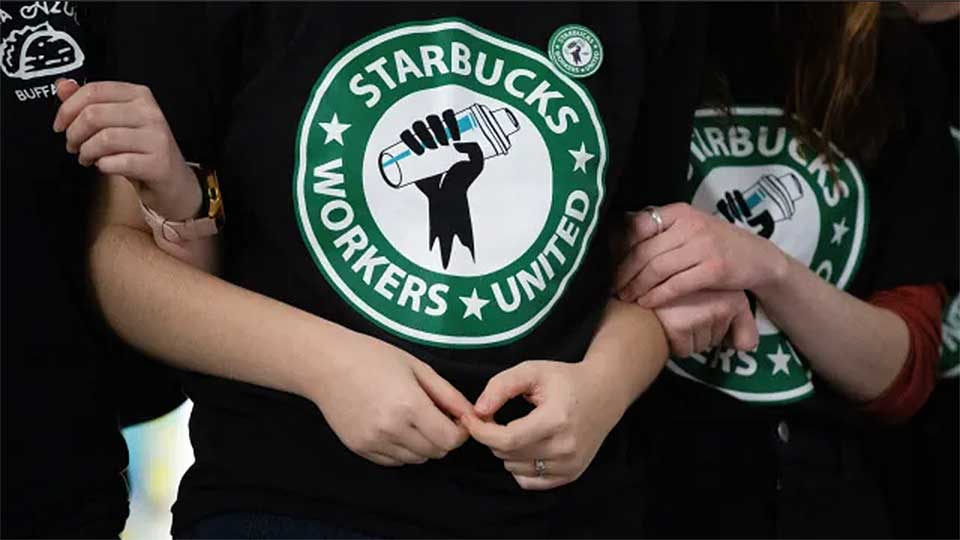 WASHINGTON—Defying a recent National Labor Relations Board judge's ruling, Starbucks is again discriminating against its workers who voted to unionize by shorting them of pay hikes and benefits.
In late September, an NLRB administrative law judge ruled the giant coffee chain's last round of discriminatory raises, last year, broke labor law. But on November 8, Starbucks did it again.
On the other hand, though Starbucks broke labor law by that discrimination—which unionists are taking to the NLRB–it would never have raised anyone's pay without pressure from workers organizing.
The firm's action once again exposes the lie Starbucks founder and former CEO Howard Schultz told the Senate Labor Committee earlier this year. Shultz said under oath that neither the company nor he, personally, broke labor law. The latest raises show, again, that he lied.
Personally broke labor law
And another NLRB judge ruled—in a case from California—that Schultz personally broke labor law by threatening a pro-union barista.  He told her maybe she should find another job after she spoke up about the firm's violations during a Shultz "listening tour" in 2022. His statement, in tone and context, implied she could be fired for exercising her worker's rights.
In the latest instance of law-breaking, Starbucks announced that on January 1, workers who have toiled at its coffee shops for two to five years would get 4% raises and those who have toiled fewer than two years would get 3% hikes.
Workers who have been at Starbucks for longer than five years "would be eligible for a 5% increase" but only if they're not at one of the 366 Starbucks stores whose workers have voted to go union, the coffee chain announced.
If you're in a unionized store, the 5% is a new benefit and a change in employment conditions which must be negotiated with Starbucks Workers United, the chain claimed.
Starbucks conveniently didn't mention it won't negotiate with the workers as a group elected by their peers, as the NLRB ruled last year. The coffee chain's honchos are appealing that administrative law judge's decision to the full NLRB. Starbucks Workers United is the Service Employees sector helping the coffee chain's workers with their grass-roots, from-the-ground-up organizing.
Starbucks is also offering two other benefits only to workers in non-union stores: Shortening the time you must work at Starbucks before seeking a vacation, from one year to 90 days, starting next February, and making workers eligible for a company-sponsored "barista championship" with prize money and company-paid travel.
All three differences between Starbucks's worse treatment of the unionized workers and better treatment of non-union workers break labor law, Starbucks Workers United said. It added it would file labor law-breaking—formally called unfair labor practices—charges with the NLRB over the splits.
But it also called the raises a win, one the workers never would have achieved had the organizing not forced Starbucks to act. The new benefits are "a victory for our campaign, and show that when workers join together and raise our voice, we can force powerful companies to make changes they'd never make if we did not stand up," Starbucks Workers United told USA Today.
The firm is defying an NLRB nationwide order to bargain with both employee-chosen negotiators and Workers United in one group—in talks open to all workers via Zoom—and not in private, store by store.
The appeal of the NLRB's prior order, the demand for closed-door store-by-store talks, and now the anti-union denial of pay hikes and benefits are all part of Starbucks's multi-faceted plan to defeat the organizing drive. The union's drive will soon celebrate its second anniversary.
One part of the plan is to take advantage of delays that bosses, past NLRBs, Republican-run Congresses, and the courts have erected to delay, delay, delay organizing and bargaining, hoping to either wear the workers out or have so many of them leave the drive falls apart.
Another part of the plan is to defy NLRB orders, and even court injunctions, to bargain. A third, linked to the store-by-store secret bargaining, is divide and conquer. A fourth, used in Buffalo, where the Starbucks drive originated, is to try to "stuff" the staff with anti-union workers imported from other stores, or alternatively, transfer pro-unionists out.