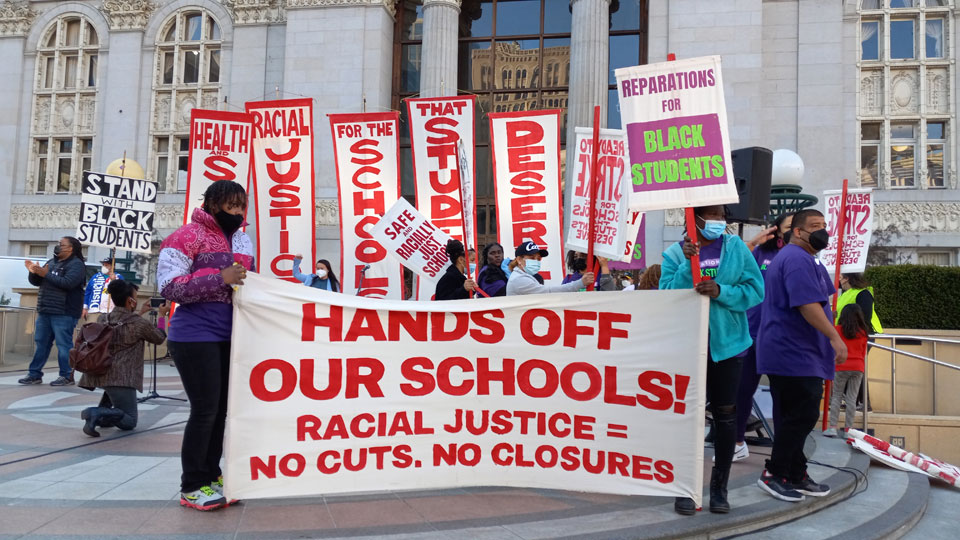 OAKLAND, Calif. – Despite hours of public comment opposing any cutbacks, the Oakland Unified School District's Board of Education voted just before 1 a.m. on Feb. 9 to approve a slimmed-down but still highly controversial plan to close, merge or cut grades from 11 of the district's 87 public schools.
Two schools, Community Day School and Parker Elementary School are now scheduled to close after this school year and five more – Brookfield Elementary, Carl B. Munck Elementary, Grass Valley Elementary, Fred T. Korematsu Discovery Academy, and Horace Mann Elementary – are to close in 2023. RISE Community Elementary is to merge with New Highland Academy, and La Escuelita and Hillcrest Schools will lose their grades 6-8 middle school components.
More than 1,800 people had signed into the Zoom meeting, and all who spoke in public comment opposed the plans.
The board's vote – 4 in favor, 2 opposed, and one abstention – came after more than a week of car caravans, school walkouts, rallies around the city, and two teachers declaring a hunger strike.
Reflecting a conflict that has flared up repeatedly in this city over the last 20 years, school board members advocating the cuts cited Oakland's high ratios of schools to students and teachers to students, declining enrollment resulting in lower state funding, and the continuing need to pay off a debt incurred back in 2003, when the school district nearly went broke and had to be rescued by a $100 million loan from the state.
Students, parents, teachers, and community members opposing the school board's actions pointed out that the affected schools serve a disproportionate share of the city's Black and Brown and low-income students, and cited the stress on students, families, and the community as a whole when education is disrupted.
When debate began late in the afternoon on Feb. 8, a plan involving even more schools was on the table.
Director Mike Hutchinson, one of the two board members opposing closures, urged postponing any cutbacks and challenged the district's claims about shrinking enrollment and shaky finances.
"We know we don't have declining enrollment," Hutchinson said, citing a PowerPoint presentation prepared for the meeting that showed enrollment in the 2012-13 school year to be 36,368 students, compared to 36,110 students in 2019-20.
Hutchinson also cited figures from official financial reports saying the district ended the 2020-21 school year with a one-year budget surplus of nearly $44 million, an ending fund balance of $113 million, and a 9% reserve.
"If you really believe that we have structural issues in OUSD," he said, "they need to be addressed in a thoughtful way to best serve the community – you set up a six-month process at least, to determine the best course of action."
Hutchinson's proposal to postpone action was backed by Director VanCedric Williams and two nonvoting student directors but Board President Gary Yee and three other directors voted to move ahead.
Phoned-in public comments began with remarks from dozens of students.
Among them was Ixchel Arista, a junior at Oakland High School and a member of the Youth Organizing Council at Oakland Kids First, who said she opposed the cuts and mergers because "every part of the process of school closures brings a different form of stress impacting students' ability to learn and succeed in school and in the future."
Aniyah Story, a high school senior who co-chairs the Oakland Youth Advisory Commission, called attention to the number of kindergarten and grade school students who had called in – some in tears – to say how much they love their schools.
"Especially right now in a pandemic," Story said, "you've got people out of work, families with multiple children, who by closing down these schools will no longer have accessible education."
Parents, students, teachers, and the community are vowing to continue the fight against any closures or mergers. The protests that led up to the school board meeting give a sense of the breadth and depth of their opposition.
The two hunger strikers, teachers Andre San-Chez and Moses Omolade from Westlake Middle School, haven't eaten solid food since Feb. 1. Though Westlake is no longer immediately threatened by the school board's revised plan, they are vowing to continue their strike. On radio station KPFA's morning UpFront program Feb. 9, San-Chez declared, "One school closure or merger is way too many!"
On Feb. 4 hundreds of community members, including union members from SEIU, ILWU, and ATU as well as elected officials, educators, parents, and students, all came together with the Oakland Education Association to rally in Frank Ogawa Plaza, in front of Oakland City Hall, before marching through the heart of downtown to OUSD's administration and painting "No Closures" in giant red letters in front of the building's entrance.
The next day a community walk was held to prevent the closure of Prescott Elementary, which fortunately has been saved from closure for now.
OEA President Keith Brown told the rally in Frank Ogawa Plaza, "We have a question for Directors Sam Davis, Aimee Eng, Gary Yee, Shanthi Gonzales, and Clifford Thompson: Which side are you on? Are you on the side of the students, community, and parents that voted overwhelmingly to invest in safe and racially just community schools, or the side of the billionaires and neoliberals seeking to destroy public education and vital public services?"
Liz Ortega, executive secretary-treasurer of the Alameda Labor Council, told the crowd, "I don't know what's going on, but apparently the school district doesn't know how to do their math, because the last time I checked they had millions of dollars. Why are they renting an expensive building when they are working from home, and the rest of us are educating our communities? But they want to threaten us with school closures."
Ortega said a number of school board members were elected precisely because they promised not to close schools, and they need to be reminded of that promise.
Also taking the stage were three Oakland City Councilmembers, Council President Nikki Fortunato Bas, Councilmember Carroll Fife, and Council President Pro Tem Sheng Thao. The three, together with Vice Mayor and Councilmember Rebecca Kaplan, have introduced a resolution calling on Gov. Gavin Newsom and the California State Legislature to help prevent closures by eliminating OUSD's state debt and amending state law to stop penalizing schools when children are sick. The resolution is to come before the Council on Feb. 15.
Sheng Thao told the protesters that school closures are teaching children "that our Black and Brown and poor families don't matter. That's what we as leaders are teaching our kids when we allow these school closures to happen."
"We know this is going to bring so much trauma to those who have already been impacted and burdened over and over," she added. Those families were hit hardest by COVID, and lack access to healthy foods or grocery stores, "yet now we're asking to close their schools, take away their teachers, take away their friends? That is unacceptable!"
As one rally speaker said, "This isn't a budget fight, this is a war on Black and Brown communities." The people of Oakland are clearly fighting back.