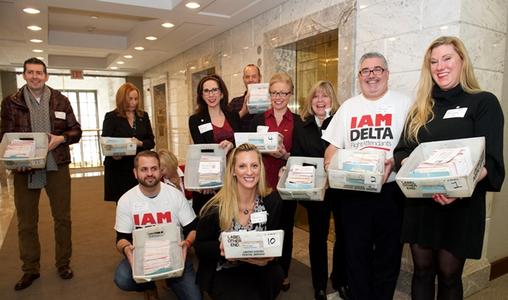 Nearly 12,000 Delta Air Lines flight attendants have signed authorization cards seeking union representation by the Machinists (IAM). More than two dozen Delta flight attendants hand-delivered those cards to the National Mediation Board's (NMB's) headquarters in Washington, D.C., on Tuesday.
Once the NMB validates those signatures-expected in about four to six weeks-the agency will set an election date for the airline's 20,000 flight attendants.
Delta Air Lines flight attendant Gabe Perez, who has been with the airline for 35 years, said, "Bottom of Form
We are the reason Delta is the world's most profitable carrier and leads the industry in almost every financial and operational measure. Yet, we lag the industry in wages, benefits and work rules. That will change once we win our election and negotiate the industry-best contract we deserve."
IAM President R. Thomas Buffenbarger, who accompanied the flight attendants to the NMB, called it "an historic day for these courageous flight attendants."
IAM General Vice President Sito Pantoja called the flight attendants "an inspiration to the entire labor movement. The IAM will make every effort to ensure that they achieve their goal of negotiating an industry-leading contract.
For more information, visit www.iamdelta.net.
The Association of Flight Attendants-CWA (AFA-CWA) supports the Delta flight attendants campaign to win a voice with the IAM and says a victory would lift standards for all flight attendants.
Photo: AFL-CIO Now blog