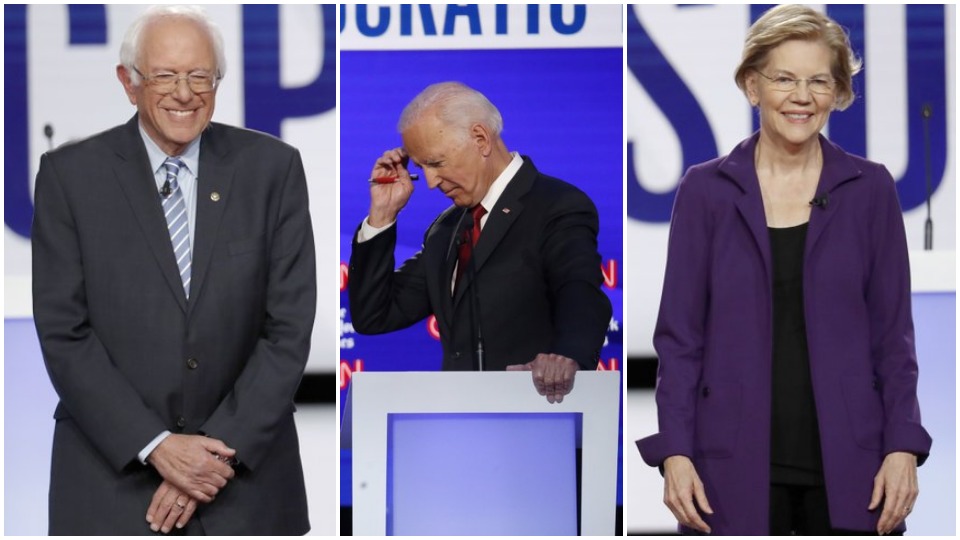 WESTERVILLE, Ohio—If there's one issue the Democratic presidential hopefuls seemed to agree upon in their nationally televised debate on Oct. 15, it's the absolute need for an impeachment inquiry against their foe, incumbent GOP President Donald Trump. And, they said, the country agrees.
The impeachment inquiry wasn't the sole point of unity of 12 speakers on the stage. Another was defending reproductive rights, by writing the U.S. Supreme Court's Roe v Wade ruling more than 40 years ago into law.
But if those were the two big points of agreement in the latest nationally televised, party-planned Democratic debate, Medicare for All, wasn't, again.
All but two of the other ten hopefuls challenged Massachusetts Sen. Elizabeth Warren and Vermont Sen. Bernie Sanders on the issue. They claimed both would raise middle-class families' taxes to pay for the government-run universal health care. Warren said taxes would go up on the rich and on corporations, not the middle class.
Sanders, who again declared "I wrote the damn bill," said middle-class taxes would rise. But he reminded the crowd that middle-class workers and taxpayers would see net gains, through the elimination of private health insurers and their co-pays, deductibles, profits, denial of care and forced family bankruptcies. Nobody challenged the other Medicare-for-All backer, Sen. Cory Booker, D-N.J., about it.
By contrast, all agreed on the strong protection of reproductive rights. Sen. Kamala Harris, D-Calif., not only cited Roe v Wade, but said her Justice Department would subject restrictive state anti-choice laws to constitutional challenge. She also chided her colleagues for not discussing the issue before.
"This is the sixth debate we've had there has been not one word about the full-on attack" by the GOP and the religious right on the right to choose, Harris declared, answering the Medicare-for-All question. And poor women of color are a disproportionate share of victims of such attacks, she pointed out. "People need to keep their hands off of women's bodies," Harris declared.
Besides the Medicare-for-All joust and the reproductive rights agreement, the three-hour-seven-minute debate featured a lively performance by Sanders, far more robust than that of former Vice President Joe Biden who, until recently was running first in the polls. Warren edged him pout of that first-place position in the last week or two.
Sanders declared his campaign would keep going strong. He invited viewers to a mass rally in New York City during the weekend of Oct. 19-20. Sanders, Warren and former Vice President Joseph Biden top current opinion polls, though there is still a large share of undecided Democrats.
And Sanders again differentiated himself from fellow progressive Warren on the basic issue of the nature of the U.S. system.
The Vermonter proudly reiterated that what the nation needs – and he leads – is a "political revolution" to replace the "unfettered" capitalist system with what he and his supporters have called "democratic socialism." In calling last night for the current system to be replaced with one that meets people's needs he did not, however, use the actual words "democratic socialism."
Forcing his way into a discussion about the opioid crisis when the moderator instead wanted to discuss his age the rambunctious Sanders, accused the pharmaceutical companies of "selling a product to communities all over this country which were addicting people and killing them.
"And last year," Sanders declared, "the top 10 drug companies made $69 billion in profit. This is what unfettered capitalism is doing to this country. And it's not just the drug companies. Right now the CEOs in the fossil fuel industry know full well that their product is destroying the world. And they continue to make huge profits. This is why we need a political revolution that says 'enough is enough to this behavior'."
Though Sanders didn't announce it during the debate, he had picked up endorsements the same day from three of "The Squad," the first-term female U.S. representatives who are women of color and strong progressives: Alexandria Ocasio-Cortez of New York City, Ilhan Omar of the Twin Cities and Rashida Tlaib of Detroit. The fourth squad member, Ayanna Presley of Boston, is neutral so far.
Warren came out strong in her calls during the debater for massive reform of the economic and political system.
She aimed her fire at the 1%, who, she declared, have bought, paid for and rigged the government at the expense of the rest of us.
Former Texas Rep. Beto O'Rourke said that Warren pits one group or class against another "at times" and alleged that in doing so she runs the risk of further dividing the country. She denied the class war charge and said she's not against people becoming rich. But, Warren declared, their riches come from using services paid for by all of us – such as roads and fire and police protection – and it's time the rich should pay their fair share for those benefits.
Meanwhile, all 12 jumped on Trump, saying his foreign and domestic record harms the U.S., on issues ranging from declining numbers of factory jobs to whether friends or foes can trust us while he's president.
Jobs are particularly important in the industrial Midwest, the debate's site. The candidates jousted at Otterbein College in Westerville, Ohio, just outside Columbus, and in the heart of the Great Lakes states – Ohio, Pennsylvania, Wisconsin, and Michigan – Trump narrowly carried three years ago.
Trump won those states' electoral votes by winning them with small margins. Even union workers, not realizing how anti-labor Trump was and would become, split 50-50 between Trump and Democrat Hillary Clinton.
The slim margins in those few states gave Trump all their electoral votes and put him in the White House despite his having lost the popular vote nationally by almost 4 million votes.
Trump gained the votes of many unionists by promising to bring jobs back to the devastated region. The Democrats noted that he has failed to do that. Those states are losing industrial jobs, instead, they said.
But the debate was also the first since the Democratic-run U.S. House formally opened the impeachment inquiry, concentrating on Trump's demand that the Ukrainian government dig up political dirt against one of the 12, Biden, in return for U.S. military aid.
The impeachment inquiry underway in the House can look too into Trump's obstruction of justice and other "high crimes and misdemeanors," including his racism, xenophobia, and divisiveness – all of which were denounced by the Democratic candidates last night.
Trump's Ukraine quid pro quo endangers national security, the congressional Democrats state. The hopefuls all agreed last night.
Harris, a former prosecutor and California Attorney General, said Trump provided the evidence himself, with the semi-transcript of his phone conversations with Ukraine's new president. That phone exchange is a key in the House investigation.
"I know a confession when I see it. He's given us the evidence in plain sight. He's the most corrupt and undemocratic president we've ever had," Harris said. Added South Bend, Ind., Mayor Pete Buttigieg: "The president has left us no choice. They (lawmakers) have to act because of the actions he's confessed to. And after Donald Trump, we'll be even more vulnerable than we are now."
There were other takes on why the House must impeach Trump. Former Housing Secretary Julian Castro cited the Mueller report on Trump's relationship with Russian manipulation of the 2016 presidential election. Special Counsel Robert Mueller's revelations of Trump's obstruction of justice in that probe "point out the instances where he violated his oath of office," said Castro.
Last night, as he has consistently during this campaign, Castro's was a strong voice for an end to attacks on immigrants, an end to racist police violence and mass incarceration of Black, brown and poor people, and for full and equal rights for immigrants.
Billionaire investor Tom Steyer, in his debut on the debate stage, used the moderator's question on impeachment to remind the audience he was the first of the 12 to advocate impeachment. Steyer began a multi-million-dollar "Need to Impeach" ad campaign in August 2017. It gained hundreds of thousands of signers. Eventually, the Ukrainian mess forced the House Dems to formally open their impeachment probe.
Biden blasted Trump's corruption and noted he and his son are the targets of Trump's attacks on the Ukraine issue. Then Biden used it to toot his own horn. The former vice president believes he has the best chance of uniting all Democrats – including Trump-voting Democrats in the 2016 balloting – and thus ejecting the Republican from the White House next November.
"He's going after me because he knows if I get the nomination, I will beat him like a drum," said Biden.
Biden also said it's not just Ukraine where Trump has violated the law. "This president has on three occasions invited foreign governments to interfere in our elections," he noted. That refers to, though not by name, to Trump requests to Russia and China, plus Ukraine.
The only partial dissenter on impeachment was Rep. Tulsi Gabbard, D-Hawaii. While she agreed on launching an impeachment inquiry, she warned that actual House impeachment followed by a trial, but not conviction, in the GOP-run Senate – a likely scenario – would leave Trump claiming vindication.
Unanimity completely disappeared on Medicare For All, with Biden, Buttigieg and Sen. Amy Klobuchar, DFL-Minn., leading the charge against it. After attacking the single-payer plan, plus Sanders and Warren, Klobuchar argued for "getting things done" through gradual – but unspecified — improvements in health care access.
Warren countered Klobuchar by urging that Democrats not concede defeat on big issues before they even begin the fight.
Sanders "wrote the damn bill" statement led Biden and Buttigieg to challenge both Sanders and Warren on financing it. "No plan has been laid out on how this multi-trillion-dollar hole will be paid for," the mayor said. He reiterated his proposal of "Medicare for all those who want it," leaving people who like their private insurance the option of keeping it.
But Buttigieg's, or anyone else's "Medicare for all who want it plan," Warren retorted, "really means Medicare for all who can afford it."
She stated Buttigieg would leave the insurers and their greed, high costs and denial of care in place. Sanders, after his "damn bill" rerun, restated his point that workers and their families would save more through the elimination of the insurers, their high premiums, co-pays, and denial of care.
Biden restated his charge that government-run universal health care would cost $30 trillion over 10 years. Even eliminating all defense spending for that decade, he told Sanders, would pay for only one-fourth of Medicare for All. The former veep also claimed someone earning $50,000-$75,000 a year would pay a net of $5,000 more per year for coverage. He provided no data or sources for that figure.
"I get a little tired of people defending a system where 87 million people are uninsured or underinsured," Sanders shot back.
Booker and Warren used the jobs question to point out the vital role unions play in both creating well-paying jobs and closing the income and wealth chasm between the rich and the rest of us. They were the only debaters to do so.
"The principal reason" for job losses "is bad trade policy," Warren said. Unions, workers, and think tanks made that point even before Democratic President Bill Clinton shoved the GOP-negotiated pro-corporate North American Free Trade Agreement through Congress more than 25 years ago.
Such pacts "benefit giant multi-national corporations which have no loyalty to their workers and no loyalty to their communities," Warren said. Studies show "free trade" pacts let firms take U.S. jobs – in factories, call centers and elsewhere – to low-paying countries whose governments repress workers.
To stop such further exoduses, "We need to make it easier to join a union and to give strength" to workers, Warren declared. The former teacher and Harvard professor also would require all public companies to have at least 40% worker representation on their boards.
Booker touted raising the federal minimum wage to $15 an hour and "putting workers at the center of trade deals." The others agree on the minimum wage hike, too, though none said so.
"I stood with unions because workers are under attack," Booker added, responding to a question about the four-week-old UAW strike against GM. "And I'll fight to make sure we have union strength and with sectoral bargaining" where unions "from auto workers to fast-food workers" would negotiate with all the firms in one sector, who then couldn't play workers off of each other.
Sanders repeatedly walks picket lines, including with the UAW, and is the lead Senate sponsor of the Protect the Right to Organize (Pro) Act, comprehensive labor law reform. But he didn't mention either.
Instead, Sanders and Booker used the jobs question to tout their support of the Green New Deal, with the Vermonter declaring it would create 20 million new jobs. He also pushed infrastructure creation, as did Klobuchar. That's a big building trades cause.
On foreign policy, all 12 blasted Trump's recent decision to pull U.S. troops out of areas of Syria, but their reasons differed. Trump left the Kurds – U.S. allies who lost 11,000 fighters in the war to dismantle the Islamic State – to fend for themselves against a Turkish invasion. "Turkey isn't an ally" when it invades elsewhere, Sanders said.
The Turks-Kurds-Syria question again highlighted the differences between the only two veterans in the race, Buttigieg and Gabbard. Both have served two hitches in the Middle East or in South Asia.
"The slaughter in Syria," said Buttigieg, "is a consequence of betrayal by this president of American values. A small contingent" of U.S. troops, which Trump yanked, "is the only thing standing between them (Kurds) and genocide."
"So you would continue to have troops remain and (continue) regime change?" as a U.S. goal, Gabbard challenged. She strongly opposed such regime change policies. "Trump is betraying the honor of our soldiers" and their accomplishments, with the Kurds, Buttigieg retorted.
Sanders, who voted against both the Iraq and Afghanistan wars – and who criticized Biden's votes on those issues – had virtually the last word on Trump, the Kurds, and the Turks.
"After a phone call with" Turkish President Recep Tayyip Erdogan "and a tweet, he (Trump) reverses it," Sanders said of Trump's policy and his pullout of U.S. forces. "After that, nobody will believe this pathological liar."
John Wojcik contributed to this article.
Like free stuff? So do we. Here at People's World, we believe strongly in the mission of keeping the labor and democratic movements informed so they are prepared for the struggle. But we need your help. While our content is free for readers (something we are proud of) it takes money — a lot of it — to produce and cover the stories you see in our pages. Only you, our readers and supporters, can keep us going. Only you can make sure we keep the news that matters free of paywalls and advertisements. If you enjoy reading People's World and the stories we bring you, support our work by becoming a $5 monthly sustainer today.