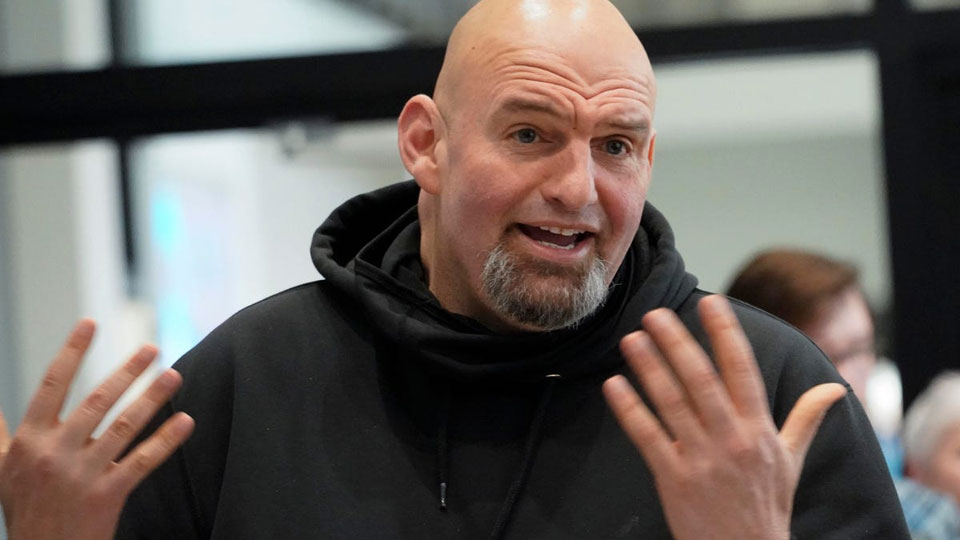 Notable primaries on May 17 featured progressive wins on the Democratic side in Pennsylvania, Oregon, and North Carolina, and Trumpite domination among the Republicans—even where the former Oval Office occupant's endorsed candidate lost.
One headline for progressives came in the Pennsylvania U.S. Senate Democratic race. Lieut. Gov. John Fetterman, a past supporter of independent Sen. Bernie Sanders's presidential bids, beat "moderate" establishment-endorsed Rep. Conor Lamb, 59%-26%. A third hopeful, Philadelphia state legislator Malcolm Kenyatta, an African-American and leader against Republican voter repression, drew 10%.
Some unions, notably Steelworkers District 10 and the United Food and Commercial Workers Local 1776, backed Fetterman, known for his unorthodox campaigning garb—hoodies and running shorts—his straight talk, and his willingness to campaign even in deep-red rural Pennsylvania, where Democrats routinely are harassed or worse.
"I can win in places other Democrats can't because I'm a different kind of Democrat," Fetterman said in a post-primary e-mailed pitch for small-donor contributions.
"No dirty money. No corporate PACs. Everything we do is fueled by the donations of people who believe in me + our campaign. That's the kind of grassroots enthusiasm we need over the next few months to flip this seat blue," his message said.
Who Fetterman faces this fall is headed for a recount. But there, as in other Republican tilts, Donald Trump's—and white nationalists'—hold on that party manifested itself.
Trump's favored candidate, celebrity Dr. Mehmet Oz, held a narrow lead, 31.3%-31.1%, over self-funded corporate executive David McCormick. Each had more than 400,000 votes. A third candidate, a pro-Trumpite talk show host, took another 24%.
Speaking of Trumpite recounts, the prime Pennsylvania pusher of such schemes, state legislator Doug Mastriano, beat former U.S. Representative Lou Barletta in the Republican gubernatorial primary. Mastriano's recount push was racist, too. Like Trump, Mastriano wanted the recount confined to majority-Black areas of Philadelphia and nearby counties.
Attended the insurrection rally
Mastriano attended the Jan. 6, 2021, Trumpite rally in D.C., prior to the invasion of the Capitol in the attempted Trumpite coup. He still touts Trump's "stop the steal" about 2020 and other conspiracy theories. Mastriano says he didn't participate in the Capitol invasion itself.
The Mastriano-Barletta contest could be called the worst beating the worst. Barletta became infamous for racist anti-immigrant—read "anti-Hispanic"–ordinances in his hometown, Hazleton. The ordinances were so bad that challengers took the case against them to the U.S. Supreme Court, and won. State Attorney General Josh Shapiro (D), a leader among Democratic AGs in filing lawsuits against Trump dictates, was unopposed for the gubernatorial nomination. Incumbent Tom Wolf (D) is term-limited.
Oregon produced progressive wins in Democratic U.S. House primaries. Incumbents Suzanne Bonamici and Earl Blumenauer, seeking re-election from the Portland area, were unopposed. In the open Fourth Congressional District, progressive—and extremely pro-worker—state Labor Commissioner Kathy Hoyle romped to the Democratic nod.
If elected, Hoyle, the daughter, granddaughter, and mother of union members, and a former union member herself, would represent the state capital, Salem, and surrounding areas.
The headliner progressive win came in the Fifth District, where former AFSCME member Jamie McLeod-Skinner apparently ousted incumbent Kurt Schrader, who has waffled on the Protect The Right To Organize (PRO) Act, opposed raising the federal minimum wage, and is generally the most conservative of Oregon's four incumbent House Democrats. With 53% of ballots counted, McLeod-Skinner led 61%-39%.
Unions split on the Schrader vs McLeod-Skinner tilt, with the Teamsters, Carpenters, Fire Fighters, and Plumbers and Pipefitters backing Schrader. So did Democratic President Joe Biden, speaking for the party "establishment."
Both teachers unions, Service Employees, nurses unions, the Longshore and Warehouse Union, and the Working Families Party backed McLeod-Skinner, who criticized Schrader's ties to corporate interests, notably Big Pharma, according to the Northwest Labor Press.
State Sen. Andrea Salinas, the Latina seeking the Democratic nod in the new Sixth District, easily defeated an establishment-backed white male "stealth candidate," first-time hopeful Carrick Flynn. Outside, D.C.-based party political committees funded Flynn's campaign, almost all of it on expensive TV ads. Salinas drew support from the Service Employees, Bonamici, and Blumenauer.
The Trumpite impact appeared in purple state North Carolina, too. Republican Rep. Ted Budd, whom Trump endorsed, easily beat former Gov. Pat McCrory, the "establishment" candidate, in the party primary for an open GOP-held U.S. Senate seat. And though extreme Trumpite Rep. Madison Cawthorn lost his party primary to an establishment-backed state senator, the race was close and Cawthorn still drew 32% of the vote.
The good news for progressives in the Tar Heel State came on the Democratic side, featuring two Black woman winners: Former State Supreme Court Chief Justice Cheri Beasley for the party's Senate nod and State Sen. Valerie Foushee in the open Fourth District.
Foushee's two leading primary foes were Clay Aiken, who would have been the first openly gay lawmaker from the South, and Nida Allam, who would have been the first Muslim. The safe Democratic seat includes Raleigh, Durham, and much of the Research Triangle.
Thanks to her former state court post, Beasley "is uniquely positioned to tackle threats to our constitutional rights, including attacks on the right to abortion," said Planned Parenthood Action Fund Executive Director Kelley Robinson. "Her Trump-endorsed opponent supports abortion bans, defunding Planned Parenthood, and legislation that could ban common forms of birth control." The three Pennsylvania U.S. Senate Republican hopefuls are also anti-abortion.