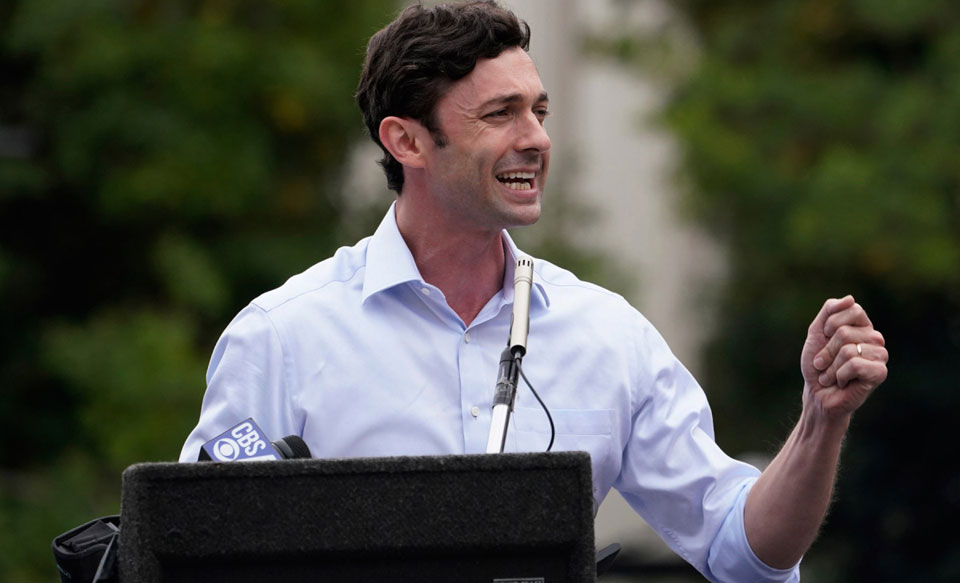 Jon Ossoff, the Democratic challenger for a Senate seat representing Georgia, called his GOP competitor, Sen. David Perdue, a "crook" who has spent years undermining health care for his people and then profiting from advance knowledge of the coming pandemic, knowledge the public did not have.
The two debated on television Wednesday night for what should have been the second of three debates. Perdue was so embarrassed by his inability to match Ossoff that he has pulled out of the third debate scheduled for this weekend.
Polls are close in what had been thought to be a sure race for a Republican, although the contest could lead to a runoff if neither candidate secures 50% of the vote.
"It's not just that you're a crook, Senator," Ossoff said at a stunning and dramatic moment in the debate, "It's that you're attacking the health of the people that you represent. You did say COVID-19 was no deadlier than the flu. You did say there would be no significant uptick in cases. All the while you were looking after your own assets and your own portfolio."
He was referring to a number of stock trades Perdue made in the beginning of the pandemic after he received a secret briefing about the coming plague, a briefing available only to a select group of senators. In that secret briefing, Perdue was informed that the American people were facing a disaster of historic proportions once the virus took hold in this country.
"Sen. David Perdue doesn't deserve to be re-elected," Ossoff declared.
Perdue, stone-faced and silent, sat there as Ossoff ticked off his powerful indictment of the criminal GOP senator, guilty not only of ignoring the health needs of his people but of illegal use of the health crisis to conduct insider trading on his own behalf.
Perdue, a Trump sycophant, was one of several senators who came under fire earlier this year after they made high-value insider stock trades in the days after the secret briefing warning lawmakers of the impending pandemic and its likely economic consequences.
The Atlanta Journal-Constitution reported in April that Perdue made at least 112 transactions in March, including purchases of stocks in a company that makes medical gear.
Perdue, before being smacked down by Ossoff in the debate, tried to cover his inaction on healthcare as a pandemic rages in his state by lamely and falsely suggesting Ossoff was a supporter of "socialized medicine."
The senator had also attempted to smear Ossoff's campaign and claim he was endorsed by the Communist Party USA. The Associated Press investigated and found the claim to be a lie.
"I voted against the Affordable Care Act, better known as Obamacare, because it was taking insurance away from millions of Georgians," Perdue falsely asserted in the Wednesday debate. Like his mentor Trump, Perdue has no problem spewing lies in the most matter-of-fact manner.
Perdue has had to face more than just the truth in his battle to hold onto his seat in the Senate.
Over the last 90 days, Ossoff raised more than $21 million, the largest fundraising figure for a Senate race in Georgia history. Perdue raised about $5.6 million during that period.