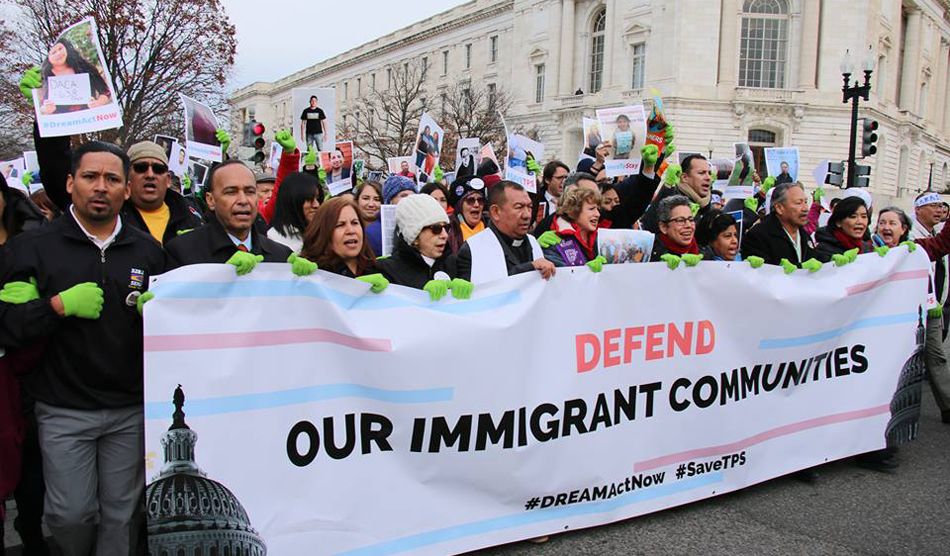 WASHINGTON—Several dozen demonstrators, organized by progressive groups and chanting in Spanish, brought the cause of the Dreamers and Temporary Protected Status refugees—both groups targeted for eviction from the U.S. by Donald Trump—to the doorstep of the GOP president and his Republican backers on the evening of Feb. 1.
In a last-minute demonstration organized by union-backed Casa de Maryland, the Center for Popular Democracy, and other groups, the marchers paraded in front of the Trump Hotel in downtown D.C. as the president addressed the Republican National Committee inside. Neither Trump nor the RNC members had any contact with them.
Trump plans to evict the 690,000-800,000 Dreamers from the U.S. starting March 5. The Dreamers were brought to the U.S., undocumented, as children. His Homeland Security Department is also throwing out the TPS refugees from wars, unchecked crime, and natural disasters in Syria, Haiti, El Salvador, Libya, Honduras, and elsewhere.
But those on Trump's deportation list aren't going to back down, Sarah Ramirez, a middle-aged native of Guatemala City who is now a Casa organizer, told the small crowd.
"The people united will never be defeated," was their repetitive chant in reply. Polls show overwhelming support nationwide for keeping the Dreamers and TPS cardholders in the U.S.
"We are gathered here to refute the rhetoric Donald Trump uses against immigrants," Ramirez said. "We know immigrants contribute to our country and we're here to defend their interests."
"We have been a little scared, and we have been intimidated in the past, but we will not give in. We're here to defend ourselves," she declared. "We're here not to hurt, but to love."
"Sí se puede," the crowd replied on resuming their march.
In a jab at Trump's campaign slogan, an older white retiree wore a red pullover sweatshirt emblazoned, "Immigrants make America great." His wife's blue pullover read, in English on the front and Arabic on the back, "Moses, Mary, Jesus, and Muhammad were all refugees."
A bipartisan group of lawmakers is trying to enact a bill to permanently let the Dreamers stay. Trump opposes it. Instead, he would back a long and torturous path to citizenship for them, along with anti-immigrant measures, more ejections, an end to letting family members of current citizens and green card holders seek entry, and his Mexican Wall. The congressional bargainers face a Feb. 8 deadline for action.