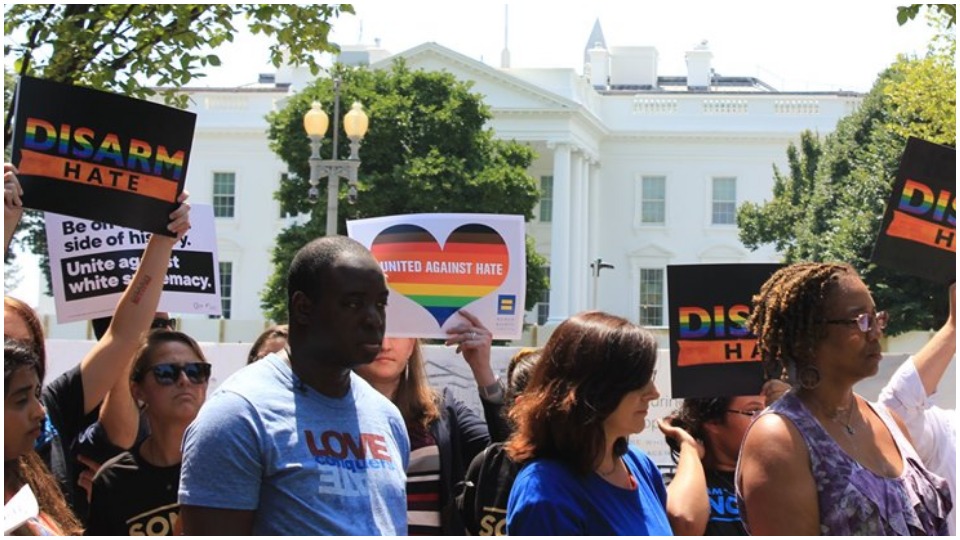 WASHINGTON—Upset and energized by President Trump's inadequate tele-prompted words on white supremacy, racism and the mass murders in El Paso and Dayton, hundreds of people gathered opposite the White House Aug. 6 to link Trump to the massacres – and to vow continued campaigning to get Congress to act, plus retribution at the polls next year for lawmakers and Trump if they don't.
The snap demonstration, called by the New Poor People's Campaign, the Teachers (AFT) and the Service Employees, also drew large contingents from the AFL-CIO and Labor's Council for Latin American Advancement (LCLAA), organized labor's constituency group for Latinx people.
And all the speakers, including LCLAA chief Hector Sanchez, who closed the program, promised Trump – and Congress – that the campaign would continue until both meaningful gun control legislation is enacted and white supremacy is rooted out.
The crowd was spurred by Trump's reaction, in a 10-minute speech the day before, to the massacre in El Paso by an Hispanic-hating white man wearing a Trump "Make America Great Again" hat, and later killings in Dayton. The El Paso death toll is now up to 22, while another gunman killed nine people before police killed him. Both were armed with semi-automatic rifles. The El Paso killer ranted against a Mexican "invasion" of the U.S.—using the exact words Trump used in prior speeches.
Trump's response was meek. He didn't endorse the gun control measures the Democratic-run House passed and that Senate Majority Leader Mitch McConnell, R-Kent., is sitting on.
Instead, Trump blamed the media and called the killings a matter of mental health – the usual Republican excuse for inaction. He also ignored that all but a few of the El Paso dead were Latinx, including eight residents of Mexico, just across the Rio Grande.
Trump is also scheduled to visit El Paso and Dayton on August 8, even though El Paso's mayor doesn't want him and even though Trump still owes the city $569,000 for security costs for his prior campaign rally there.
Trump angered both the demonstrators and the speakers in Lafayette Park. He has erected in back of where they gathered, and in front of the White House, a white board wall which, although not quite as tall as the one he wants along the Mexican border, is nevertheless quite noticeable.
"Mass shootings have a direct correlation with white supremacy," said Ben Needham of the Human Rights Campaign. "Donald Trump's racist attacks empower those who do us violence." Added MoveOn.org campaign director Emma Einhorn: "The murderer in El Paso took the president's words to their natural endpoint."
"But this is also about the 100 people who die every single day who die from gun violence, which is especially destructive to people of color," Needham added. "To Mitch McConnell and the Senate: Do your job" and enact the House curbs on guns. "To this White House" occupant: "Do his job" and sign it. Trump's advisers are telling him to veto the measures.
Another speaker was even more caustic about McConnell's refusal to consider gun control. He labeled the majority leader "Massacre Mitch."
"This president started" his 2015-16 White House bid "vilifying Latinos and we heard that dog whistle," said Maria Teresa Kumar of Voto Latino. "This president has brought the fight to the Latino community," which will respond, she declared, by registering "12 million to15 million" young Latinos between now and November 2020, and get them to the polls.
"Our message is clear," Sanchez said in the wrap-up. "All of us are here together to say 'enough' to racism. "All of us are here together to say 'enough' to hate crimes. All of us are here together to say 'enough' to historical white supremacy. All of us are here together to say 'enough' to separating children from families at the U.S.-Mexico border."
In an interview afterwards, Sanchez said the resistance to Trump would continue beyond the Aug. 6 protest and candlelight vigils planned nationwide for the next night. But he also said institutions – and he singled out both the union movement and the Democratic Party – must get involved.
That means getting more involved not just in voter registration and workers' issues but also in fighting voter suppression, he explained. And he said the two groups "did practically nothing on registration of and getting out the vote among Latinos" in 2016 when Trump beat Democratic presidential nominee Hillary Clinton. Both must increase their commitments and "their spending on democracy," he stated.
But Sanchez also had a message for the crowd and for Hispanic-named people nationwide: "We need to get a commitment from all our voters to elect no more white supremacists to the White House. This has a direct impact on people of color and it's clear we cannot stay home.
"We must organize, mobilize, resist and engage our people all the way through the next presidential election," Sanchez said. Added Kumar: "I'll see you out in the streets – and at the ballot box."
Like free stuff? So do we. Here at People's World, we believe strongly in the mission of keeping the labor and democratic movements informed so they are prepared for the struggle. But we need your help. While our content is free for readers (something we are proud of) it takes money — a lot of it — to produce and cover the stories you see in our pages. Only you, our readers and supporters, can keep us going. Only you can make sure we keep the news that matters free of paywalls and advertisements. If you enjoy reading People's World and the stories we bring you, support our work by becoming a $5 monthly sustainer today.