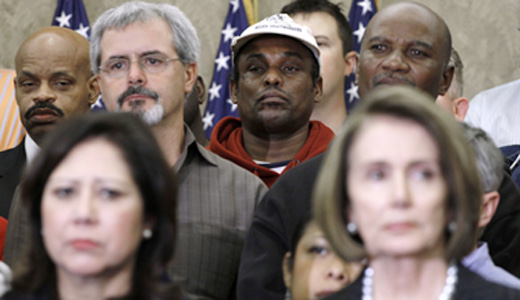 Just as Nero fiddled while Rome burned, the GOP pushed for tax breaks for billionaires Dec. 3, even as the Labor Department issued a dire report: The official unemployment rate rose last month to 9.8 percent, meaning the jobless rate has been 9 percent or more for the last 19 months – the longest it has been this high since World War II.
Rather than seeing a scramble in Washington, D.C., to address this national emergency, on the day of the bad news Republicans blocked restoration of unemployment benefits for the millions out of work for more than 26 weeks.
More than 890,000 people lost their unemployment benefits in the 48-hour period that began at midnight, Dec. 1. The figure is going up by the minute and will surpass two million in the days ahead if Republicans continue to stall.
Almost as shocking as the GOP's callousness, is the lack of knowledge many Republicans have about the jobless benefits they are blocking.
Sen. John Barrasso, R-Wyo., on Dec. 2, gave the press completely inaccurate information as he defended his participation in the Republican benefits cutoff.
"This is about people who have been collecting unemployment benefits for 99 weeks," he said, describing the bill he had just blocked.
The truth, completely different from how Sen. Barrasso described it, is as follows: President Obama and the Democrats are fighting for a 52-week reauthorization of two programs, Emergency Unemployment Compensation and Extended Benefits, which combined provide up to 73 weeks of benefits in some states.
Those programs lapsed Nov. 30, meaning people laid off through no fault of their own are now only eligible for just 26 weeks of state-funded benefits. If the lapsed benefits are reauthorized, some jobless people will once again be eligible for up to 99 weeks of benefits – but not one day more than that.
The number of jobs created last month dropped significantly from October, when 151,000 jobs were added. Only 39,000 were added in November, well below the 150,000 the AFL-CIO says must be added each month just to keep up with growth in the labor force. To lower the nation's unemployment rate to 6 percent by 2013, says the Economic Policy Institute, the economy needs to add 350,000 jobs monthly.
Equally as ominous as the rising unemployment rate last month was the continuing crisis of long-term joblessness, with 6.3 million workers unemployed for six months or more. Overall, 44 percent of the officially unemployed have been out of work for 27 weeks or more.
The number of workers who are underemployed, which includes those who are too discouraged to look for work or who are working part-time out of dire necessity, remained at 17 percent in November. Overall last month, 27 million American workers who want work cannot find a job or full-time work. Beyond all of this, there are millions of first-time job seekers who never had a job.
Citing the loss of 13,000 manufacturing jobs, Scott Paul, executive director of the Alliance for American Manufacturing, called the Dec. 3 jobless numbers "dreadful."
"What is infuriating is that this recession was unnecessary – it was caused by deregulation and indifference to speculation," said EPI President Lawrence Mishel. "Plus its depth and duration have been deepened by political forces resisting efforts to generate the millions more jobs we have needed, Unfortunately, there's much more pain ahead in the pipeline."
On Dec. 1 unemployed workers from around the country descended on Capitol Hill where they demanded that Congress act immediately on benefits extensions and job creation.
The AFL-CIO has declared Dec. 7 as a national day of action in solidarity with the unemployed. The federation has designed a "jobless avatar" that it is urging millions to use as a replacement for their Facebook and Twitter images. In addition, every Facebook and Twitter user is asked to change his or her status to: "In Solidarity with Jobless Workers."
Photo: Somber faces of unemployed workers standing behind Labor Secretary Hilda Solis, left, and House Speaker Nancy Pelosi, during Capitol Hill news conference, Washington, Dec. 1. Harry Hamburg/AP