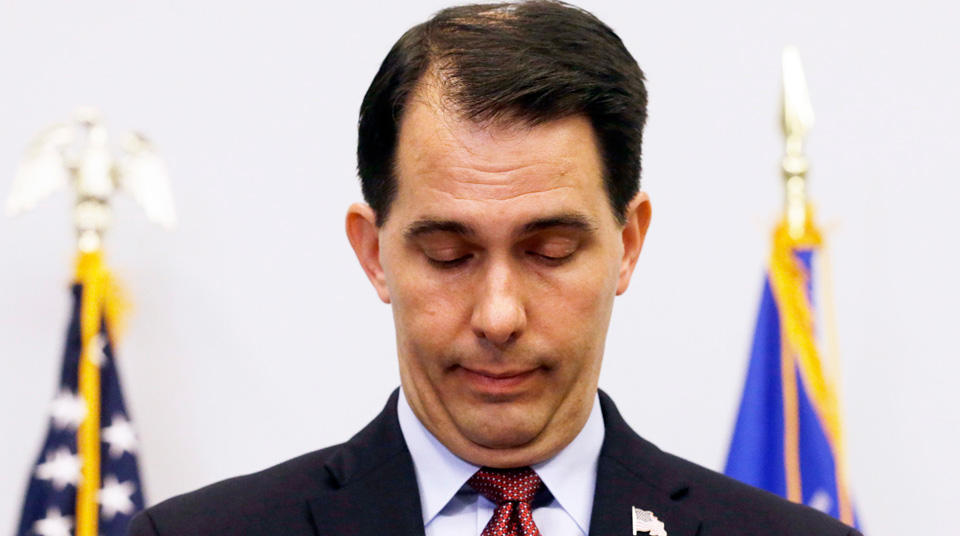 MILWAUKEE, Wisc. – In an October story for Peoples World, I quoted a Wisconsin union leader that under the Foxconn deal the stench of "right to work" would last longer than any construction jobs for union workers, even though Foxconn's initial lavish spending would be on buildings, roads and utilities.
The jury may still be out because the issue is hotter than ever as Democrats wonder if traditional support for good Democratic policies and continued hatred for Gov. Scott Walker's policies will survive the onslaught of building activity heading Racine County's way.  There, voters in polls are split 50-50 on Foxconn – rather remarkable considering the supposed cornucopia awaiting the village of Mount Pleasant (population 26,600).
But it's still unclear how many jobs there will be – pundits doubt even the 3,000 to 13,000 range the robotic enthused company has touted – or how the median income of $50,000 per job really divides down, or how many recruits  will come from Illinois before tapping  employment- depressed Milwaukee, or how many unions will be involved.
Nor have Wisconsin businesses yet grasped that the vaunted Midwest supply chain for Foxconn can come from anywhere and probably will.
Hoffman Construction, a union outfit that had once talked to me about leaving Wisconsin for Illinois if "right to work" passed, now says it is onboard with Foxconn, particularly a special four-lane highway being built just for the Taiwanese company. But Foxconn has of yet not committed to union jobs in general — though in the initial roads and factory structures, unions have the established track and safety record in Wisconsin.
This is becoming a major issue for state politicians and voters – and it has national echoes since a tax bill terribly loaded with negatives has similarly put all the goodies upfront to give the GOP talking points before the 2018 elections.
If you split the state at its midline, the taxpayers in the north will pay billions for Foxconn and never see a job. There the anger is palpable and likely to sweep long Republican districts.
Populace southeastern Wisconsin, historically more Democratic, is clearly torn among the money on hand for construction, the impossible dreams of trickle down and the factual evidence that even if Foxconn fulfills its $9 billion plant promise, the payoff for taxpayers doesn't come for 25 years. At that point LCD crystal display may be an antique technology.
Foxconn has become a $3 billion taxpayer boondoggle grown into a more than $4 billion tax giveaway that really hits Wisconsin in the snoot after 2018, when Walker hopes to be re-elected governor for the third time.
Opposing him right now is a mixed slate of some 18 Democratic hopefuls, eight of whom sound confident of victory but none of whom in either age or charisma have enough to take down Walker without considerable voter anger behind them.
(Leading names include state school superintendent Tony Evers, who swept to lopsided statewide victory in 2016, well known attorney and Democratic fund raiser Matthew Flynn, state Sen. Kathleen Vinehout and state Rep. Dana Wachs, well-heeled businessman Andy Gronik, state firefighter union chief Mahlon Mitchell (already endorsed by US Rep. Gwen Moore), "no labels" figure Mike McCabe and popular Madison Mayor Paul Soglin, similar age to President Trump.)
The union issue is being hard pressed right now, with many Republicans convinced they have neutralized the progressives with the building largesse and many Democrats, while defiant, still fearful if these voters will stick to the progressive side. Many union leaders insist their members are still a solid liberal voting bloc despite construction jobs and money waved in front of them.  The skeptics point out that how projects like sports arenas, skyscrapers and highways are funded may anger the fiscally responsible and environmental communities, but unions are mainly about getting jobs for members.
Will union members still separate the politics behind the jobs and the horrors waiting around the corner from the positive aspects they perceive in the short run? It's a question already affecting races other than the contest for the governorship.  The leading figure in the campaign against unpopular Speaker of the House Paul Ryan (whose goal of crushing Medicare and Medicaid already makes him a big target) is "Iron Stache," Randy Bryce, the mustachioed iron worker trying to return Congressional District 1 to working-class sanity.  His opponents (including Janesville school board progressive Cathy Myers) quickly point out how his union has worked on pipelines and other projects that are fervently criticized by liberal idealists.
Union leaders like UAW's John Drew are convinced that workers who have long opposed Walker and still feel the sting of his priorities are unlikely to forget.  Other labor leaders suggest union workers have a deep rooted cynicism about the GOP — long memories about how they have been misled by conservative politicians who then occasionally throw them a bone.
Ask current members of the large Local 139, Operating Engineers. Their leader, Terry McGowan, once championed Walker to his members based on the promise that he would not consider right to work, only to be forced into an elegant opposition to that very bill at a legislative hearing.  He felt deceived and so did members.
These workers are also deeply disquieted by the continuing secrecy surrounding Foxconn. The state has waived all its environmental wetlands rules piece by piece for an area larger than New York's Central Park.
In December, the federal government ruled it can't step in.
Does that mean Foxconn can fill in wetlands for resale in a region subject to flooding and in dire need of wetlands protection? Several lawyers think Foxconn can. LCD manufacturers heavily uses  water, and Foxconn deliberately positioned itself near Lake Michigan and is now seeking more exemptions and a designation as a foreign trade zone status (duty free for products exported). Environmental advocates are livid.
"There is not even one public hearing on any of these issues to frame questions," one union member said to me.  "So sure, we'll take the jobs but don't assume we'll also give our vote."