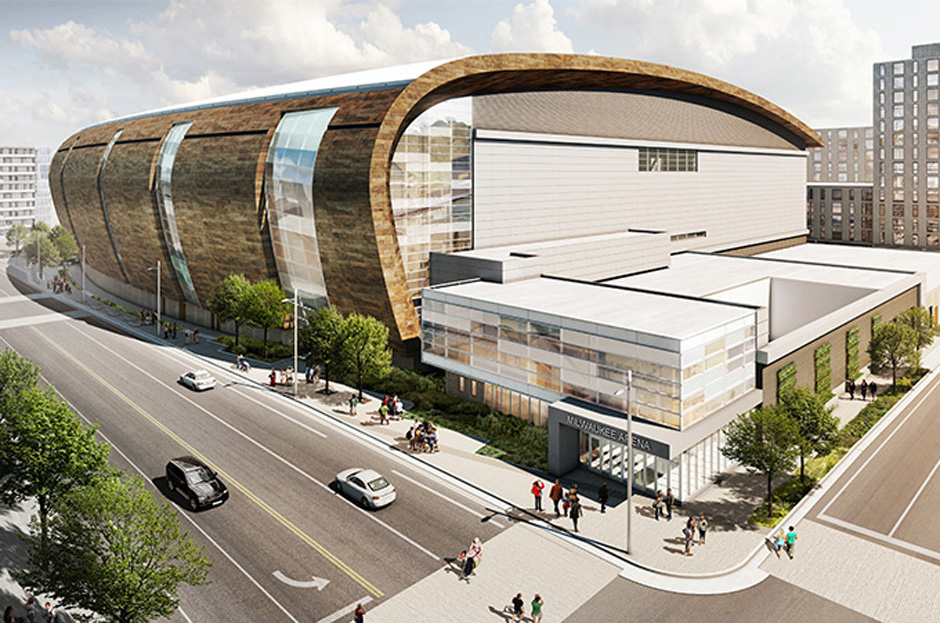 This article won Second Place Awards Best News Story in the 2018 International Labor Communications Association's Labor Media Awards.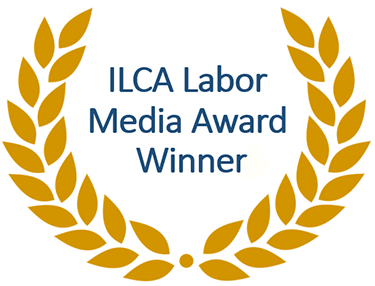 Trade unions are constantly buffeted by financial power plays. In Wisconsin they are being branded as victims of political expediency by the progressive community yet supported by many members because they fight for jobs.
The contention centers on two big projects – Milwaukee's new $500 million Arena for the basketball Bucks and the now approved $3 billion taxpayer giveaway to a $10 billion facility for Taiwanese company Foxconn to assemble and ship liquid crystal display screens. This enormous tax windfall – largest in US history – is touted by right-wing Republicans as a hallelujah for Midwest high tech but is being played on a field of broken glass and fairly ridiculous expectations 30 years into the future.
The Arena is halfway done to open the 2018-2019 season. Its bulk curving roof is already enhancing the Milwaukee skyline and the number of union cranes buzzing around signals a massive Downtown union building boom.
While the former owner (Herb Kohl) and new owners (including hedge fund leaders Wes Edens and Marc Lasry) agreed to cover half the cost of the $500 million home, they refused to go further.
So Republican Gov. Scott Walker coughed up state bonds and Milwaukee County Executive Chris Abele pledged $80 million over 20 years from county property taxpayers, though the county is badly staggered to keep up with public transit, parks, elderly care and all the real stuff county government is supposed to do with property tax money.
By the time county property taxpayers fill their part of the bargain, the Bucks are expected to be worth $1 billion, according to financial analysts. So even in 2015 the deal reached by elected officials without hearings seemed an outrageous price for taxpayers, weighed against the value of keeping the Bucks in Milwaukee, which the new owner pledged to do. That promise, some writers noted, flies in the face of historic hedge fund operations, which are "Buy low. Improve value. Divest. Move on."
Even President Obama weighed in on the concept of public funding of private sports palaces, suggesting it was not a good idea and he had many national bad examples to back him up.
But the Milwaukee building trades supported the deal in public, as did many affiliated unions though there was some private griping. They saw jobs aplenty that needed their skills. The Bucks ownership knew they had to go the union way in Milwaukee. And sure enough, while also funding other projects in the blocks around the Arena, the owners happily agreed to a generous PLA (Project Labor Agreement) with considerable safety measures and expanded and  required minority and local participation. It is hard to find resistance today to the owners.
Even church and community groups that have long been society shakers such as Common Ground have found their own funding harder because of their original outrage over the Arena financing scheme.
As one union leader pointed out, it is up to others to put stuff in their buildings to make the financial promises and tax burden work. Union members, while taxpayers, too, are "not opposed to using tax dollars to bring in construction and manufacturing," the trades leaders said.
Which brings us to their public silence about Foxconn.  Even conservative economists say it is a lousy deal, based on fantasies of "earth-shaking change" in Wisconsin's economic landscape, asking taxpayers to plunge $3 billion behind one company that has reneged on all its promises to other states and other countries and will cost the taxpayers $1 billion before it begins to pay off – if it ever does.
The Foxconn deal has been exploded in two previous People's World stories, one outlining  the falsehood and the other exploring the fantasy.
But openly resisting it officially was called "a lose-lose" by union leaders contacted.
"Anything that stems from Walker's machinations are automatically suspect" based on his horrible business tax record, noted one regional union leader. "But if you're on the ground in Racine (where the plant will be built), it's harder to be reflexive against anything" that says manufacturing jobs.
"We've been talking up for 30 years how we've been losing such jobs to foreign lands," said the union leader, speaking off the record so as not to involve his union. "And we know that this $3 billion won't get spent on education, roads, or the good stuff — it just won't get spent.  If we had a rational party in power, maybe."
Many other unions contacted suggested the same, as did Dan Bukiewicz, head of the influential  Milwaukee  Building & Construction Trades Council, which represents many unions. Bukiewicz is also the leading candidate for Oak Creek mayor but he will continue his council representation.
"We have no idea if organizing will be allowed at the plant nor what sort of jobs is entailed," he said. "It's a very cloudy picture beyond construction.  But we're confident that Foxconn will see the values of unions in its difficult timetable and complex needs."
He remains optimistic for Racine County, a depressed region of the state that was once a union stronghold, but he admits it's a gamble.
Just across the border in Illinois, after $30 million from that state's taxpayers, sits an enormous now empty Motorola cell plant when that was all the rage 10 years ago. "We hope Wisconsin takes appropriate means to avoid the same failure," Bukiewicz said.
There are other factors that make the Foxconn deal initially tempting but worrisome on hard evidence and past practices. Foxconn has promised 3,000 to 13,000 jobs yet neither figure is believable from a company that prides itself on robotics to replace humans, won't say what it will dump into Lake Michigan water at both ends of the production line – and will mainly be a gigantic assembly and production line. "Wisconsin is betting a lot that Foxconn will remain a technology leader 30 years from now for this to pay off," noted several economists, who also call it an "over the top bad deal."
Milwaukee is working to become a fresh water science and production hub, but its technology leader, Dave Garman, told me in an interview that he is somewhat perplexed.  "I just deliver totally neutral scientific information so I take no sides in this discussion," emphasized Garman, a University of Wisconsin-Milwaukee assistant vice chancellor.  "But no one from the legislature called me.  Maybe I'm naïve but I thought at least they would have working environmental documents before making the deal."
His perplexity about lack of information was shared by University of Virginia time motion experts contacted. They speculate that Foxconn will assemble, more than produce, LCD chips in Wisconsin and that mostly footloose younger workers will be the target for moving closer to the plant. "For older workers and those who are well established in their community, a plantation life is far less likely to be appealing," said Prof. Steven Johnson.
At a think tank not noted for liberal bias, senior fellow Caroline Freund of Peterson Institute for International Economics says this was a purely political decision by Foxconn because southern states offer lower labor costs and Western states have higher trained tech workforces. "What ends up happening with these bidding wars is that the foreign investor extracts the most it can," Freund told Wisconsin Public Radio.
Yet happy talk abounds among local businesses who have not grasped that suppliers these days can ship from anywhere.  Abele at Milwaukee County will spend an optimistic $25 million on a new international airport terminal, largely in response to Foxconn's presence.
Yet Foxconn is keeping its main research and development in China and Taiwan and won't pay back Wisconsin  taxes  until 2043!
Also happy in anticipation are Racine farm owners who may make a killing in land sales.
Happy as well in political terms is Gov. Walker. The pain of the Foxconn financial burden and overpromises won't be clear until after his next election in 2018. First come the building boom and the hopes of business leaders. He is also banking on voters not remembering the $2 billion he took out of K-12 education directly and indirectly in his first eight years while they concentrate on the $640 million he is promising to return in his new two year budget. It's a hell of a parlay if he brings it off.
Both the Bucks and Foxconn are blatant political moves working for Walker as the Democrats choose among several candidates to face him in 2018.  They will rely on voters looking at the ugly past and the horrors just around the corner.
While many unions are silent on the deal their leaders argue their members will not vote for Walker and  are eager to see him go.  Said one succinctly:  "I doubt if the Foxconn mouthwash will hide the stench of right to work."