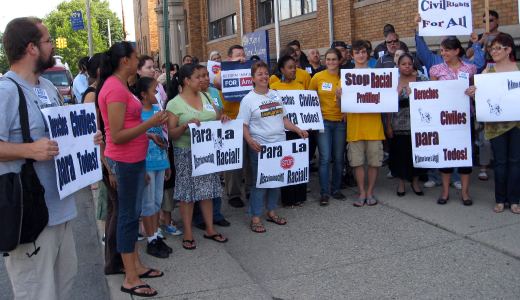 DETROIT – "How does a documented person look? Can a Border Patrol agent tell by physical appearance, or name, if someone is documented or not, a criminal or not?"
These questions were asked by Dawud Walid, director of the Council on American-Islamic Relations (CAIR) in Michigan, at a June 30 press conference outside Hope of Detroit Elementary School in Southwest Detroit.
Physical appearance or religious affiliation cannot determine citizenship, Walid declared. However, he said, CAIR has documented dozens of cases where those characteristics have been used by government officials to harass people.
Walid accused Border Patrol and Immigration and Customs Enforcement (ICE) agents of "racially profiling our community, of Latinos, Arab Americans and Africans."
The elementary school was the site of an infamous March 31 ICE raid where agents in large black SUVs surrounded the building and arrested parents as they were dropping their children off for school.
In April, after meeting with local ICE Director John Morton, local immigration rights advocates were promised, within 30 days, a case-by-case review of racial profiling incidents.
Seventy days later, immigration advocates are still waiting for the promised report but, unlike ICE Director Morton, they are not staying silent.
At the press conference here, Ryan Bates of the Michigan Alliance for Immigrants Rights and Reform said immigrant rights groups are demanding Morton release his promised report. They have also asked Michigan Democratic Congressmen John Conyers and Hansen Clarke to arrange a meeting with Allen Birsen, the national commander of the Border Patrol, to discuss racial profiling.
Bates said the pattern of abuse continues in Michigan. "Families are being raided without warrants, people waiting at bus stops are being asked for papers, workers are stopped while they are doing landscaping," he said.
His group released document detailing14 cases of racial profiling and abuse by Border Patrol and ICE agents that, he said, have led to a climate of fear and hostility in Southwest Detroit and other immigrant communities.
Many of the abuses occurred in the vicinity of Latino Family Services, a social service agency in Southwest Detroit. Lidia Reyes, the agency's director, said both staff and clients have been targeted. "Six people have been stopped and of those six, five were American citizens. There is racial profiling," she said.
Rep. Conyers also spoke at the presss conference, joined by Liliana Coronado, an attorney with the House Judiciary Committee, where Conyers is the ranking Democratic member.
Coronado said ICE's own handbook says they are not supposed to monitor sensitive areas like schools, churches, parades, funerals.
"They are not supposed to but they do," said Conyers to loud applause.
Following the press conference Reps. Conyers and Clarke took part in a panel discussion on ending racial profiling and abuse.
During the press conference, Chris Michalakis, secretary treasurer of the Metro Detroit AFL-CIO, delivered a strong statement saying, "Immigrant rights are civil rights, immigrant rights are workers' rights." He promised labor will be in this fight until the end. "No more ICE agents at elementary schools. No more racial profiling No more religious profiling," he declared.
Immigrant rights advocates say the Border Patrol can play an important role, as a CAIR press release said, "in interdicting drug smugglers, stopping human traffickers, and preventing terrorists from entering the country."
They point out, however, that racial profiling is not only an "abuse of power," it is also a "waste of taxpayer resources."
Photo: June 30 press conference outside Hope of Detroit Elementary School in Southwest Detroit. PW/John Rummel