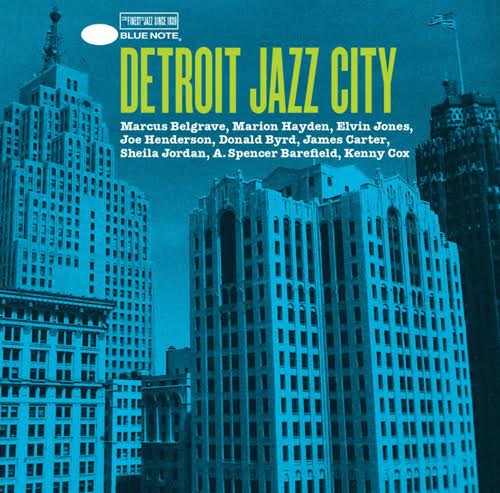 Music enthusiasts may rarely think of Detroit when it comes to jazz … but a new CD might change that. Detroit Jazz City is a new compilation featuring the best of Motor City jazz. It brings together classic recordings by some of Detroit's legendary jazz artists and adds some great newer tracks from current talent. The result is not only a must-have for jazz fans, but for everyone who loves good music. This CD goes beyond the music itself. All proceeds from sales will benefit Focus: HOPE, a Detroit nonprofit organization that provides education and training for underrepresented minorities and others. It's great music for a great cause.
The CD leads off with Marion Hayden performing "The Uncrowned King." Hayden is one of very few female jazz bassists in the business and continually performs in the Michigan region. Other current musicians who contribute include clarinetist/saxophonist James Carter with "Many Blessings" and composer/guitarist A. Spencer Barefield who performs "Ghost Dancers." Barefield is the artistic-executive director of the Creative Arts Collective in Detroit. The newer artists represented here showcase the continuing energy of the Detroit music scene and jazz in particular. This CD excels at mixing recordings from current artists along with vintage tracks from Detroit jazz legends.
Among the legendary musicians included is tenor saxophonist Joe Henderson, who spent over 40 years in the music business. Henderson became a familiar face in the Detroit music clubs of the 1950s. His talent shines through on "Mode for Joe."
Trumpeter Marcus Belgrave is presented in fine fashion with the tune "Lottie The Body's Mood." Belgrave made a successful name for himself in the Detroit jazz scene and beyond, appearing with many greats during his career including Ray Charles. He was a jazz trumpet professor at the Oberlin Conservatory of Music in Ohio and recently passed away at age 78, in 2015.
Drummer Elvin Jones was born in Pontiac, Michigan, and was a member of the John Coltrane Quartet from 1960 to 1966. He is represented here with the track "Reza." Trumpeter Donald Byrd originated from Detroit and seamlessly shifted from bebop into funk and soul later in his career. Byrd is heard with his recording of "French Spice." Pianist Kenny Cox accompanied singer Etta Jones in the 1960s and is featured on "You." After many years in New York City, Cox returned to the Motor City and became a fixture at local jazz venues.
One vocal track serves as the finale of this nine-song compilation. The tune is "Sheila's Blues" and it is performed by legendary female jazz singer and songwriter Sheila Jordan. At age 87 Jordan is still actively performing her style of bebop and scat for audiences worldwide. Her recording on this CD is autobiographical as she traces her childhood roots from Detroit to a small coal mining town in Pennsylvania and back to Detroit as a young singer.
Detroit Jazz City is released by Blue Note Records. The vintage tracks were produced by Alfred Lion, Duke Pearson, and Francis Wolff. Don Was, a Detroit native and current president of Blue Note Records, produced the new recordings. This was a very special project for Was, who says, "All of us at Blue Note Records are excited by this opportunity to shine a light on the rich musical legacy of Detroit and on Focus: HOPE who have done so much to help the city's less fortunate residents."
Focus: HOPE is a non-denominational organization founded by Father William T. Cunningham and Eleanor M. Josaitis in the aftermath of the 1967 Detroit Race Riot. [Until the riots following the assasination of Dr. Martin Luther King in April 1968, the Detroit Race Riot stood as the largest urban uprising of the 1960s. – See more at: http://www.blackpast.org/aah/detroit-race-riot-1967 – sthash.VXYohNHy.dpuf ]
Its mission statement adopted in 1968 includes recognizing the dignity of every person and pledging intelligent and practical action to overcome racism, poverty, and injustice. It runs a variety of community educational programs and child care in a modern campus, in an area of Detroit populated by abandoned industrial buildings.
Detroit Jazz City is a win-win addition for any music collection. It showcases the very best of Detroit's jazz legacy, and all proceeds will go to programs aiming to better the lives of Detroit area citizens.
Photo: Audio CD cover, Detroit Jazz City, Bluenote, "The finest in jazz since 1939."