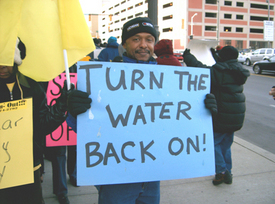 DETROIT — Chanting "No layoffs, no cuts, Detroit won't go to the back of the bus," Detroit Water and Sewage Department (DWSD) workers braved cold winds March 21 to protest the city's plan to lay off 5 percent of the workforce beginning the week of April 10.
Adding to the anger of the workers, members of AFSCME Locals 2920 and 207, was Mayor Kwame Kilpatrick's "State of the City" speech last week in which he said the city must make further cuts and look at privatizing any and all city services.
Detroit has been hard hit by a huge loss of jobs, Bush budget cuts and a declining tax base, all of which have left the city reeling and susceptible to "quick fixes" from those wanting to make profits off of the city's resources. Many fear the city's public water supply will go the direction of health care in our country, where access and quality depend on the size of your pocketbook.
Michael Mulholland, AFSCME 207 secretary treasurer, said his members have been working without a contract since last June. The threat to lay off workers is an attempt to force concessions including a one-year wage reduction, a two-year wage freeze and more employee contributions for their health care, Mulholland said. "We must stand up to being downsized and the way to do that is to link the concerns of the community with those of the workers," he added.
Mulholland said cutting Water and Sewage employees would mean fewer meter readers, more estimated bills, and more water running in the streets than in homes due to water main breaks caused by lack of maintenance. He said the city has already begun using private contractors to fix water main breaks and is ending up spending three times what it would cost city employees to do the job.
Sylvia Orduro, who works with Michigan Welfare Rights, said she joined the rally because she realizes water rates must be kept affordable. Her organization has proposed a detailed plan to help low-income city residents pay their bills. The same plan has worked in other areas of the country, she said, but as of now, the city is sitting on it. In 2005, 45,000 Detroiters had their water turned off, she said.
Another marcher, Andrew Sawyer, has three children and has been a member of Local 207 for nine years. Because of previous cuts at the Water Department, he no longer gets overtime and his family's bills are going up. "If I lost this job, I don't what I'd do," he said. It doesn't make sense for the city to threaten workers with layoffs because the water budget for 2006 is already funded from rate increases enacted in 2005, he said. "The money is already there."
Mulholland and other workers think DWSD Director Victor Mercado was brought in to privatize the system. Mercado previously worked for several large private water companies including United Water and Thames North America. Complaints against both companies have included staff reductions and slowness to make repairs. In Jersey City, N.J., United Water diverted $1.2 million worth of the city's water to other communities without notifying, or paying, the city. Both companies are quickly buying up public water supplies in the U.S. and around the world.