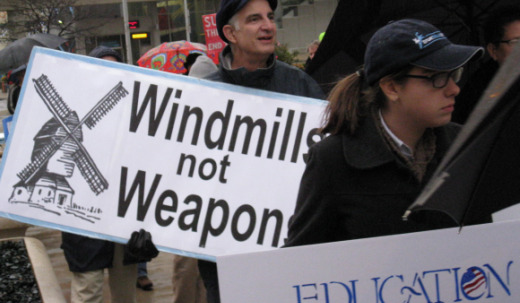 DETROIT – With all the problems people here are struggling with, trying to stop the escalation of the Afghanistan war was not one they wanted or needed to add to their to-do list. But the 100-plus people who marched in the rain outside the Federal Building downtown connected the dots. They worry the rough times Detroit and Michigan are experiencing will get worse as needed funds are wasted on an Afghan troop buildup.
The marchers had no shortage of ideas for better ways to use the money.
Kim Siegel, a junior at Wayne State University majoring in environmental science and peace and conflict studies, didn't have to stop and think. "Students and education" would be a more productive place to spend the nation's money and resources, she instantly suggested. "Tuition will be going up from $9,000 to $14,000 over the next five years and they [the state Legislature] also got rid of our Promise Scholarships so students lost $4,000 over four years." Because Wayne State is a diverse urban school, she noted, it will cause a lot of hardship and students will be forced to drop out.
Lydia Wylie-Kellermann moved back to Detroit to do community organizing and is helping with an urban farming project. She is also on the board of the Michigan Coalition for Human Rights. "Anything else, other than war, would be a great way to spend $30 billion," she said. "Get people into homes, get jobs for people. Work on human rights instead of killing our own people and other people."
"It's hard to put into words; it seems so simple and obvious," she said. "It aches, the idea that we are going to keep killing more people and not focus on human rights."
Joan Smith, from Interfaith Workers for Justice, said, "Just today we were talking about the problems of wage theft." President Obama could be putting that money into the Department of Labor to try and solve that gigantic problem, she said. "He could also be putting it to end homelessness, putting it towards environmental solutions, changing the way that we use energy and the kind of energy we consume."
National security needs can be looked at differently, defining it as taking care of the needs of the people, Smith said. "Security can be looked on in a positive rather than a negative way. Work on improving the lifestyles of all the people living here. I think warfare is a very negative thing, it's preemptive, and it's killing people rather than improving their lives."
Tom Zerafa, a local coordinator for MoveOn.org, said the best way to spend that $30 billion is to keep some of it here at home. "We can find a billion ways to use a billion dollars in Detroit," he said.
In addition, Zerafa proposed, "Send the most brilliant, send the most artistic and send the most constructive people to start rebuilding the cities of Afghanistan that we helped destroy. We can do the same thing in Iraq. What we don't need is to escalate any more fighting."
The protest was called by the Detroit Area Peace and Justice Network.
Al Fishman, the network's coordinator, said if he had the opportunity to speak with the president he would ask, "How is an invasion of Afghanistan going to deal a blow to the al-Qaeda network when the network is scattered throughout the world?"
It needs to be treated "as an international conspiracy, because Al-Qaeda is now in Indonesia, many countries in Europe, Somalia, they're all over, so an international effort of policing is needed," he said.
The second thing that is needed, Fishman said "one that Obama has begun to do something on, is to change our foreign policy in the Middle East."
Ending the Israeli-Palestinian conflict, "based on justice for the Palestinians," is a key element in removing a propaganda point used by the terrorist network to expand their influence, he said.
Like the other marchers, Fishman worried about the war's effect on the crisis afflicting this city. "What is this going to do to the whole question of jobs and health care?" he asked. It was a question on everyone's mind here.
Photo: PW/John Rummel