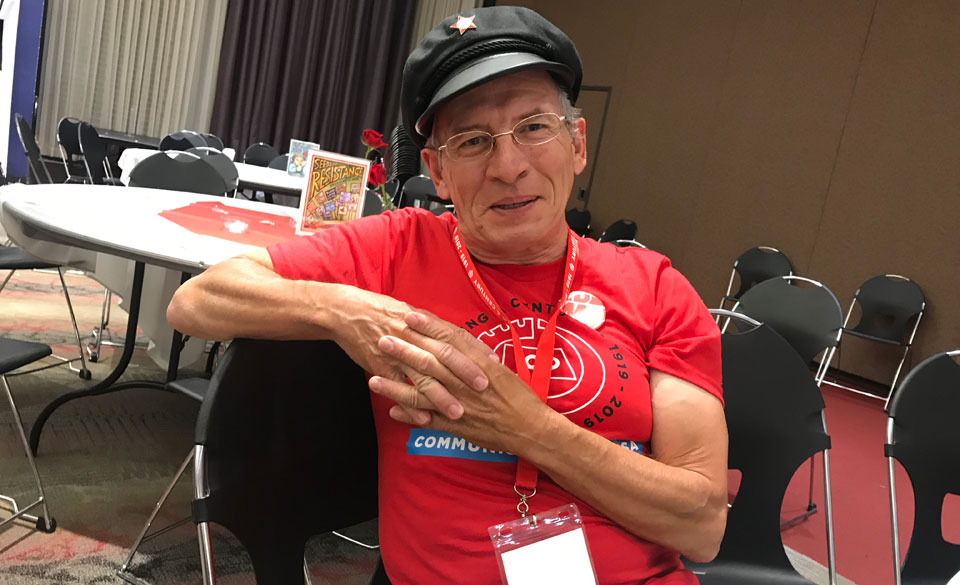 CHICAGO—"Beware the three T's," Terry Burnsed has been warned. For the last ten years or so, he's been teaching a mini-course in theater history at the China Agricultural University in Beijing. He enjoys broad freedom to teach the course as he sees fit, but there are three subjects best not spoken about in class: Tiananmen, Taiwan, and Tibet.
I ran into Terry here at the recent Communist Party USA convention. He's from Denver and has lived there almost all of his life. Although he's been on the left politically for years, he joined the CPUSA only about a year ago.
Terry is a "freeway flyer." He's on the part-time adjunct faculty at three educational institutions: Metropolitan State University of Denver, University of Colorado Denver, and Community College of Denver.
It's the University of Colorado that has a 25-year relationship with China Agricultural University, initiated at a time when China started re-evaluating the prospects of "20th-century socialism" and came up with the slogan "socialism with Chinese characteristics." The meaning of that idea is open to interpretation, but Terry sees it as a recognition of China's "need to join the rest of the world" with some market-oriented economic changes.
Terry Burnsed goes to China for the three and a half weeks that comprise the American university winter break—or "winterim," as he calls it—between just before Christmas until mid-January, just before Martin Luther King Day.
His introductory course—taught in English to students with a wide range of command of the language but who are in theory supposed to be able to handle a college-level course—is part elements of theater, history of theater, and theater criticism. He'll have his students read four plays, discuss and write about them.
Last year's curriculum included Snow in Mid-Summer, a play by Guan Han Qing, the "father of Chinese drama," who lived during the Yüan Dynasty in the Mongol Empire. This literary drama exists for Western readers, and for Burnsed's students, in Yang Xianyi and Gladys Yang's translation. The playlist also included Molière's pre-French Revolution satire Tartuffe in the elegant Richard Wilbur translation, Lorraine Hansberry's A Raisin in the Sun, and Keffiyeh/Made in China, by a Palestinian-German playwright, Dalia Taha, that Burnsed found in an anthology of Palestinian plays.
As a writer, actor, stage manager, sound designer, and director, all roles Terry has played over the course of his career, he also incorporates practical exercises in his class. For example, one year "I taught them to sing the Internationale" in English. "They didn't know it in Chinese either," he explained, though likely they recognized the tune from broadcasts on loudspeakers or electronic media. He had them start off timidly as if they were wounded, traumatized survivors of the 1871 Paris Commune who were awaiting their execution by French troops—the era in which the song was written. Then, gradually, they would raise their voices singing out confidently like 21st-century Chinese students.
What does all this have to do with agriculture?
"There are no arts majors there," Terry explains. Other Chinese universities and colleges teach much of the curricula that the West classifies as "liberal arts," and there are also conservatories and other specialized institutions for actors, musicians, and other kinds of artists. The university was founded early in the 20th century, right before the democratic Chinese republic was declared. "Almost all the students are economics or communications majors," he says, "studying business and public relations," trying to "get in on what's left of China's economic boom." They make no apology (though they probably wouldn't say it in exactly these terms) for wanting to "get into the new Chinese bourgeoisie."
They take Burnsed's theater course because they learn about voice, inflection, persuasion, character, acting, extemporaneous speaking—subjects that will benefit them in their careers of advertising, video production, and corporate promotion and that they could only learn from this university experiment in liberal education. Also, they are getting one credit toward graduation out of the way.
University officials keep telling him to curb his habit of "grade inflation": He has to be tougher. But every year his students surprise him with their knowledge of the world and their critical acumen. (Their English often leaves much to be desired, ranging "from idiomatic to clueless," but he patiently works with each student on successive drafts of their papers to get them right.)
Marxism-Leninism is taught in grade school and high schools a certain amount, but at the university level the students are "not as versed in it as I would have expected." Still, when he asks them to "Put this play in a historical context," they write intelligent essays about royal absolutism and aristocracy, the rising bourgeoisie, colonialism, civil rights, and other themes evoked in the plays they study.
Burnsed also teaches Mao Zedong's lectures from May 1942, published as Talks at the Yan'an Forum on Literature and Art. He wants his budding corporate PR directors to ask, Whom does art serve? "I would like to think" they ask that of themselves as they enter the service of capitalist companies, "but who can say?" He adds, "I don't assign a play by Brecht, but I discuss him and the contributions he and his collaborators/comrades made to theatrical modernism and the intersection of Marxism and the arts."
The course is not labeled as a Marxist class in theater, but "I let them know that's where I'm coming from"—both in China and in his classes in Colorado. "Dialectical thought about the theater helps the student of theater and of history in general. I try to instill some skepticism about the Western notion of the 'universal language of the arts,' which can be used by the ruling classes" for their own purposes of denying the class factor.
"Once in a while," Terry says, "I find a student who's really interested. In a few cases a former student will seek me out and tell me, 'You really changed my life.'"
Burnsed sometimes questions what he calls "stage-ism," the classical Marxist theory that society must inevitably evolve at its own pace in defined historical epochs. In China today, that can be molded into a justification for capitalism building the material base for socialism. Is that a contradiction? Or could it be a contradiction and also true? You know, "socialism with Chinese characteristics."
But "who am I to judge?" he will reply if pressed. The question "must be in dialectical interplay with 'of course we judge,' which is where 'Orientalism' and Marxism intersect – in the case of Western understanding of things Chinese, and with so much else!"
And then, of course, "I assume they are surveilling me somehow." He knows of Marxist student groups agitating for student rights who have been detained by the authorities. "The Party and the regime are in some ways interchangeable and in some ways not," he says.
But most important to him is to be alert to "the lens of Orientalism through which we see events in China. We can remove some of our distortions but not all. I should be skeptical of my own perceptions always." He admits he has learned only a few rudimentary words and expressions in Chinese.
With a master's and a doctorate in theater, Burnsed has never published, but he is working on a play now. I suggested that his experience with Chinese students might make a good subject.