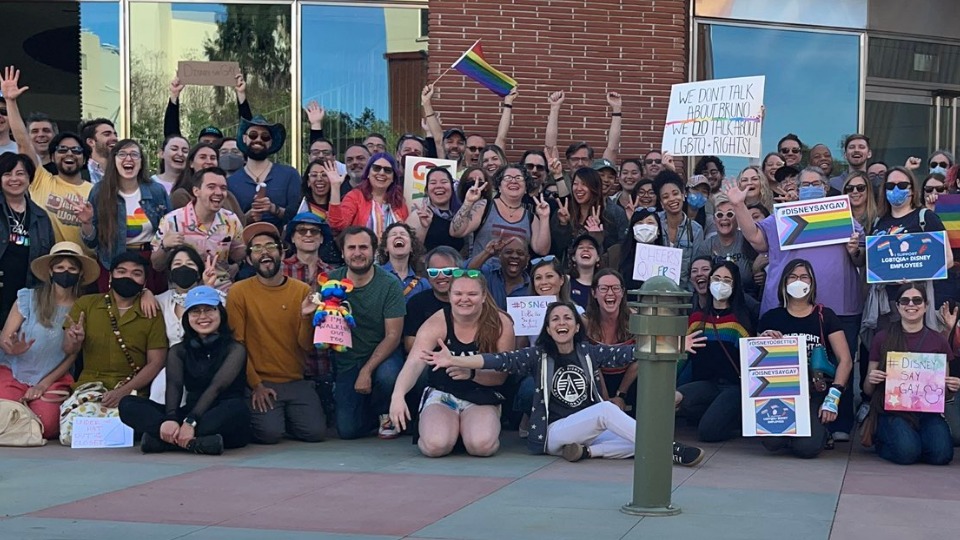 ORLANDO, Fla.—Disney theme park workers from coast to coast staged 15-minute lunchtime walkouts for a week, culminating in a day-long action on March 22, to protest Florida's discriminatory "Don't say gay," law—and their bosses' weak stand against it.
The walkouts occurred not just at the original Disneyland in Anaheim, Calif., but at the company's theme parks and other attractions in Orlando, Fla. And marchers descended on company headquarters in Burbank, Calif., during the all-day protest.
The Florida Education Association, the joint NEA-AFT affiliate in the Sunshine State, and the national AFT both lambasted the legislation, which passed on party-line votes. So did parents and teachers. Teachers and students are the ones most hit by the radical right GOP legislation, strongly pushed by Trumpite Republican Gov. Ron DeSantis.
And Biden administration Education Secretary Miguel Cardona, meeting the targeted students in Orlando, denounced the "growing number of state laws that bully and intimidate LGBTQI+ students and their families."
Disney, Florida's largest employer, issued a letter after the walkout, blasting the law. There was no word about whether the company put forth any effort to lobby lawmakers to try to stop it. Earlier, the FEA descended on the state capitol in Tallahassee for at least a week to campaign against the measure, HB155. The GOP-gerrymandered legislature ignored them.
DeSantis blew up at Disney's letter opposing the GOP ban on K-3 teachers from even discussing LBGTQ issues, teaching students about gender identity, or answering questions. "We will make sure that parents can send their kids to school to get an education, not an indoctrination," he yelled.
But Disney workers, organized through social media, weren't satisfied either. They lambasted the firm's lukewarm after-the-fact response.
"Always keep it in mind while this is going on, the goal of the white supremacist, right-wing media ring is to do two things: Drum up fear to get a traditionally non-voting population to the polls and dehumanize queer people to the point where violence is acceptable," the first of four tweets from the walkout organizers read.
"However, the silver lining is that fear-mongering is not organizing. A small group whipping people into a frenzy is a mob, not a movement. We can protect ourselves, and our futures by organizing our collective power. While they remain a pit of snakes, we become a hydra," their tweet string concluded.
"Love your neighbor. That's it. That's the message," another tweet read. But the organizers also warned workers of the walkout risks, too.
"You are protected to act while on break for the daily break walkouts, but the full-scale walkout that will take place on Tuesday, March 22nd is not a legally protected action. Take your own situation into account before choosing to participate," they tweeted. That walkout, and the march in Burbank, occurred anyway.
Some Disney workers, hiding behind social media anonymity, sided with DeSantis.
One employee who walked out tweeted: "I look forward to the day when I can be my genuine self at work without fearing for my job or safety. To know there are bigoted employees in this company who are actively working with hate groups to expose and terrorize us online and in public spaces for existing is TERRIFYING."
The walkout, through the "Disney Do Better" website, forced firm CEO Bob Chapek and Disney to apologize, including on social media. He didn't say what else the company would do. A Disney exec, speaking at North America's Building Trades Unions conference in D.C. on April 5, was completely mum on the issue—even though 5,000 construction union members are among Disney's unionized Orlando workforce.
"I truly believe we are an infinitely better and stronger company because of our LGBTQ+ community," Chapek said in a memo to LGBTQ workers and their allies. "I missed the mark in this case but am an ally you can count on—and I will be an outspoken champion for the protections, visibility, and opportunity you deserve." He also paused all Disney campaign finance contributions to Florida politicians.
Unlike Disney, civil rights advocates went to court on April 1 to block the law. They called it "state censorship."
Other than the teachers' unions, an internet check showed labor was silent. "This bill—and all the ones like it—single out certain kids and families for derision and denigration. It is just wrong," AFT President Randi Weingarten, a New York City civics teacher, stated.
"Its intent is to divide our communities and make political hay, but it hurts children, hurts families, and makes it hard for teachers to do their jobs. Make no mistake, this bill will have devastating real-world consequences—especially for LGBTQIA+ youth who already experience higher rates of bullying and suicide." It also will force the kids "back into the closet," added Weingarten, one of several top union leaders who is part of the LGBTQ community and one of the few top lesbian labor leaders.
In her statement, Weingarten also called the Don't Say Gay law "just another gross political attack on [teachers'] professionalism…Gov. DeSantis often speaks of freedom, but it turns out he's only interested in the freedom of folks who agree with him politically…This assault on our children and on our teachers needs to end."
"The new law will mean some of our students will no longer feel safe and secure or even seen," FEA said. Added union President Andrew Spar: "HB1557 is a political stunt meant to divert attention from the real needs of our students. Our kids need teachers and staff. Florida has a huge shortage of both." It lacks 4,000 teachers. "The governor and lawmakers should be focused on how to retain and recruit more educators for our public schools."