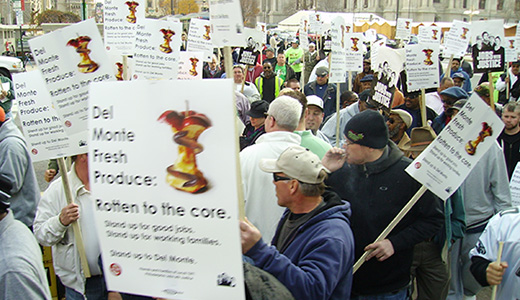 PHILADELPHIA – "No justice, no peace!" was the chant.
It echoed from the walls of Center City buildings here as members of International Longshoremen's Association Local 1291 and hundreds of supporters marched through downtown streets during a noontime rally Nov. 22. The dockworkers were protesting the decision by the Del Monte Fresh Produce Company to move its operations from a terminal where 1,291 union members work to a privately owned facility downriver in Gloucester, N.J., where the owner pays wages reportedly half the levels of the ILA contract.
Del Monte brings approximately 75 fruit shipments a year to the tri-state Port of Philadelphia. The company is cutting the jobs of at least 200 ILA members as a result of the move. According to media reports, Del Monte decided on the move despite government authorities' offer of $25 million in infrastructure improvements and additional free acreage for the existing terminal.
The members of Local 1291 were especially angered by the move since the union had offered concessions worth $5 million as a good-faith gesture. This did not stop the company from directing its fruit shipments to the Gloucester terminal on October 1.
The rally was organized with the support of the Friends and Families of Local 1291 and Philadelphia Jobs with Justice, and drew support from rank-and-file longshore workers from the ports of New York and Baltimore. The Friends and Families coalition includes a broad range of organizations including the Philadelphia Council AFL-CIO, the International Dockworkers Council, the International Transport Workers Federation, and the International Longshore and Warehouse Union (ILWU) on the West Coast.
The ILA has called for a boycott of Del Monte Fresh Produce of North America.
The Philadelphia rally was part of a planned national protest against Del Monte, scheduled to include actions at two Florida locations and in Galveston, Texas.
Following the rally, many ILA members joined a service at a local church calling for the extension of unemployment benefits. The service was organized by the Philadelphia Unemployment Project.
Photo: PW/Ben Sears