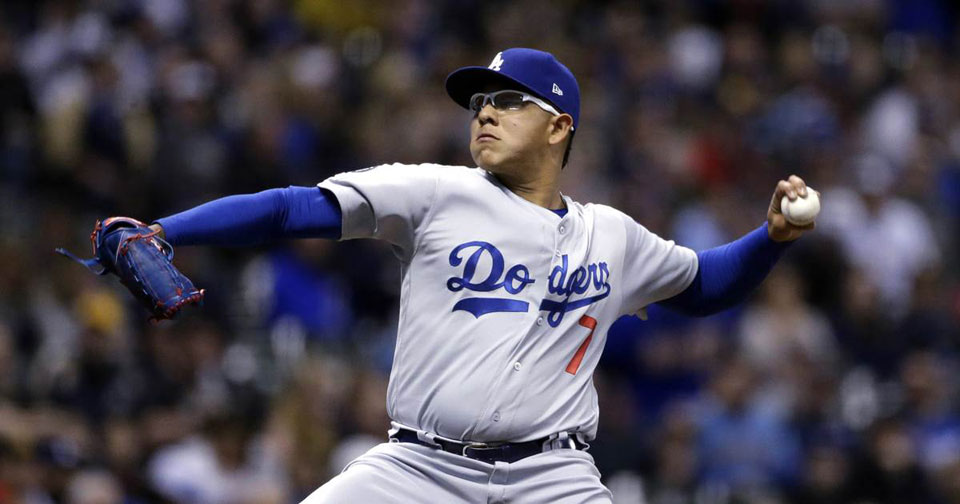 Another baseball season, another case of domestic violence taking place—it got old last year, keeps getting old, and, bottom-line, needs to be addressed by Major League Baseball and the MLB Players Association.
Los Angeles Dodgers pitcher Julio Urias was placed on administrative leave Tuesday by MLB following his arrest on suspicion of misdemeanor domestic battery.
Urias was taken into custody Monday night in the parking lot of a shopping mall, said police spokesperson Norma Eisenman. No further details were released by police.
After a night behind bars, he was released on a $20,000 bond, removed from the Dodgers' active roster, and MLB will be investigating the arrest and domestic assault allegations.
Witnesses described to police that an argument took place between Urias and a female companion, gradually escalated in tone, and eventually led Urias to shove her to the ground.
Urias and the unnamed woman say it was nothing more than a verbal argument, denying any acts of violence had taken place. As of now, only witness statements and security footage can tell us what really happened—or what is perceived as a true account of events.
"Obviously it's not ideal in any sense of the word. It doesn't behoove me to make any further comments until I know more," said Dodgers manager Dave Roberts when asked about the incident, shortly before their game against the San Diego Padres. Roberts also said the team will let the investigative process run its course, and that they hope to know more in the coming days.
The Dodgers ball club released an earlier statement upon learning of the arrest Tuesday morning, saying:
"Every allegation of domestic violence must be taken seriously and addressed promptly," the team said. "And we will cooperate fully with the authorities and Major League Baseball to ensure that that happens in this case."
For the Dodgers organization, Urias actions have put them in a difficult position.
Priding themselves for taking the moral high ground, the Dodgers have let World Series wins pass by for the sake of avoiding players with domestic violence pasts. It was an easy call.
They broke off a trade for Aroldis Chapman, suspended 30-days for domestic violence, before the 2016 season. And didn't even look at disgraced former Toronto Blue Jays pitcher, now Houston Astro, Roberto Osuna after being released by Toronto with the dark cloud of domestic abuse hanging over him.
If the surveillance video confirms the heinous act committed by Urias, the Dodgers next steps will forever define how they represent baseball, player integrity, and if they intend to continue with their position as agents of change or become part of the sports organizations status quo—ducking moral responsibility for dollars and cents.
In 2015, MLB and the MLBPA signed off on a joint domestic violence policy, giving the commissioner of baseball the right to investigate and impose discipline, if needed. The paid administrative leave can move to suspension without pay.
In past MLB investigations, the administrative leave's length of time has frequently been extended as the sleuthing continuous.
Lefty Urias signed with the Dodgers as a 16-year old non-drafted free agent in 2012 and became the second teenager since 2000 to make a major-league debut in 2016.
The first for the Dodgers since Adrian Beltran in '98.
He began the 2019 season in the starting rotation but was moved to the bullpen after Clayton Crenshaw returned from the injured list. He went 1-1 with a 3.66 ERA in four starts.