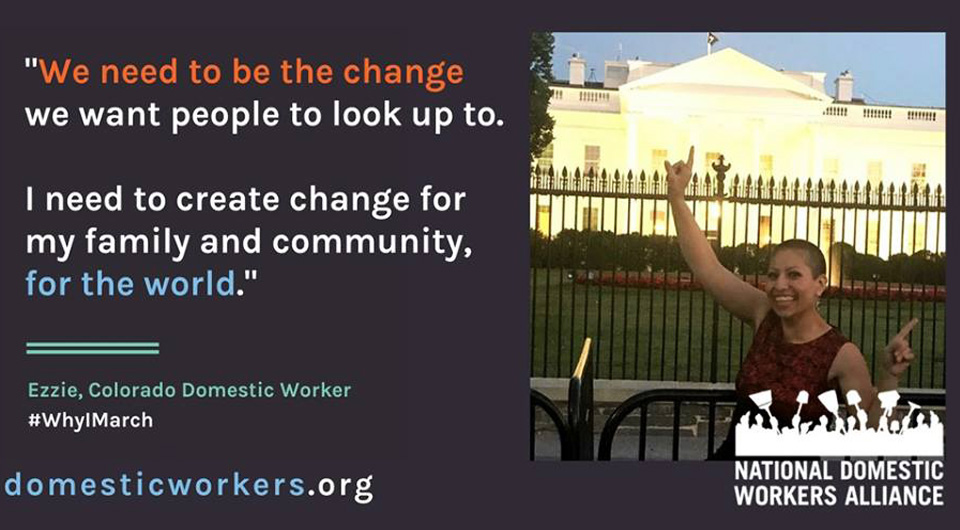 WASHINGTON, D.C. –  On Saturday, National Domestic Workers Alliance (NDWA) and We Belong Together will convene 200 domestic workers, immigrant women, and women of color from around the country to join the historic Women's March on Washington. The delegation, representing thousands of nannies, housecleaners, and home care workers on the front lines of opposition to the incoming administration, will march to show that fair and dignified care work is not only a women's issue, but a cornerstone of our democracy.
June Barrett of the Miami Workers Center, a home care worker and immigrant from Jamaica, will be among the marchers. She told the Guardian: "I'm a Black woman, I'm queer, I'm an immigrant, and everything that's going to happen under Trump and Pence is going to affect me, perhaps adversely. I'm marching to show how powerful women are when we're organized."
The Women's March is anticipating more than 200,000 participants from around the country, in addition to sister marches across the nation and in over 60 countries across the globe.
Ai-jen Poo, Director of National Domestic Workers Alliance, who will be speaking at the March, recently told the New York Times: "This march is doing exactly what it should be doing and what no one else is doing — galvanizing and focusing mass public opposition to a dangerous and erratic administration that poses a serious threat to the future of our democracy. And to a president-elect who ran on a platform that promoted violence and explicitly denigrated women."
Many from NDWA's delegation will arrive in Washington, DC on Tuesday for a timely leadership and organizing training for domestic workers. They will join the Women's March on Saturday, convening at 9:30am EST in Garfield Park (intersection of 3rd and G Street SE).
Following the March, the delegation will join 700 others for a Women's Reception and Town Hall, organized by NDWA, Caring Across Generations, Make It Work, and other organizations, to discuss the future of our movements and share reflections on the Women's March.