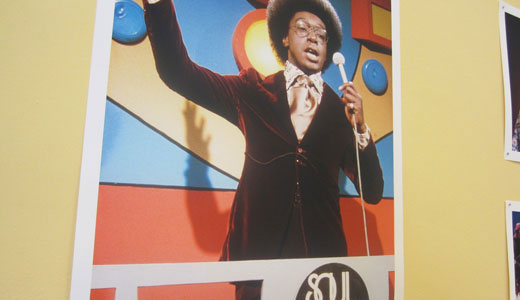 Don Cornelius, creator of the iconic "Soul Train" television show, was found dead on Wednesday at his California home. He was 75.
Cornelius founded and produced the dance and music show in Chicago and turned it into a national and international sensation.
Significantly, "Soul Train" was financed by Cornelius himself, who provided first-time opportunities for African American artists and cultural workers both on and behind the camera.
Henry Louis Gates describing Cornelius' broadcast beginnings, says, "With his own money, Cornelius shot a pilot for a dance show, a black version of American Bandstand. He shopped the pilot to sponsors; most expressed no interest. But a manager at the Chicago-based Sears, Roebuck department store chain proved an exception, as he saw the show as an opportunity to boost record sales. With Sears's sponsorship, WCIU allowed Cornelius to broadcast his show on the network. Cornelius memorably named his invention Soul Train."
"Dick Clark's 'American Bandstand' originally was all white and even when integrated under a protest led by the West Philadelphia Action Committee, a grass roots civil rights youth group, the show forbade black and whites to dance together," remarked Communist Party USA leader Jarvis Tyner, who participated in the effort to desegregate the dance show. "'Soul Train,' on the other hand was always open to everyone," Tyner said
Civil rights leader Rev. Al Sharpton, who also got his first national television exposure on "Soul Train," also pointed to the show's huge influence on desegregating television shows. "When 'Soul Train' started," he said, "there weren't many black people on TV. Cornelius changed that in a major way."
Cornelius's early success was the start of one of television's longest running shows. "With Soul Train, which made its debut on one Chicago TV station in 1970 and spread quickly to dozens of American markets, Cornelius created the first black-owned nationally syndicated TV franchise," writes Dan Charnas for NPR.
Chamas continues, "Cornelius insisted on as much black presence behind the cameras as he induced in front of them, and he was one of the first black moguls to expand his brand beyond its origins: producing records (Cornelius was the executive producer behind the bubblegum-soul group Shalamar) and, eventually, award shows."
The show moved to Los Angeles in 1971. It had a 35-year run.
Commenting on Cornelius, historian Gerald Horne said, "By exposing a wider audience to black music and dance, he played a useful role in fighting the dehumanization of white supremacy."
"Cornelius's signature power-fisted ending, wishing the TV audience 'Love, Peace and Soul,' lives on," said Tyner.