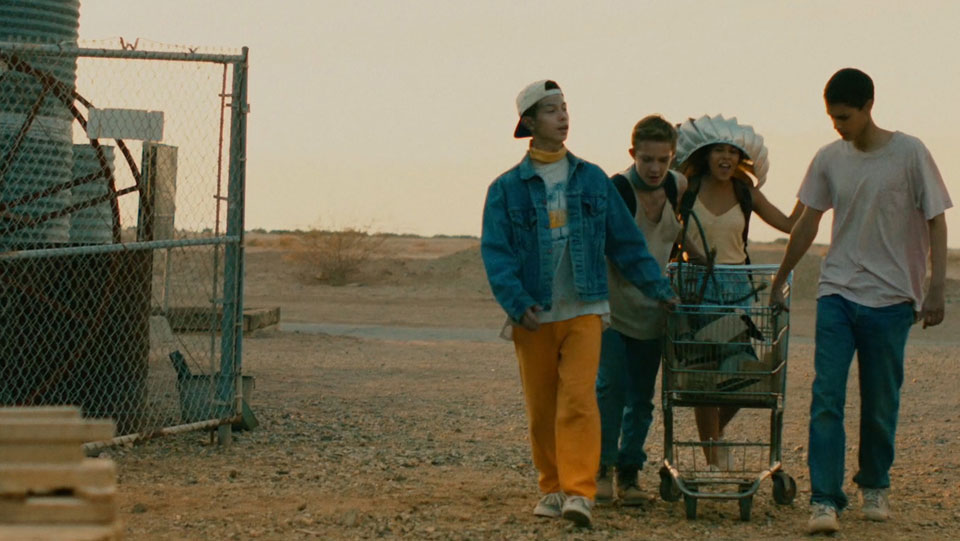 The new 82-minute feature film Don't Come Back from the Moon, shot around the Salton Sea in California's Imperial Valley, can be seen as a metaphor for the hollowing out and drying up of America's working and middle class. The town it's set in is but two giant steps away from becoming one of the West's famous "ghost towns," settlements that once had a raison d'être but the market has no useful place for any more. Rusting industrial hulks are left to disintegrate in the elements, turning into sculptural objects retaining faint definition of what they once were. That picture includes the townspeople.
One by one, all the once-working, providing men in this remote desert town just ghost themselves, disappearing overnight—"gone to the moon"—with barely a farewell note of explanation. Obviously, there's no more work for them there, but where they go and whether they'll ever be heard from again are questions with scant answers. They desert their families—funny that the noun "desert" and the verb "desert" are spelled the same—leaving angry, frustrated wives, sons and daughters behind.
It's not just the relations abandoned, it's the town and the surrounding community, it's the working class and middle America. Seen from a post-2016 perspective, perhaps it's a preview from the 1970s-'80s of the once fairly respectable, self-sustaining citizens who would decades later feel abandoned by both major political parties and the economy.
A viewer presumes that many of these made-useless guys will have gone to the cities to find suitable work—Los Angeles, Long Beach, San Diego, Las Vegas—but in one case a father decamps to a farm in Nebraska, inviting his daughter to join him there for the good schools. Interestingly, there seems to be no school these abandoned kids attend. Perhaps the teachers have abandoned them, too. It's almost the reverse story of the "Okies" fifty years later, the first wave of opportunity long receded into the shrinking contours of the dying, saline Salton Lake that strangely, poetically, still attracts migratory birds.
Left to their own meager resources, the unsupervised kids act out in unarticulated rage, commit acts of petty burglary and vandalism, imitate their boozing parents, and search out love and human connection in their economic and familial distress. A whole town is trying to understand why their fathers have left them to negotiate the unfamiliar path to adulthood alone. It's like they've been issued a dare to grow up fast.
Don't Come Back From the Moon is written for the screen by Dean Bakopoulos and Bruce Thierry Cheung, and directed by Cheung in his feature film debut. The film is an adaptation of Bakopoulos's first novel, Please Don't Come Back from the Moon. It's indicative of the mood of this film that there's no "please" here.
The feature centers around the Smalley family. Uncle John (Jeremiah Noe) is among the first men to disappear. Mother Eva (Rashida Jones) and two sons are left, the teenager Mickey (Jeff Wahlberg, who reminds a viewer of a very young Barack Obama) and the maybe six-year-old Kolya (Zackary Arthur). Mickey's escapades in grief, violence, despair, sex and love recount a sad coming-of-age. James Franco plays the part of another deadbeat father, Roman, whose daughter Sonya (Alyssa Elle Steinacker) becomes a love interest of Mickey's.
Chananun Chotrungroj serves as director of photography. One of her recurring images is of long freight trains passing along the distant horizon; in one scene she captures two trains moving in opposite directions, as if to imply that this desert town has simply become "flyover" country, a place no one stops at any more.
In one roadside bar scene a folksinger delivers a song about an Irish immigrant lonely for home, suggesting parallels between native-born and immigrant workers. "Is there some happiness here in the desert?" Mickey asks. He has his own answer to that question, which points to a new level of maturity, but it may not convince a viewer. Don't wait for a sudden turnaround happy ending.
The musical score and choice of songs is by Johnny Jewel, and it's one of the film's best features.
Don't Come Back From the Moon has played the festival circuit and picked up some prizes along the way: Special Jury Award in Directing from the L.A. Film Festival; the James Lyons Award for Best Editing and Special Mention for Best Feature at the Woodstock Film Festival; and Best Narrative Feature and Best Cinematography from the Southampton Film Festival. The trailer can be viewed here. It opens in select theaters and VOD on January 18.