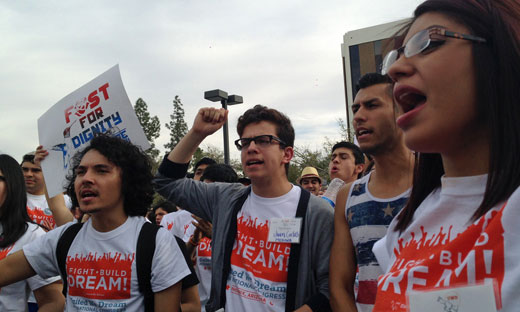 Immigrants' rights advocates and Latino organizations are hailing a ruling by Virginia's attorney general, Democrat Mark Herring, that students who are accepted by the federal DACA program can pay instate tuition to attend state colleges and universities. DACA is the Deferred Action for Childhood Arrivals program, started by President Obama in 2012, which gives interim legal status to young people (under 31 years of age) who were brought to this country by their parents or other adults "without inspection" (i.e. undocumented), as long as they pursue their schooling or military service and don't get convicted of crimes.
Herring's announcement was made in a letter to Virginia college and university officials, and announced publicly by him on Tuesday at the Arlington campus of the Northern Virginia Community College.
The right to study at instate tuition rates will make a large difference in DACA students' ability to access higher education. Tuition for instate students in Virginia currently averages $3,900 a year for two year institutions and over $10,000 a year for four year institutions. It is more than double that for out-of-state students, which would have applied to the DACA beneficiaries before Mr. Herring's ruling. This is more than the annual household income for many immigrant families; undocumented immigrants have also not been able to get scholarships.
The ruling is based on the logic that by dint of DACA these "dreamer" students are legal in the state of Virginia as long as they also establish legitimate Virginia residency. Herring, therefore, argues that his ruling is in simple conformity to existing law, that everybody legally a resident of Virginia gets to study at the instate rate. State versions of the DREAM act which would have accomplished the same thing have been blocked in two consecutive legislative sessions by the large right-wing Republican majority in the House of Delegates, the lower house of the General Assembly.
Virginia now joins the 19 states which permit instate tuition for such students, generally after hard struggles by immigrants and their allies.
About 8,100 young people in Virginia have so far acquired DACA status. Elsewhere, the right to pay instate college and university tuition has improved the graduation rates of immigrant students.
The ruling was praised by Latino and immigrants' rights organizations, as well as business groups and others. In a statement Edgar Aranda-Yanoc, Chair of VACOLAO (The Virginia Coalition of Latino Organizations) said "These hard-working Virginia students who have grown up and are an important part of our state's economic future will finally be able to study at the state's public universities without the barrier of out-of-state tuition".
Republicans denounced the move as illegal, because they claim it did an end-run around the General Assembly. But for the most part they did not frame their objection as an attack on "dreamer" students. A quick online poll by the Washington post showed majority public support for Herring's move.
Herring was elected in November of last year by a very close run margin over a right-wing Republican opponent.
On Jan. 23, he announced that as attorney general, he would not contest a lawsuit which sought to overturn Virginia's legislative ban on same sex marriages. This action was also denounced by the Republicans as high-handed. However, it was widely praised by civil libertarians and advocates for LGBT rights and has not produced a massively negative reaction at the grassroots level.
Photo: Dreamers take part in an immigration reform demonstration. Valerie Fernandez/AP