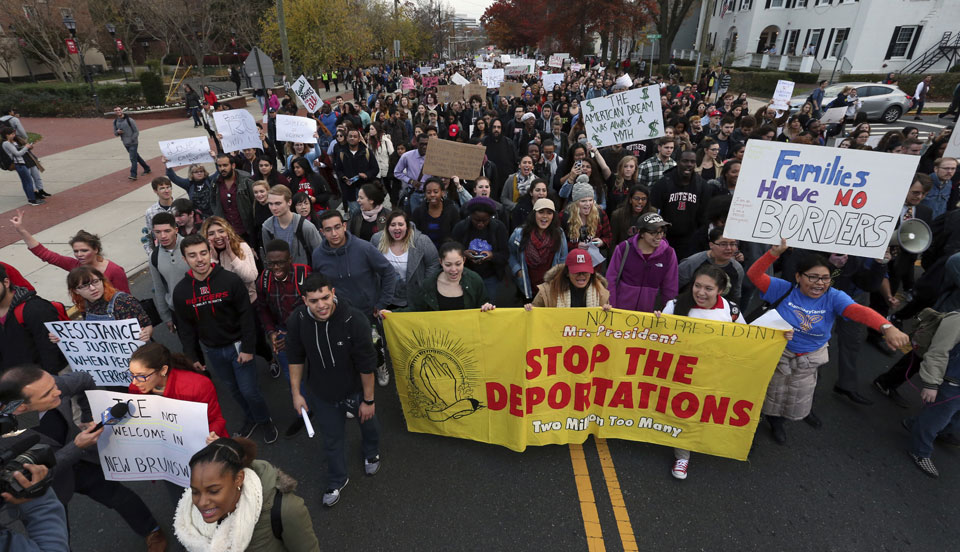 WASHINGTON—With lawmakers sitting down to hash out a "compromise" that would – somehow – prevent GOP President Donald Trump from again shutting down the government if he doesn't get $5.7 billion for his Mexican Wall, United We Dream and its allies launched a campaign to urge solons to reject all money not just for the wall but for other aspects of Trump's deportation of Latinos and other people he hates.
"After separating families, harassing immigrants and refugees, and shutting down the government to get his border wall, Trump has made it clear he's willing to do anything to empower and embolden his Deportation Force," of Immigration and Customs Enforcement and Border Patrol agents, the United We Dream petition, posted on Daily Kos, says.
"Because we stood up and made our voices heard in this last election, we sent a wave to Congress to hold the Trump administration accountable for its racist, anti-immigrant agenda. But the attacks keep on coming.
"Now Trump is breaking every precedent and norm he needs to build his wall and expand ICE and CBP's violent crackdown on immigrants and refugees, going as far as shutting down the government and declaring a false state of emergency. We can't let that go unchallenged — so we're asking for your help" by signing the petition against any money for the Wall, ICE, and the Border Patrol.
Calls to sponsors of the petition, including United We Dream, the Heartland Alliance and Bend the Arc/Jewish Action, show the groups have yet to plan follow-ups to it. But they already have at least one backer on Capitol Hill: Democratic socialist Rep. Alexandria Ocasio-Cortez, D-N.Y.
The congressional bargainers are discussing "border security" measures – not including Trump's wall – in negotiations over money bills to keep the government agencies he shut down for 35 days going beyond Feb. 15. That includes money for ICE and the Border Patrol.
When the House passed the money measure ending Trump's shutdown/lockout and reopening those agencies, including the Border Patrol and ICE, Ocasio-Cortez was the lone Democrat to oppose it – and funding them was her reason why.
"Most of our votes are pretty straightforward, but today was a tough/nuanced call," she wrote on Instagram. "We didn't vote with the party because one of the spending bills included ICE funding, and our community felt strongly about not funding that." Several other Democrats also want to de-fund ICE and the Border Patrol but voted for the measure to end Trump's lockout/shutdown.
"Trump's border crisis is made up and he is toying with the lives of both federal workers and immigrants whom he held hostage for his racist agenda," said United We Dream Executive Director Greisa Martinez-Rosas in a statement announcing the petition.
Martinez-Rosas, like 800,000 other young people brought to the U.S. when they were small children, is undocumented and thus a "Dreamer," the group covered by the Obama-era Deferred Action for Childhood Arrivals (DACA) program.
In addition to his Mexican Wall, Trump dumped DACA, as well as Temporary Protected Status (TPS) program for adults. TPS covers another half a million Salvadorans, Haitians, Syrians, Libyans, Guatemalans and Honduras who fled natural catastrophes, ruinous civil wars or gang violence or both over the past several decades.
Many of them are union members now, especially in construction, but Trump wants to eject them from the U.S., too. Painters President Ken Rigmaiden has put together a multi-union coalition to lobby lawmakers to stop Trump's eviction of TPS card-holders. Federal judges stopped both Trump ejections.
But the Trump threat continues, Martinez-Rosas warns.
"Immigrant communities are in grave danger because of Trump and the deportation force which has been growing year after year for decades," she explained in her statement. "This crisis is real while Trump's border crisis is not."
"Both parties should end the charade and not let Trump drag the nation into an immigration enforcement arms race that results in even more people in detention camps, more kids in cages, deportation agents on our street corners and more misery. Wall or no wall, Trump's 'kick the immigrants out' framework is racist and wrong."
"Congress should assure the American people the government is open for good and should pass legislation to permanently protect immigrants with citizenship," she concluded.