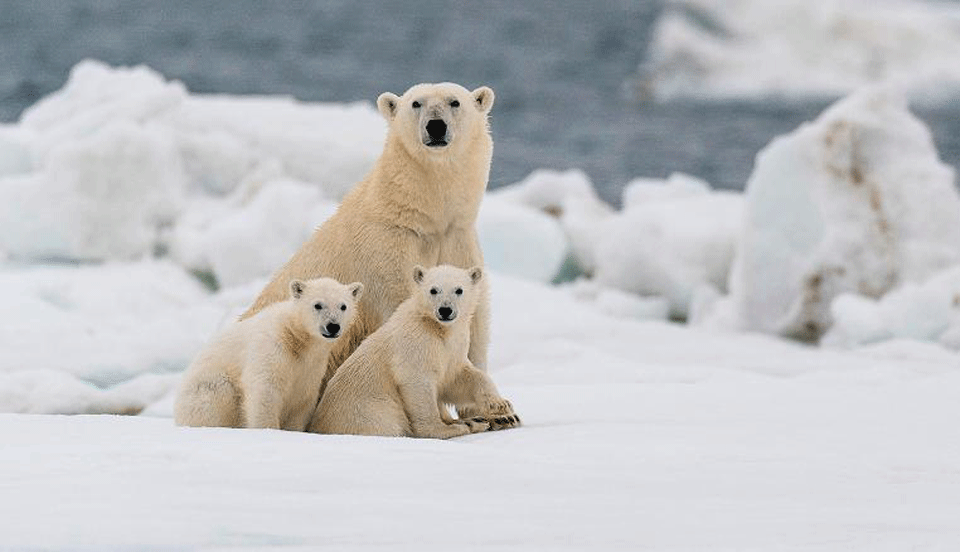 If world governments don't act to reduce greenhouse gas emissions, most polar bear populations will not survive the century, a new study has found.
Polar bears, who rely on Arctic sea ice to hunt for seals, have long been a symbol of the impacts of the climate crisis. As the ice melts, they lose the ability to sustain themselves.
"Polar bears are already sitting at the top of the world; if the ice goes, they have no place to go," lead study author and University of Toronto Scarborough biologist Péter Molnár told BBC News.
But the study, published in Nature Climate Change Monday, is the first to predict when and where Arctic warming will threaten the bears' survival, The Guardian reported.
"It's been clear for some time that polar bears are going to suffer under climate change," Molnár told The Guardian. "But what was not fully clear was when we would expect major declines in the survival and reproduction of polar bears that could ultimately lead to their extirpation."
To answer this question, scientists looked at two emissions scenarios: business as usual and a more moderate option in which emissions peak in 2040 before starting to fall, according to The New York Times. Under the business-as-usual model, all populations of polar bears would be wiped out by 2100, except for the bears living in Canada's northernmost Queen Elizabeth Islands, The Guardian reported. But even under the moderate scenario, most populations were likely to suffer reproductive failure by 2080, the study found.
"The study shows clearly that polar bears are going to do better with less warming," University of Alberta polar bear expert Andrew Derocher, who was not involved with the study, told The New York Times. "But no matter which scenario you look at, there are serious concerns about conservation of the species."
Polar bears can fast for months at a time when sea ice melts in the spring and summer. The researchers made their predictions based on how long male bears could reasonably fast and survive and how long females could reasonably fast and raise their young compared with how long different parts of the Arctic are projected to be ice free through 2100.
They assessed 13 of 19 polar bear populations, or around 80 percent of the roughly 25,000 bears remaining. Bears in Canada's Archipelago ecoregion were not assessed because it is hard to estimate future sea ice in the area's islands and channels, according to The Guardian.
If nothing is done to reduce emissions, bears in Canada's southern Hudson Bay and Davis Strait could fail to reproduce by 2040 while most bears in Alaska and Russia could be at risk by 2080. The polar bear population in western Hudson Bay has already shrunk around 30 percent since 1987.
"Showing how imminent the threat is for different polar bear populations is another reminder that we must act now to head off the worst of future problems faced by us all," study co-author and chief scientist of Polar Bears International Dr. Steven Amstrup told BBC News. "The trajectory we're on now is not a good one, but if society gets its act together, we have time to save polar bears. And if we do, we will benefit the rest of life on Earth, including ourselves."
This article was reposted from EcoWatch.