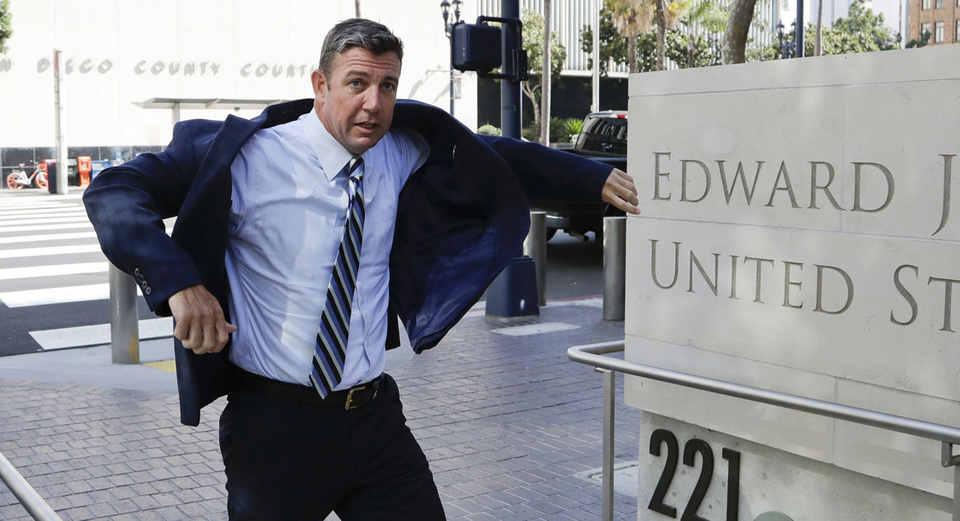 LOS ANGELES—U.S. District Court Judge Thomas J. Whelan has handed down an 11-month sentence to resigned Rep. Duncan Hunter, who represented California's 50th Congressional District for almost a dozen years. The charge was conspiring to illegally use campaign funds to cover personal expenses. Eleven months is a short penance: He could have been sentenced to as many as five years.
Hunter was allowed by the district attorney to plead guilty on only one of sixty counts, not even close to the total of $250,000 worth of abuse of campaign funds. That total includes not only cross-country airline fees for his family's pet rabbit, but also hotel, restaurant and bar tabs the former congressman laid out for his five mistresses—at least one of them at Washington, D.C.'s appropriately named Liaison Capitol Hill Hotel. Apparently this is common enough an occurrence on Capitol Hill that there is actually a designated hotel reserved for such trysts.
Hunter must surrender by May 29. His wife Margaret, who also pleaded guilty as the campaign finance manager, and who testified against her husband, will be sentenced April 7.
Former Rep. Chris Collins of New York and Duncan Hunter were the first two Congressmen to endorse Donald Trump in 2016. Shortly they will both be in jail on similar charges.
In the 50th Congressional District from which Rep. Hunter resigned in January, Ammar Campa-Najjar, won 36.5% of the March 3 primary vote. The only other Democrat in the race has since endorsed him. He will face Republican former Rep. Darrell Issa, who came in second in this historically pro-GOP district. This will be an intensely fought race where money will speak with a loud voice.
In District 45, first-term incumbent Katie Porter, racked up 48.1% of the vote against six different GOP contenders on election night. But the absentee-vote count has pushed her tally higher, to an impressive 50.7% in the final numbers. Ten days later, on March 12, Rep. Porter, at a hearing of the House Oversight and Reform Committee on which she serves, interrogated Centers for Disease Control and Prevention (CDC) Director Robert R. Redfield on viral testing. "Dr. Redfield, do you want to know who has the coronavirus and who doesn't? Not just rich people, but everybody who might have the virus?" she asked, as she displayed charts spelling out that a coronavirus test would cost $1,331 for an uninsured person.
As a result of that widely viewed confrontation, Porter got a cornered Redfield to guarantee free testing for all Americans. Her incumbency, her majority win on the primary, and now her articulate, principled leadership on the healthcare crisis, position her well against her November challenger, Mission Viejo Councilman Greg Raths, who won 18.9% in March.
On California primary election night, March 3, it looked as though Los Angeles District Attorney Jackie Lacey might have just barely won an absolute majority of the vote, entitling her to remain in her post for a third term. But late returns, owing in large part to the widespread use of the absentee ballot in California, now have Lacey at just under 49%. There still remain some 64,000 votes to be counted, but the odds are not in her favor; she is not likely to gain back her majority lead.
So it looks as though in the November election she will face off against George Gascón, a former assistant police chief in L.A. who more lately served as San Francisco district attorney. Gascón won about 28% of the March 3 vote, which does not portend a win in November. However, there is much seething anger against Lacey which could be built upon in the next few months. The African-American Lacey has built a hard-nosed reputation in favor of the police, especially in the killings of Black males, and has earned the displeasure of Black Lives Matter and other progressive groups. Gascón, to the contrary, is a leading criminal reform advocate who co-authored Proposition 47, which scaled back several felonies to misdemeanor status, and improved public safety at the same time tackling sky-high incarceration rates.
Another factor that may depress Lacey's vote in the run-off is the incident that occurred at her home the day before election day—by which time many voters had already voted. As demonstrators amassed on her lawn, her husband opened the front door and shouted to them to get off the property while brandishing a pointed gun. Some voters who had already cast their mail-in votes for Lacey later regretted their early decision, and might well vote differently in November.
A few observations about coronavirus in California
State and local governments alike are struggling, like everyone everywhere, to deal with the coronavirus crisis humanely and in accordance with best practices. Gov. Gavin Newsom has positioned himself as a national leader, posing programs and solutions, and questions, on which the federal government has shown little guidance. "This pandemic has touched every corner of the world, and it is increasing at a local scale like we've never seen before," said Los Angeles City Council President Nury Martinez. "We are in uncharted waters, and it is up to us to make sure we are doing our duty as public servants."
Almost all school districts have closed their facilities across the state. In many places, such as the largest school district in the state, Los Angeles, which serves over 600,000 students, kids come to school not just to learn but to take meals. Up to 80% of the families that send their children to public schools fit within U.S. government poverty guidelines, a rather telling commentary on the vast economic and class divisions that rankle across America. To compensate for the school closures, L.A. Unified School District has opened meal distribution centers, which of course may also be problematic gathering places for viral infection.
Rent abeyances and heightened unemployment compensation are also being passed by municipalities across the state, once again highlighting how the lack of universal healthcare in the United States affects every facet of a person's life: loss of education for the kids, loss of jobs, loss of tenancy, loss of health insurance and care, and possible homelessness. In a magnanimous gesture, the L.A. City Council passed a measure on Tuesday now allowing homeless people to remain in their tents throughout daytime hours as an effective, though sadly ironic way of "sheltering in place."
Hotel occupancy rates throughout the country have dropped to between 10 and 20%. Apparently it hasn't occurred to anyone to offer federally funded hotel rooms to homeless people, helping at the same time to curb anticipated unemployment in the hotel and hospitality sector.
As restaurants, bars and winery tasting rooms started either closing down completely to avoid large crowds, or limiting their service to take-out only, on Sun., March 15, Rep. Devin Nunes, the notorious trouble shooter for President Trump, encouraged Fox News listeners to go out and enjoy their local restaurants and pubs. Nunes is an investor in the Alpha Omega Winery in Napa County.