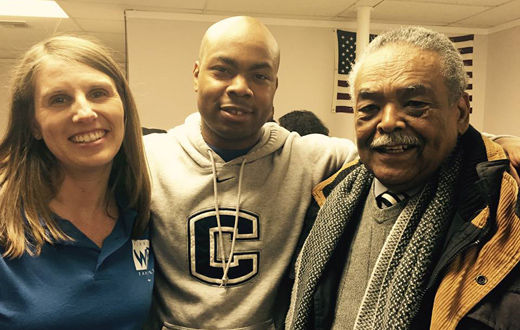 HARTFORD, Conn. – Spontaneous applause filled the crowded hearing room at the State Legislative Office Building on Thursday morning, when newly re-elected state senator Ed Gomes took the podium and said, "As the first in the country elected on the Working Families Party, I support the Women's Economic Agenda and the Everybody Benefits Coalition."
The press conference, held prior to a hearing of the Labor and Public Employees Committee, was attended by Committee co-chairs Gomes who is a former steelworker union organizer, and Rep. Peter Tercyak, a former healthcare worker organizer, along with a host of organizations, union members, immigrant workers, and elected officials.
A week earlier, the voters of Bridgeport made history in a special election, sending Gomes back to the State Senate on the Working Families Party (WFP) line. Gomes served as State Senator from 2005 to 2012 as Democrat with WFP cross-endorsement, until losing to Andres Ayala after re-districting.
In January Ayala was appointed Commissioner of the Department of Motor Vehicles by Gov. Dannel Malloy, creating an open seat. Gomes decided to run again with the support of the Working Families Party, while Democrats endorsed another candidate in the special election. The 23rd State Senate district includes sections of Bridgeport, a former industrial hub, and Stratford.
"I've supported WFP since the beginning because they always are willing to take a risk in support of a candidate who fights for our progressive vision," said Gomes. "I'm extremely proud to return to Hartford as the first-ever WFP legislator." His election opens new possibilities across the country, and has been widely hailed by progressives.
At the press conference, Gomes vowed to continue to fight for workers in Connecticut. Responding to remarks by women and immigrant workers calling for paid family and medical leave, including tipped workers in the minimum wage, providing home care workers with workers compensation, and ending wage theft.
"Women's inequality is a serious concern for all women and especially low income women," said Gomes. "Many factors contribute to the wage gap. This is more than a women's issue, it is an economic issue. Women make up half the workforce and are more likely to live in poverty, to live below the self sufficiency standard."
Throughout the nine-hour public hearing that followed, the significance of Gomes role in the legislature was clear as he asked questions of those who came forward from a workers' point of view.
A staunch voice for workers' rights, Gomes ran a strong grassroots campaign focused on his experience and integrity. Campaign volunteers collected over 1,800 verified petition signatures in a week and a half to qualify for two-thirds of the Citizens' Election Program public funding grant, and spoke with thousands of voters to get them to the polls.
Lindsay Farrell, Executive Director of the Connecticut Working Families Party explained that "Senator Gomes came from behind to win because voters know him as someone who will always fight for working families. He can't be bought and he can't be bossed."
Gomes defeated endorsed Democrat Richard DeJesus who was mired in personal and financial scandals, and Kenneth Morales Jr. a leading advocate for corporate education reform.
Last year Gomes helped defeat a plan to abolish the elected Bridgeport Board of Education and replace it with an appointed Board more friendly to the corporate education model.
While in the state senate, Gomes helped lead fights to raise the minimum wage, guarantee paid sick days and raise taxes on the rich to protect school funding.
In 2002, working with Connecticut Citizen Action Group (CCAG), he gave key testimony in the successful legal challenge to Connecticut's discriminatory delegate primary system, winning open primaries.
Accepting the People's World Amistad Award in 2013, Gomes inspired everyone present with his message: "All politics start in the community with people who are trying to serve up equality of life for working families. To make the world better you have to get involved and stay involved. You won't always win it, but you always have to be in it."
Photo: Sen. Ed Gomes (right) with Lindsay Farrell, Working Families director and Kennard Ray, campaign manager on election night in Bridgeport. | Chris Donovan